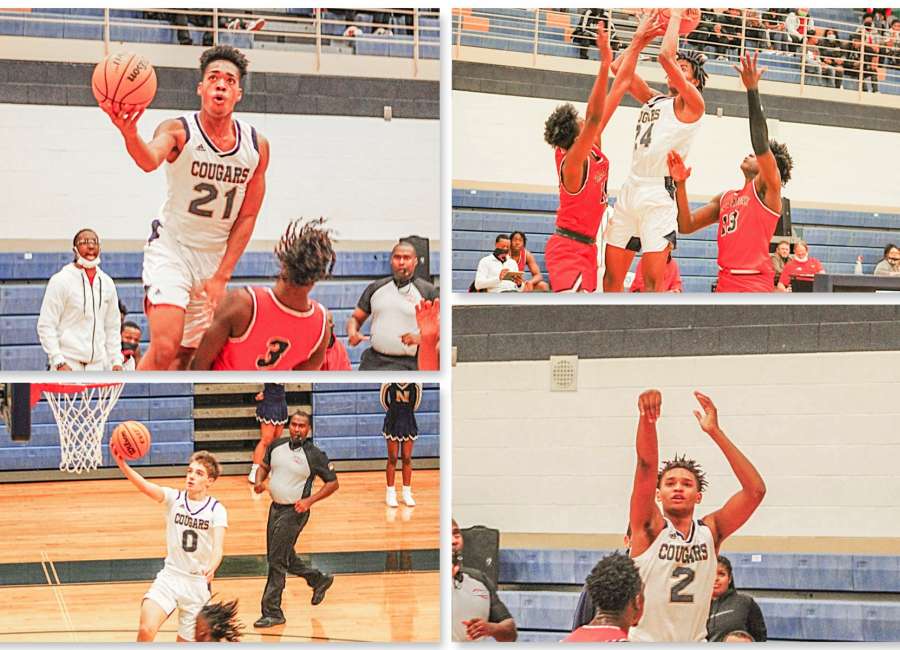 By ROB GRUBBS
The Newnan Cougars matched their 2019-20 win total of 11 in their first game of 2021.
They soundly defeated the Callaway Cavaliers 74-44 in a game where every player on the roster contributed. The victory leaves them at 11-1 as they prepare to enter their Region 2-7A schedule.
Newnan Head Coach Trent Gatzemeyer has found a successful formula in his second year at the helm. The Cougars are unselfish and constantly make the hustle plays that are the difference between good and great teams.
Two specific plays may seem insignificant in the game, but they are perfect examples of how the Cougars have bought into their selfless style.
In the first quarter, a Callaway offensive possession ended when the ball went backcourt. Instead of allowing the ball to simply go out of bounds, Newnan senior Chris Askew out hustled two Cavaliers guards for the ball and was rewarded with a layup.
A few moments later, senior guard Jamar Stargell jumped completely over the scorers' table to get to a loose ball.
The Cougars' roster is filled with athletic, intelligent basketball players who are almost interchangeable in the lineup. From the maturity of senior Donte Colvin to the outside shot of Mekhi Mawdesley to the solid fundamental play of Wesley Drake, everyone has a role, and they understand it.
The Cougars overwhelmed the Cavaliers in the second quarter, and the rout was on. Coach Gatzemeyer was able to empty his bench late to get his younger players some valuable experience. Freshman Wheeler Drake closed the game out with a final 3-pointer.
Mawdesley led a balanced Cougar stat sheet with 12 points, all from beyond the three-point line, while Colton and Stargell also finished in double-digit points. In all, 11 Newnan players scored points. Colton also led the team in rebounds with 10.
After the game, Coach Gatzemeyer shared, "Our kids have just bought in, they want to get out here and compete and have fun. We tell them every day, in life — especially this year — once we get out here on the court, let's make the most of it. That is what I am most proud of, they are just enjoying the process and learning how to win and to compete."
The Cougars open their Region 2-7A schedule next Tuesday night when they welcome McEachern.
Photos by Kristy Rodgers