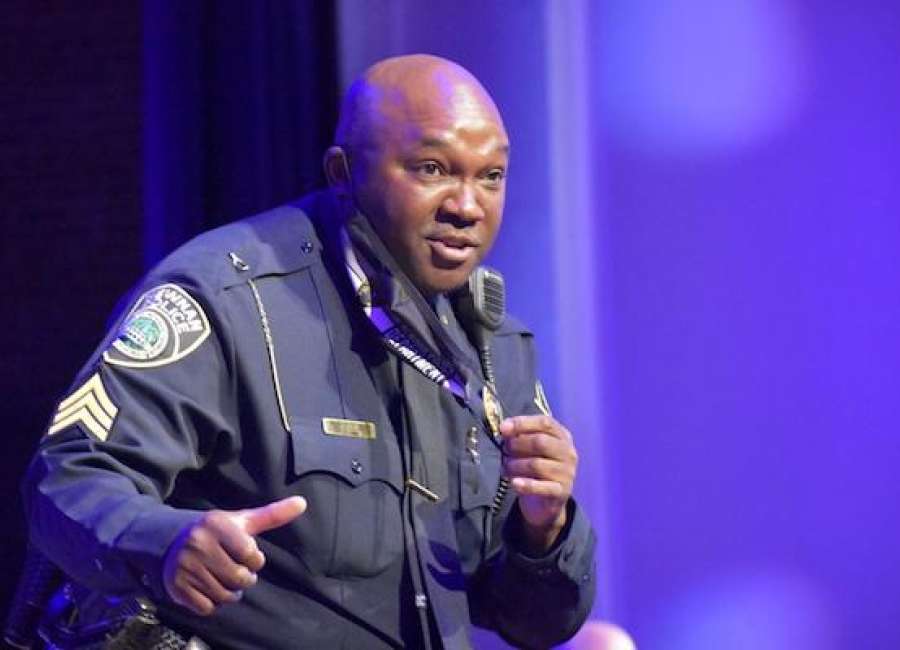 Speakers from the justice system, the ministry and law enforcement shared their perspectives on community race relations, unity and legal rights as part of a Connecting the Dots seminar Saturday.

Held at the Wadsworth Auditorium, the seminar also featured traffic stop scenarios and an overview of the Hands Free Law. Derrick Teagle of Empowered 4 Life hosted the seminar – the second in a series sponsored by the youth support organization.
"It was an opportunity to talk about race and listen to others' point of view," Teagle said.
Dan Crain of OneRace, which champions racial reconciliation and revival, talked about the importance of understanding the history of slavery and not "sweeping things under the rug."
"The past is always playing out in the present," he cautioned, telling audience members it's vital to pray, educate yourself and be intentional with your actions.
Clint Nolder, pastor of Foundation Church, said the conversation about race is "louder than it's ever been," but warned that unity is not always positive.
"You can be united in hate, rage, inequality and slavery," he said. "You can achieve unity for the wrong thing."
Nolder said walking with God means grace and love lead before anything else.
"Those who have been wronged have to step toward those who have wronged them," he said. "We can't change the past, but we can change the future."
Daryle Smith said the "commune" is often missing from "community." He walked to the stage wearing a pair of LeBron 16 "Equality" sneakers – one black, one white. Smith, who works with the South Metro Atlanta Fellowship of Christian Athletes, had seen them on a high school athlete and liked them, but at first he wasn't sure he wanted to wear mismatched shoes.
"But then I said, 'Forget that, I'm going to wear them like I bought them,'" he said. "So today I wore them because I think this is what America should look like. We should be walking side by side all the time."
Coweta County District Attorney Herb Cranford talked about how violence affects not only the offender and the victim, but also the families of both. He said it's important for people from all walks of life to get to know each other without any preconceived notions.
"We can start by not being suspicious of each other's motivations," Cranford said.
He said he sees "a lot of tough stuff" on a daily basis in his office, but every crime has a common thread: it takes a terrible toll on the loved ones of both the victim and the perpetrator, and on the community at large.
"Choices have consequences," Cranford said.
Working together to prevent violence and seeking equal justice are community goals the DA's office shares, Cranford said.
"Everybody deserves justice," he said.
One way to protect yourself is to know the law, said Officer Edward Lee of the Newnan Police Department. Lee brought volunteers onto the stage to go over the specifics of the Hands Free Law, which governs how Georgia drivers can use or access their cell phones while they're on the road.
"Leave your ego at the house," Lee said. "This is not about authority. It's about saving your own life."
It was one of several scenarios that played out with Lee and other officers from the NPD. They also simulated a dangerous traffic stop in which both a car's passengers and the officer drew (finger) guns.
"You have an attitude on the side of the road, and that cop might have an attitude," Lee said. "If you have an attitude and that cop has an attitude, something's not going to work out. You'll never win on the streets."
Lee said education is the best way to protect yourself.
"Always gain knowledge," he said. "Learn about the laws. People are not scared of you because you have a gun or because you're big or strong. They're scared of you when you have knowledge and wisdom."