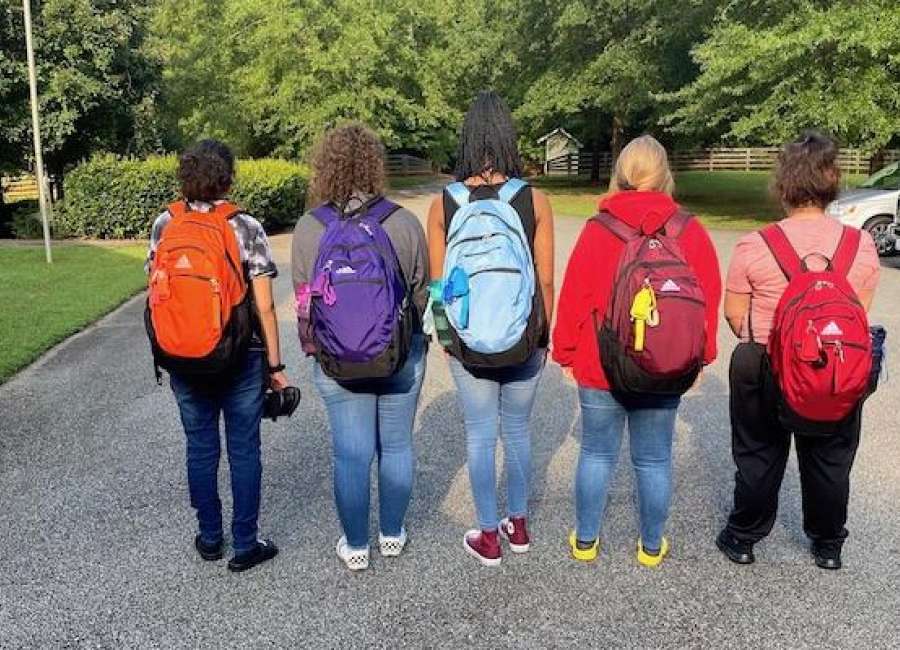 Like other kids in Coweta County, the residents at the Angel's House have been affected by virtual schooling and other changes brought by the COVID-19 pandemic.
The Angel's House is a group foster home for teen girls in DFCS custody. Some are removed from their homes because of abuse, neglect or risky behaviors. Others are transitioning between foster homes, or are faced with other circumstances that require immediate assistance, according to www.theangelshouse.org .
When the schools closed in March 2020 because of the pandemic, Erik and Angela Vielhaber, one of the two direct care staff teams, said it was a strange and surreal time.
"We were just shocked," Erik said. "We told the girls that they were going to do school, but it would be less stress. We tried to keep a sense of calm and peace, while still trying to wrap our mind around what was happening."
Angela said they focused on being a confident and encouraging force for the girls, while balancing their personal reactions to what was going on in the world. She said they had to transition to a completely new school schedule and had to figure out internet connectivity issues for virtual school.
Out of an abundance of caution, they didn't take the girls anywhere through the spring and summer to protect them from contracting COVID-19.
"We knew that we would have to get creative about what we could do," Angela said.
Erik said "no stress" and "flexibility" have been key words they've instilled at the Angel's House during this time. He said consistency is what they work to implement when girls stay at the Angel's House, and they reassured them that even though things were going to be different, it would be okay.
Community support
Erik said they were also worried about not receiving as much community support during the pandemic.
"Without a doubt, the community did even more than they already would have," Erik said.
Angela said they created an Amazon wish list that included items such as snacks, crafts, paint and games to carry them through. She said Amazon was dropping off packages regularly, and they were able to do craft projects, inspirational projects and they created a COVID time capsule.
Despite COVID-19 and all the changes that came with it, Angela said two amazing things came out of it.
"The community support blew us away," Angela said. "It made the girls feel like they're not alone."
Angela said the staff also formed a close-knit bond with the girls.
"It was an 'us against the world' mentality," Erik said.
He said many people gave selflessly, even though they couldn't be there to see the girls' faces while dropping something off.
Before the pandemic, they were always on the go, taking the girls out to eat and on adventures. Erik said the last activity out of the house they did was going to Winter Jam, a Christian music tour, in Atlanta in February 2020.
Angela said they've had several families in the community donate gift cards to restaurants so they can pick up food. They've also had donated activities "in a box" such as a 4th of July in a box that had sparklers, food, candy and beads.
"We tried to make things even better," Angela said. "It's not what we've normally done, but we wanted to bless them and flood them with goodness so that they know they're cared about."
They were able to continue the tradition of Fun Friday, by ordering food and watching a movie or having a dance party. A couple that always supports birthdays at the house, Gary and Ann Stallings, were still able to celebrate with the girls through FaceTime.
Erik said he was worried about Christmas this year, and it ended up being one of the largest Christmases they've ever had.
"Never once has the board said, 'Y'all should cut back on this' or 'We can't afford this,'" Erik said. "They step up to the plate regardless."
Because of community support, Angela said the Angel's House Board of Directors was able to purchase Disney Plus for the house. When they realized Disney Plus wouldn't work on the TV they had, they also bought them a smart TV.
"We've had a lot of fun with it," Angela said. "We've tried to approach it with a positive attitude — what can we do and what fun can we have?"
Virtual school
The girls attend Coweta County schools and have been attending in-person when they are able to. School has also brought challenges since some of the girls prefer online and some prefer to go in-person, Erik said.
Angela said they've been impressed with the school system and how they've handled the pandemic, which helped them make the decision to send the girls to school.
Erik said the school system helped them keep the girls from the Angel's House together when operating on the hybrid model by last name.
Right now, Angel's House has four girls in residence. Erik said they can house up to 10, but the average is around seven or eight.
Impact of the pandemic
Erik said the girls have been through a rollercoaster of emotions during the pandemic. One thing that has helped them is a virtual Bible study from the Vielhaber's church in Cartersville.
"I could see the strength and resilience these girls have, and their fight," Erik said. "They're not willing to give up."
Angela said when the girls have gotten nervous, worried or afraid, they've been there to pull them back to the center.
"The biggest thing has been us as a stabilizing force," Angela said. "We love them like they're our own kids."
Throughout the pandemic, the girls have continued weekly counseling through a telemedicine format.
Angela said the pandemic has also brought them to the table more. She said they've talked and processed during craft projects, where they've had an opportunity to share.
She said they've instilled in the girls it's not just about receiving but giving as well. They've painted rocks with Bible verses and encouragement to be put outside local hospitals, fire stations and police stations.
"I've been so impressed and proud of the girls," Angela said. "I'm really impressed with their strength."
One Angel's House resident in the Angel's House newsletter from 2020 said the pandemic caused a lot of stress at school and at home.
"I am so lucky to be surrounded by people who love and support me at Angel's House," she wrote. "They and this community have done everything they can to help me adapt and overcome the stress by helping me with my homework or dropping off donations."
"I haven't felt alone this year because I know I have a lot of people who love me," she added.
One resident said despite the pandemic, they still were able to have fun and have a pretty normal life even though they couldn't leave the house.
"It is a time in my life that I will never forget," she said. "And I would like to say that I'm thankful for what God and our community provided for us."
This year's Run for Angels, an annual fundraiser with all proceeds going to operation of the Angel's House, will be March 27. Registration for the race can be found at www.theangelshouse.org/run-for-angels .
"Without the run Angel's House wouldn't be here," Angela said. "The community has shown us they exceed our expectations above and beyond what we've ever seen."
The Amazon wish list for the Angel's House can be found here .