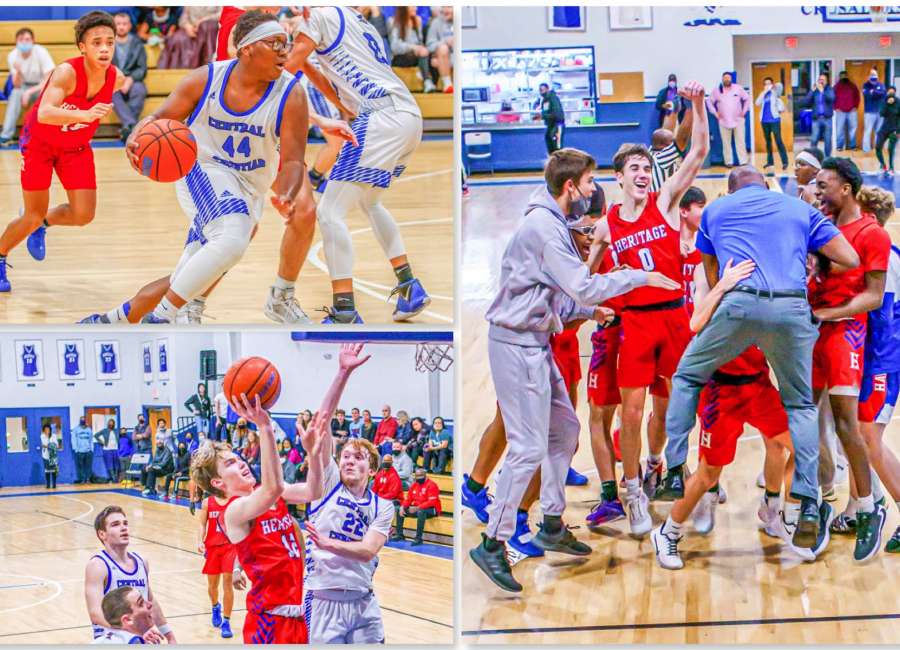 BY ARVON BACON

After having their original matchup postponed, the Heritage Hawks and the Central Christian Crusaders finally got a chance to face off Thursday night in Sharpsburg.
The two teams made it worth the wait, as the game came down to an overtime, last-second Banks Coggin 35-foot heave, propelling his Hawks to an 80-77 victory.
Before the Hawks' stunning victory, the Crusaders were very much in control, up four points with a little over a minute remaining in the overtime period.
However, nerves seemed to be running a little high for the home Crusaders as late self-forced turnovers left the door cracked for the visiting Hawks. Owen Markel and Max Skidmore led the comeback charge, combining for eight points in overtime, setting senior Banks Coggin's clutch, 35-foot, game-winning basket.
Winning head coach Joab Jerome on the wild overtime ending:
"The play was to actually get Banks to set a back screen for Owen for a layup, but our senior leader did a great job of coming back to the ball, having a sense of awareness of how much time was on the clock and knocked down a big shot."
Coggin also came up clutch at the end of the fourth quarter, receiving an inbound pass from his younger brother, Ellis Coggin, and dribbled the ball from one end to the other in six seconds, making the game-tying layup at the buzzer.
Despite being the victims of a heartbreaking loss and some untimely turnovers, the Central Christian Crusaders played with great resilience, outscoring the Hawks in the third and fourth quarters by nine points.
The Crusaders benefited greatly down the stretch from their newest transfer, Trei Parker, who scored a clutch five points, prematurely giving the Crusaders the lead in the fourth quarter.
Central Christian head coach John White on his newest transfer Trei Parker and how his team will continue to practice hard and come back from four razor-thin losses, each decided by three points or fewer:
"This was only Trei's third game with us, so he's got to get his legs under him and get used to playing full games. We have the pieces, now we just have to put it all together and learn how to finish games."
Despite visibly hobbling due to a reaggravated ankle injury he sustained in Tuesday night's game, freshman Max Skidmore led all scorers with 28 points. Emmanuel Melvin followed the freshman's performance with 20 points of his own.
On the opposing side, the Crusaders had three players in double figures; junior Cody Clark led Central Christian with 17, while Parker and Eli Rivers followed with 14 each.
Coming up next:
On a fairly quick turnaround, Central Christian will travel to Covington, Georgia, on Saturday to take on the Peachtree Academy Panthers at 3:30 p.m.
The Heritage Hawks have some practice times as they return home this upcoming Monday, where they have played best basketball thus far to take on the Oak Mountain Academy Warriors at 7:30 p.m.
PHOTOS BY CHRIS MARTIN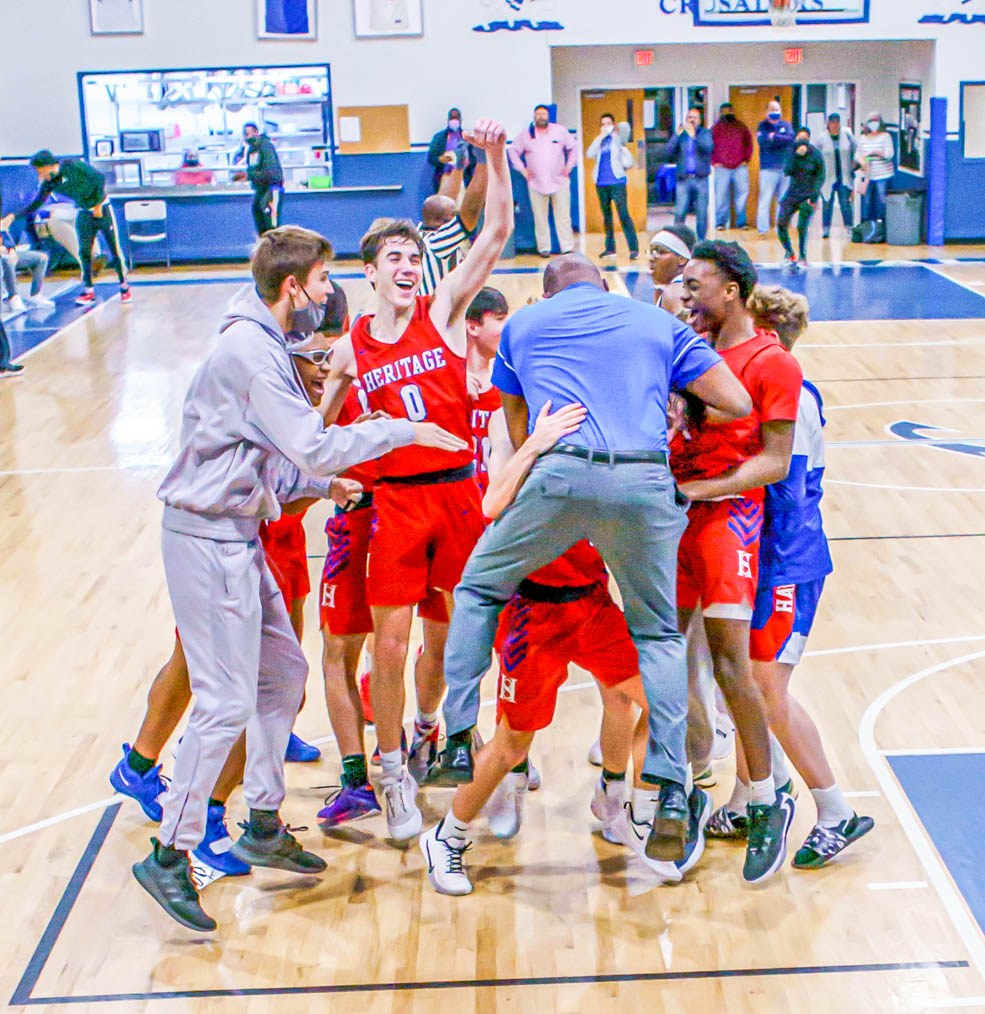 Heritage Head Coach Joab Jerome and team celebrate the Banks Coggin game-winner.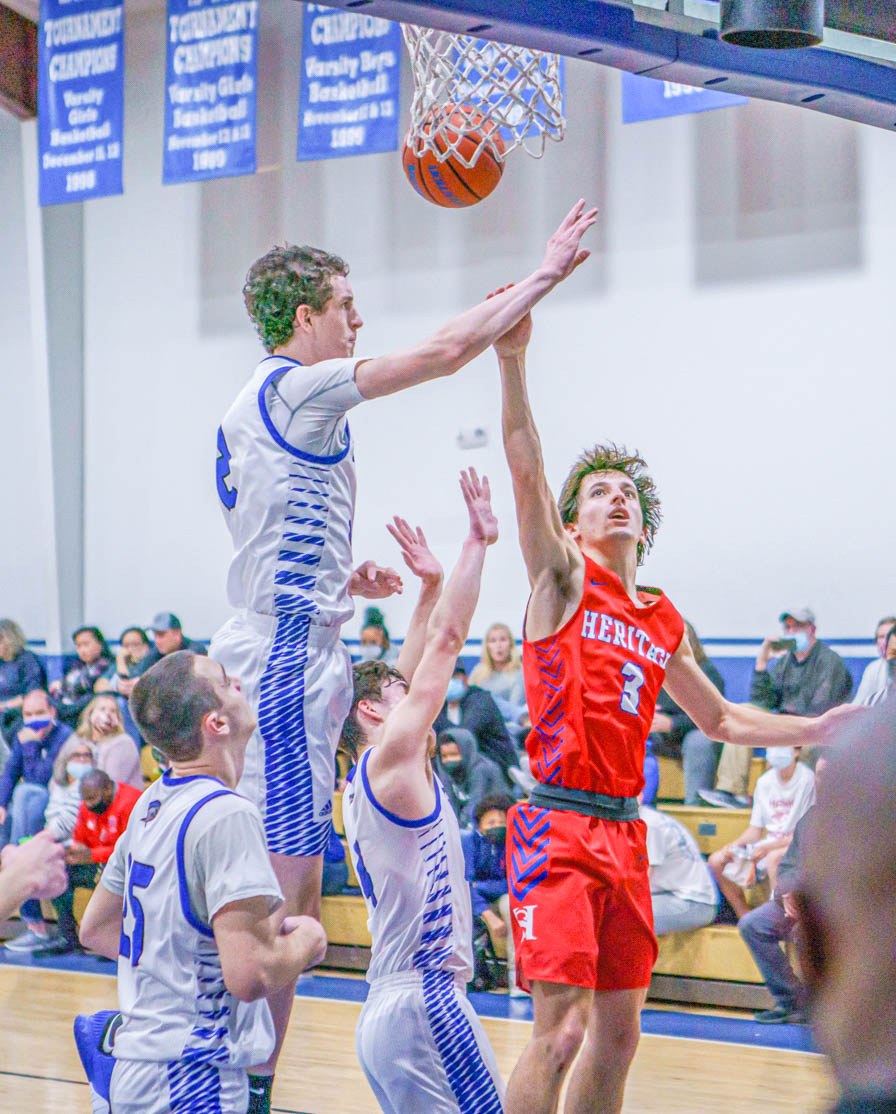 Banks Coggin fights for a rebound. He would later win the game on a 35-foot shot in overtime.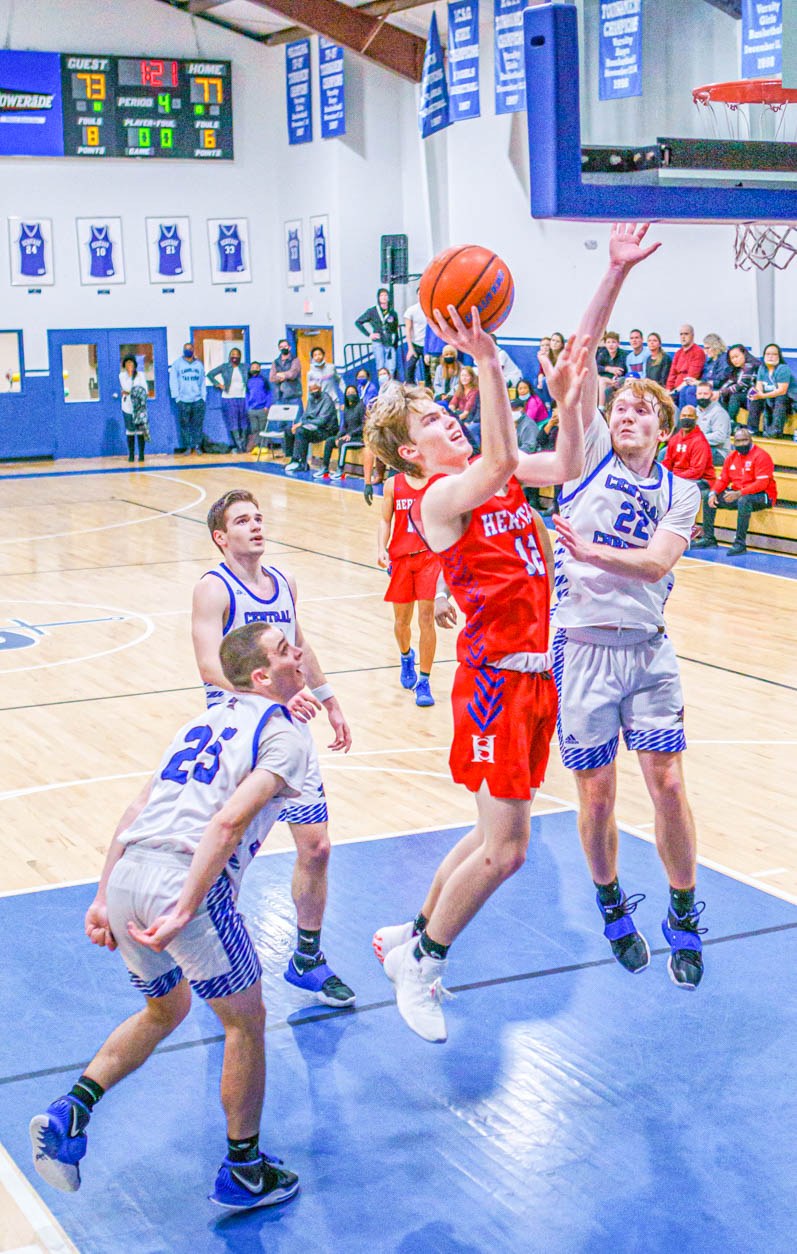 Max Skidmore led the Hawks with 28 points.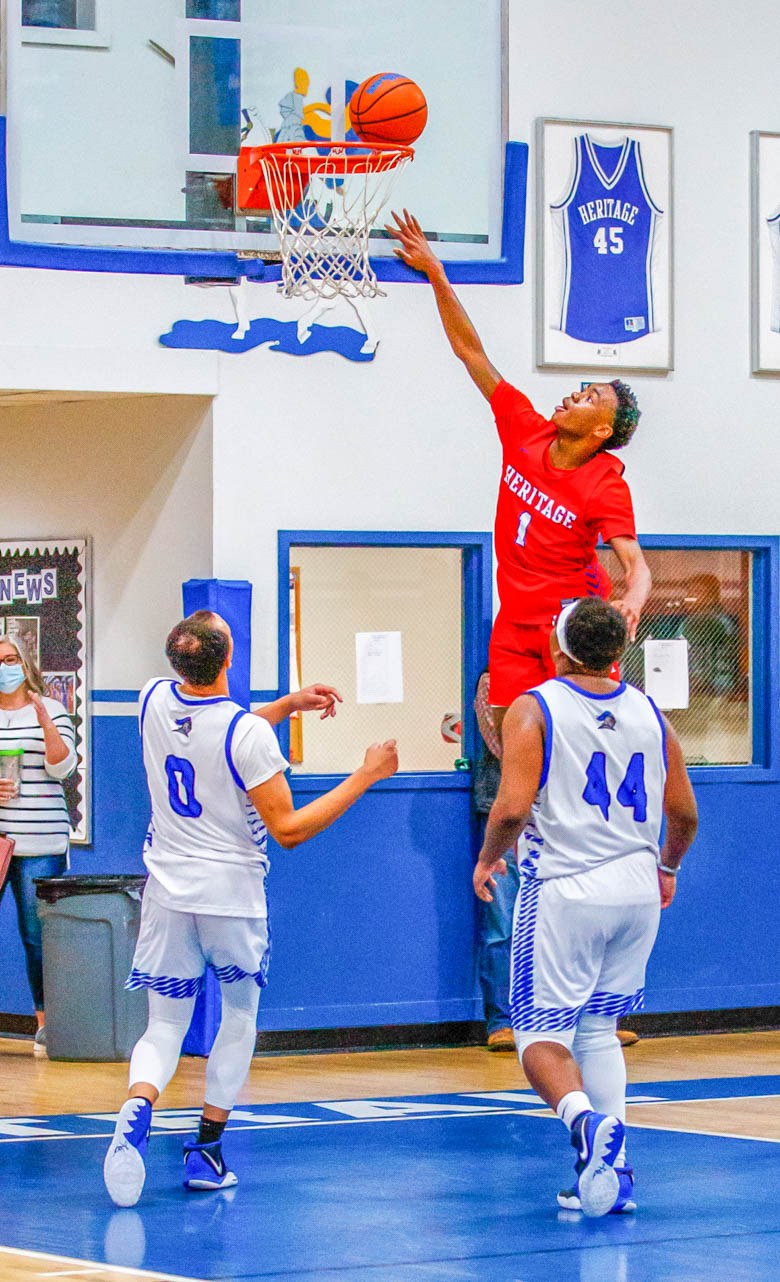 Emanuel Melvin skies for a rebound.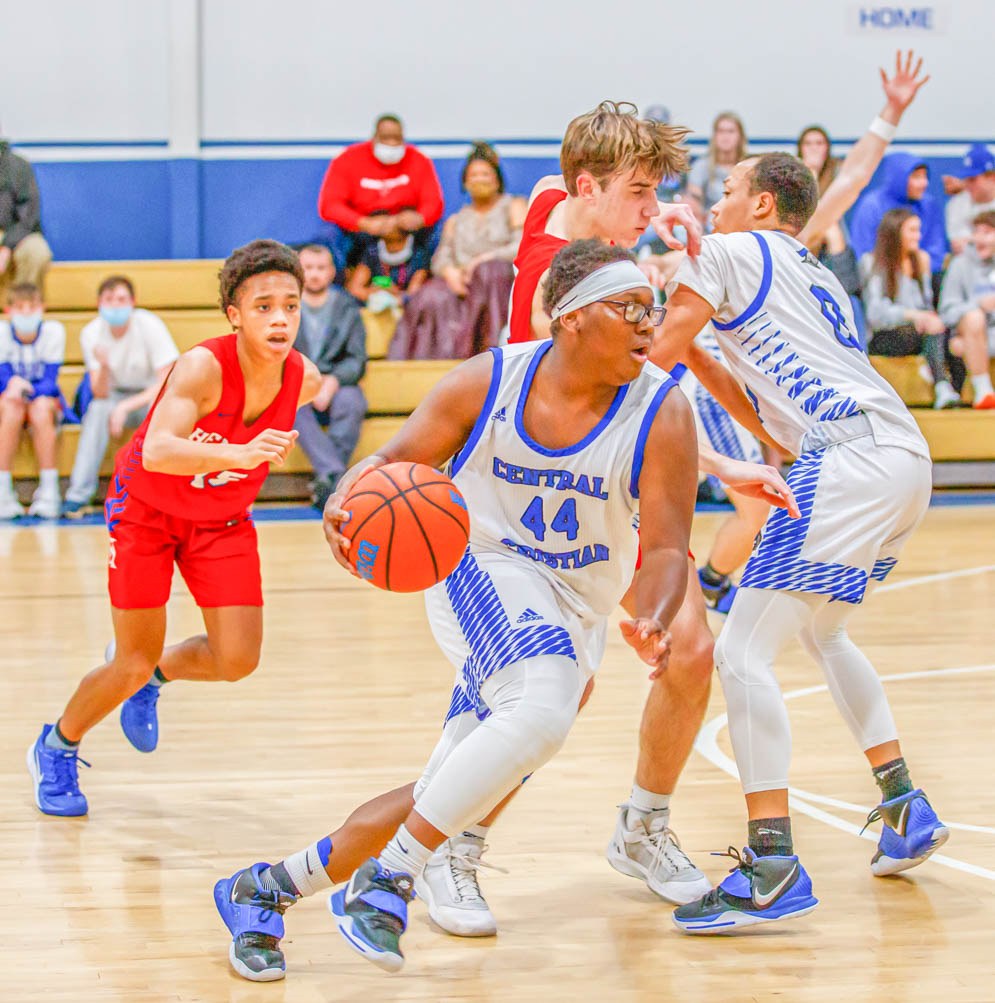 Central Christian's Corey McDonnell looks to create off the dribble.