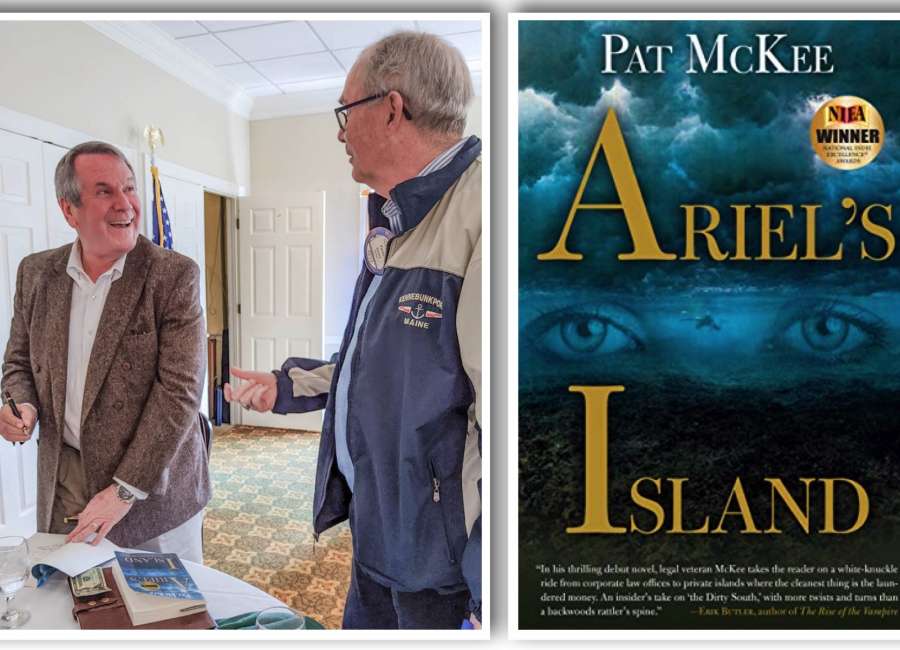 Local author Pat McKee's debut novel, "Ariel's Island," was the subject of Friday's program of the Newnan Rotary Club.
"Ariel's Island" is about a young lawyer, Paul McDaniel, who is framed for the murder of a judge. He enlists an artificial intelligence program to help him clear his name and rescue an heiress.
The book explores the question of whether an AI program that is not grounded in morality can function appropriately in society, McKee said.
"What happens when an all-powerful spirit, like an AI program, is freed into the world without a moral compass?" he said.
Ariel, the AI program in the book, is also the spirit in Shakespeare's "The Tempest." McKee said he used "The Tempest" as a jumping-off point for the plot of the book.
It took him over 10 years to write, which he would do early in the morning when he felt like he could be more creative.
When he began the book, he had set out to write a memoir, after friends and family encouraged him to.
"A number of my friends said, 'You know, you have a great story; you ought to tell this story about a kid who grew up in an orphanage and became a successful lawyer,'" he said.
McKee said he started the memoir and took it to an agent, who said it was too dark and depressing. The agent suggested he instead write fiction about something he knows.
So, he decided to write a legal thriller, with the protagonist having many similarities to McKee, to tie in autobiographical elements to the story.
"Ariel's Island," published by Southern Fried Karma, was released at the end of March 2020. Due to the pandemic, McKee said it's been a challenge to promote the book.
A decade in the making, McKee said one of the biggest takeaways from his experience in the process of writing a novel is that "it's harder than it looks."
"It's easy to start, but you have to edit and then let other people edit so it makes sense to everyone," he said.
McKee is currently working on a sequel, which is expected to be completed by the end of the year. Ultimately, he would love to make the series a full trilogy about Ariel and Paul.
"I don't expect to be a best-selling author, but I enjoy the process," McKee said. "I just want to write and enjoy."