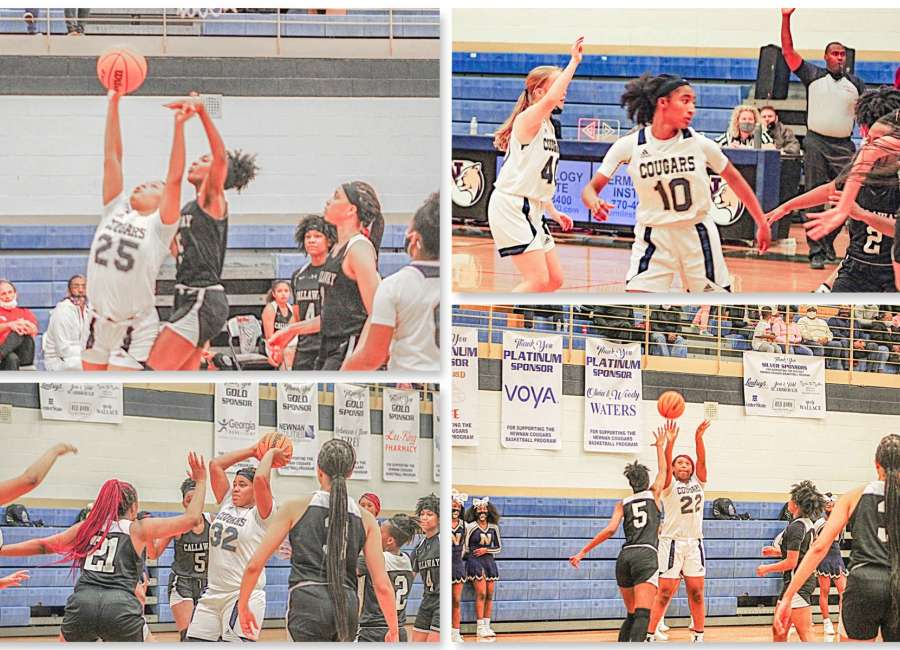 BY ROB GRUBBS
The Newnan Lady Cougars returned to the court for the first time in two weeks when they hosted the Callaway Lady Cavaliers (3-2) at the Max Bass Athletic Complex Tuesday night.
The Lady Cougars got a huge lift from the return of senior Kaylen Madrey to the lineup, but they found themselves down by one with four seconds remaining. On an inbound play under their own basket, Kaitlyn Ball found an open Tishana Key for the 52-51 victory.
After Newnan surged to a 14-7 first quarter lead, the Lady Cavaliers methodically worked their offense inside and out with great success. With less than two minutes remaining in the third quarter, the Lady Cougars found themselves down 39-33.
That is when Newnan, led by Madrey, went on a 12-0 run to take a fourth quarter lead. Madrey started the run with a three, followed by baskets from Makhia Dorsey and Ashira Brown, then another Madrey three and a Key put back bucket off an offensive rebound.
Going down the stretch, Newnan held on to a one-point lead, but Callaway guard Gabrielle Johnson was fouled with 16 seconds remaining and hit both free throws for a Lady Cavaliers 51-50 lead.
Newnan brought the ball up looking for a last second shot, but the Callaway defense deflected the ball out of bounds with four seconds left. That set up the game-winner as time expired.
About the winning play, Newnan Head Coach Shani Jones shared, "That is a normal set we run, and we get various options off of it. We thought they were going to follow Ashira, who is a shooter, and double her — which would have left Kaylen open, but Tishana snuck back door — which is her normal route, and Ashira found her for the win."
Coach Jones also talked about the return of Madrey. "Having her back, having her in the locker room and just having her leadership is unmatched. Having her here does wonders for us; those senior girls, Makhia Dorsey, Tashana Key and Kaylen Jones, have played with her for a while, so to have her back completed their senior class, and it boosts everyone's morale."
In addition to Madrey's 20 points, Brown and Key both added 12 points and Ball had five points.
The victory improved the Lady Cougars to a 3-4 record. They will host the McEachern Lady Indians (6-3) on Tuesday night in Region 2-7A action.
Photos by Kristy Rodgers