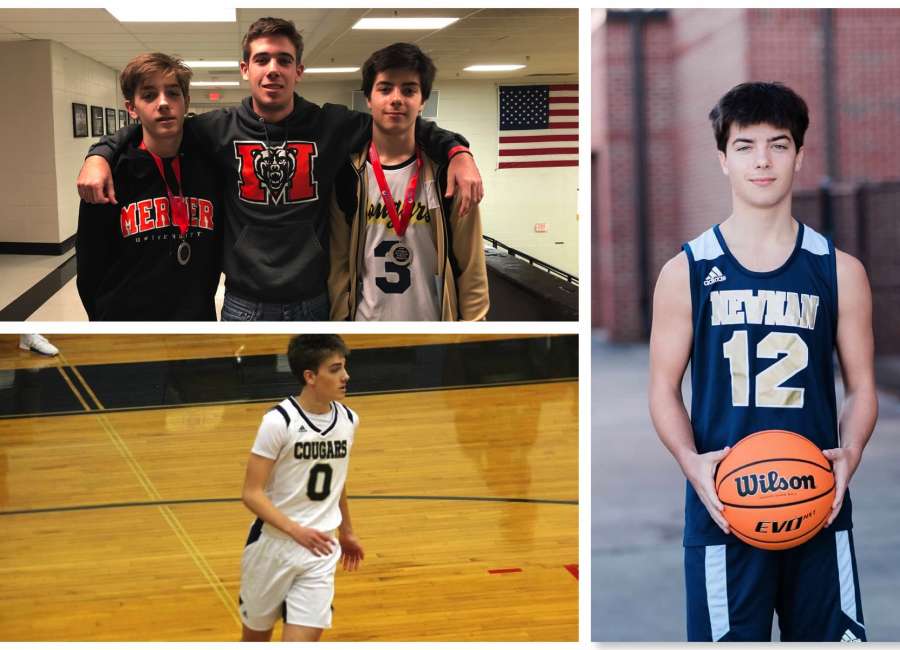 BY DERRICK TEAGLE

Dedicated – A person devoted to a task
Determined – Displaying resolve
Dependable – Reliable
In 1989, Walter Drake was finishing up his stellar high school career at Newnan High School. Drake was an outstanding soccer and basketball player on his way to play basketball at North Georgia College in Dahlonega.
Also in 1989, about 30 miles north of Newnan you could find one of the best shooters in America leading the Georgia Tech Yellow Jackets to a Final Four: Dennis Scott, aka "3-D."
The Sporting News National player of the year was one-third of "Lethal Weapon 3." Those three very intelligent Ga. Tech basketball players were Dedicated, Determined and Dependable on the courts.
Walter and his wife, Tracie, have blessed the Newnan basketball community with their own version of Lethal Weapon 3: Harrison, Wesley and Wheeler Drake.
Walter Drake on his kids' dedication, determination and dependability: "They each have had their own way. They have to want to get better, and it has to mean something to them to put in the work in." Not many kids want to go out and shoot 300 shots a day, lift weights or run 2-3 hours.
The boys have to watch film of the games, take constructive criticism from their coaches and not go in the tank mentally when things go bad, all while making sure their schoolwork is complete. Walter also shared that becoming a great player is a long process. There are so many steps to climb, and you can't skip any.
Don't tell me you are willing to climb them, SHOW ME!
Tracie Drake, who stated that there is no place she would rather be than courtside watching her boys play basketball, plays a vital role with The Newnan High School Basketball Booster Club. Her role is to provide support for the players and coaches throughout the entire year. We have truly increased our involvement with the community and the kids are ALL IN on it.
Harrison Drake - (2016-2019) #12
Harrison Drake was a four-year letterman and three-year starter at Newnan High School. Harrison, a current Mercer student, was known for his 3-point shooting and tenacious style on the court. Harrison credits his father as most influential coach, citing all the time and energy Walter put into teaching him the game of basketball.
Tracie Drake shared that nobody could be a better big brother or stronger role model than Harrison. Tracie said that he sets a great example in everything he does and how he carries himself through life. Harrison also adds just the right amount of competition and constructive criticism to create a healthy competitive atmosphere that drives his brothers to be better.
I personally have seen Harrison assist his mother and Laura Bass in concessions preparations for upcoming basketball games. (Dedicated)
Wesley Drake - (Class of 2021) #0
Wesley Drake is the starting shooting guard for the Newnan Cougars. The Cougars (10-1) are off to their best start since the 2008-09 season. Wesley, the Cougars' leading scorer, is shooting 50 percent from behind the arch and almost 90 percent from the free-throw line.
Tracie Drake said, "There is no greater joy as a parent than watching your child doing what they love. Wesley truly loves sports and has been playing basketball since he was old enough to walk." I love that I get a chance to see his hard work and dedication paying off is priceless.
Pierce Colton (Wesley Drake's AAU Coach): "I love watching my Newnan Elite guys perform on the highest level. I can truly tell that Wesley has been putting the extra work over the summer."
Newnan Basketball Coach Gatz remarked that Wesley is the type of kid every coach wants, as he is very intelligent, genuine and kind-hearted. Wesley handles his business in the classroom and is always respectful, representing the program the right way. Coach also stated that he is not sure he has ever seen someone make a bigger jump from his sophomore to junior year. (Determined)
Wheeler Drake - (Class of 2024) #12
"Wheeler, the youngest of the Drake siblings, has the advantage of watching, playing with and against his brothers. I think it will serve him well during his high school career." - Tracie Drake
"After watching Wheeler perform with Newnan Elite and the Middle School Champions Evans Cougars last year, it was no surprise to me that Wheeler is playing with the NHS Varsity Team as a Freshmen" - Derrick Teagle
"Wheeler loves to compete, as he backs down from nobody. He has a lot of ability on the court and is just scratching the surface of what he can develop into. He is a big part of this program and a great teammate. The guys on the team truly love him, as he is always ready to compete in practice. - Coach Gatz. (Dependable)