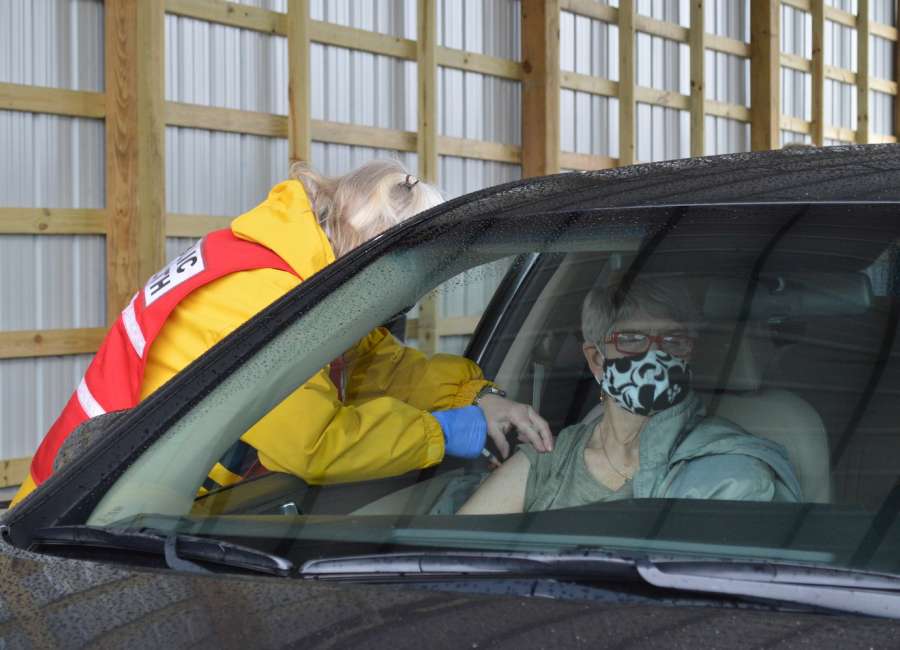 Georgians 65 and older are now eligible for COVID-19 vaccines, and on Monday, there were appointments for 1,000 vaccines to be given out at the Coweta County Fairgrounds.
Another 1,000 vaccines are set to be administered Thursday.
The Georgia Department of Public Health, with help from local public safety workers and the Coweta Emergency Management Agency, administered this week's vaccines. The vaccines are offered free-of-charge.
The state of Georgia recently expanded vaccine Phase 1a to include those over 65 and their caregivers and public safety workers. Phase 1a also includes all health care workers and residents of long-term care homes.
Piedmont Healthcare has also administered a limited number of COVID-19 vaccines to patients, and Lee Goodrum Pharmacy in Newnan should be receiving doses in the next few weeks, according to the pharmacy's Facebook page.
All vaccines are being given by appointment only.
Monday's vaccine clinic was originally set to be first come, first served. The vaccine clinic was announced Thursday afternoon, but by Friday, public health officials were pivoting to set up appointments.
The change to appointment only was made late Friday afternoon out of concerns about a rush of people trying to get the vaccination and people camping out to get a place in line.
District 4 Public Health officials worked Friday into Saturday to put together a system for appointments. Georgians could call a number to set up an appointment or fill out a form online to get a call back.
Teams were both taking phone calls and doing call backs, said Hayla Folden, District 4 spokeswoman, but they found that some people were filling out the online form 18 or 20 times, and then calling.
The appointment system "was something we had to come up with quickly. It wasn't ideal," she said, but there had to be an appointment system in place.
Some Cowetans trying to make appointments by phone reported being disconnected after waiting on hold for hours and being almost at the front of the line. Others reported calling hundreds of times to get through.
Folden said that the entire phone system crashed on Saturday for a short time, and everyone was disconnected.
Public health and local officials worked to get the word out about the need for appointments, including with flashing message signs as people neared the fairgrounds.
But Monday morning, there were a significant number of people showing up without an appointment. Those who arrived without appointments were turned away.
An appointment check was the first step for those who arrived at the fairgrounds, which took place at the exhibit hall. Those with appointments were directed to the midway where they received paperwork at one station, turned it in at a second and then got in the short and fast-moving line for the vaccination.
For most of the day, there were two vaccination lines running, with two vaccination stations in each line. For lunch, there were split shifts, and only one vaccination line running. After receiving the vaccination, people were asked to sit and wait in their vehicles for 15 minutes to make sure no one had any adverse reactions. An ambulance was on hand to help anyone who needed it.
Carrie Aubin and her mother, Diane, were among those getting vaccinated Monday. "We're pretty excited," she said. She was also appreciative of the updates that Coweta County has been sending out through the Coweta Alerts system, letting people know about vaccines available.
"We're so thankful Coweta County has got their act together," she said.
Those receiving vaccinations were given information cards about when they would need to get their second dose, and information about how to report any adverse reactions. The vaccination cards should be brought back for the second dose, when they will be fully filled out.
The Moderna COVID-19 vaccine requires two doses, 28 days apart. The dose can be given from 24 to 32 days apart.
Those who have received their first dose will also need to make an appointment for the second dose.
While many will likely get that second dose through another DPH event, they may also get it through other sources. DPH doesn't have those second doses in hand.
"We have to reorder to get the second doses," Folden said. "We are also hoping that there will be more providers on board" by that time, she said.
Lee Goodrum Pharmacy posted on its Facebook page that while it doesn't have any vaccine for the general public yet, it will announce when it becomes available. It will be offered by appointment only, and the pharmacy asks that people not call and ask when it will be available.
Piedmont officials also asked that customers not call and ask about the vaccine. Instead, patients will be contacted by Piedmont Healthcare when appointments are available.
Piedmont has already offered the vaccine to its staff and had a limited supply of vaccine for patients over 65, according to Piedmont Newnan Spokeswoman Nicole Dillon.
Patients 65 and older were notified through the MyChart electronic medical record system of the opportunity to make an appointment for vaccination this week. All appointments are full, Dillon said.
Piedmont Healthcare is operating seven vaccine clinic locations in its service area; the location of the clinics is not made public, but is not at any hospital or existing doctor's office, according to Dillon.
Patients are asked not to call or visit Piedmont locations to get a vaccination unless they have an appointment. "Calling or visiting without an appointment or many hours before your appointed times interferes with our ability to provide patient care at this critical time," Dillon said.
When more vaccine becomes available, patients will be notified, she said.
Piedmont patients interested in getting the vaccine should stay tuned to notifications from MyChart or emails from Piedmont about vaccine availability.
Coweta County's Coweta Alerts emergency and information alert system will have updates about vaccines offered through the Georgia Department of Public Health. To sign up for Coweta Alerts, text CowetaAlerts (one word) to 67283 or visit https://bit.ly/35ylmgE .