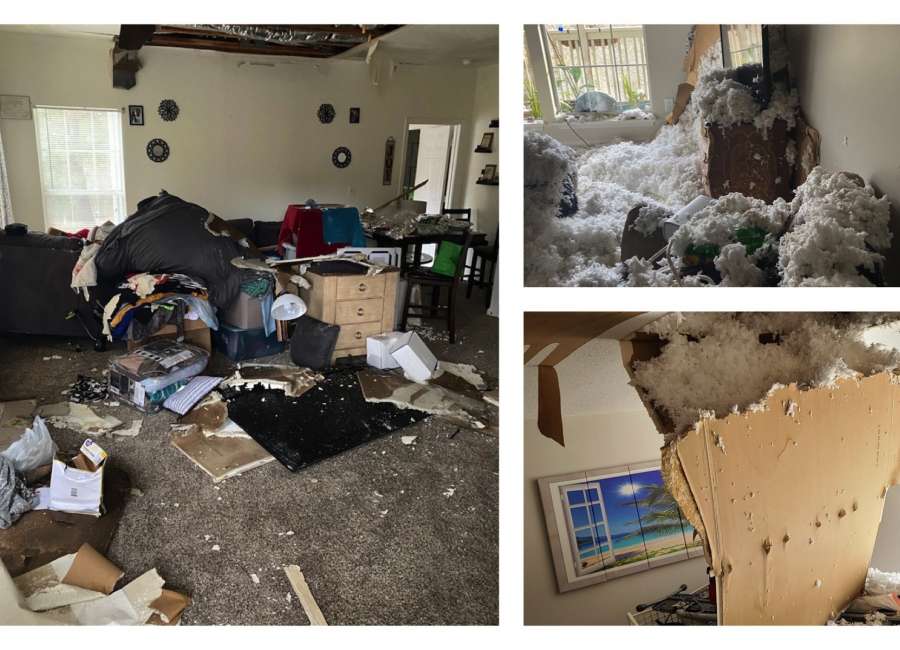 Three local families were flooded out of their apartments the Friday after Thanksgiving, when a water supply line in the attic was damaged.
A fourth apartment sustained some water damage; a fifth apartment was also affected but is rented by a corporation and people come and go, according to the neighbors.
It happened at Creekside at White Oak apartments (formerly Lakeside Apartments) around 2 p.m. on Black Friday.
Mialissa Hall said she got a notification from her alarm company. When she got home, there were fire trucks everywhere – she thought it was a fire.
As it turned out, according to the residents, a technician from AT&T was up in the attic installing internet service for a new resident, when he stepped on or fell on the water pipe, and it broke.
When Hall got home, the water was still running. It damaged apartments on three floors. Hall's apartment is on the basement level.
"It busted the ceiling, it ran down the walls; there was water in the electrical panels," she said. "The firemen said there was four inches in my apartment."
Michele White was at home when she heard a loud boom. "It sounded like an explosion. If you told me it was a gas explosion I would have believed it," she said. She grabbed a bucket to catch the water but "before you could put the whole bucket under the water, it was already full."
"It literally took 45 minutes to an hour to get the water cut off," she said. She said they were told that the valve to cut off water to their building wasn't functioning, so water had to be cut off to the entire complex.
She and her neighbors grabbed what they could salvage quickly — mostly clothes.
The apartment managers got the families motel rooms Friday night. At first, it seemed they would only get one night. In the final hour, they were told they could stay. "It was literally 10 minutes until checkout time," Hall said.
After a few days of staying in a hotel room paid for by the complex, Hall is now in a suite paid for by her renters' insurance.
Neighbor Jennifer Edmond wasn't as lucky. Edmond had been paying $10 a month as part of her rent for renters' insurance. When she attempted to make a claim, she said she found that the insurance she'd been paying for didn't cover her possessions – or anything for her benefit – at all.
Edmond said that the agent she worked with to lease the apartment recommended she get the $10 a month insurance through the apartment complex. After the flood, she said they showed her in her lease how the insurance she'd been paying for only covered the apartment property.
An employee at the leasing office said that the company doesn't offer renters' insurance, but does recommend a company. If a tenant doesn't have renters' insurance in place by the time the lease starts, they are defaulted to the liability only plan, the woman said, and that information is included in the lease. She said she couldn't speak about the flood or how the complex is responding unless she was speaking to someone who was on the lease.
The residents have now been told that the complex will put them in some vacant apartments.
Hall said that, originally, they were told that there were no vacant two-bedroom apartments, and everyone would need to either upgrade – with higher rent – to a three-bedroom or downgrade to a one-bedroom. But they later said that there were some vacant ones that could be cleaned up and fixed up, she said.
Hall is skeptical of moving into a vacant apartment with no furniture. And, she said, they were told they would only stay in those apartments until their damaged apartments are repaired.
Since the flood, recovery and restoration teams have been busy working on drying out and repairing the apartments. The residents have also been given the use of the garages at the complex to keep items.
Hall said that Tuesday she was told that the property management company is working to find answers. She's wondering whether they are supposed to pay their December rent or not.
All of the affected residents are single moms, and they're worried about the impact on their children this close to Christmas.
"I keep hearing 'Christmas is destroyed,'" said Hall.
"It's challenging," said Michele White, who has five children. "They are handling it as best they can under the circumstances. It's a heck of a thing when you're fleeing your home after Thanksgiving and you don't even know what's going on."
They've set up a Go Fund Me account to help their children have Christmas and to buy new furniture.
Tracy Edwards had just moved in, and it was her internet service that was being hooked up. Her apartment only sustained some water damage in the kitchen, but she's concerned about the aftermath of the floods.
Despite what's happened to their homes, the neighbors are trying to stay in good spirits.
"We've really had to encourage each other despite what has gone on," said White. "We didn't know each other before. Now we've become family and friends."