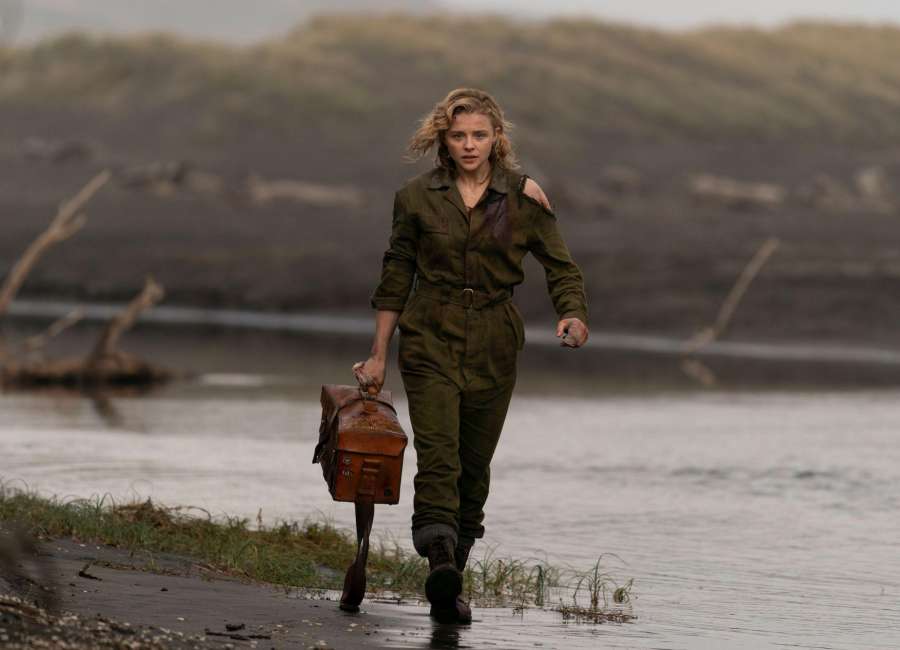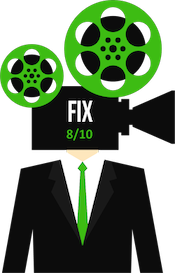 Review by Jonathan W. Hickman
Like "Promising Young Woman," "Shadow in the Cloud" is one of the most audacious films of 2020. Sure, it's a WWII set horror/action film in which a B-17 Flying Fortress is attacked in the air by a vicious, bat-like creature hell-bent on taking the plane down. But the film also serves up some subversive, acerbic social commentary.

"Cloud" has flight officer Maude Garrett (Chloë Grace Moretz) boarding a B-17 in the middle of the night guarding a mysterious, top-secret package. Once onboard, the all-male crew, shocked that a woman has joined them, forces her into the gun turret on the bottom of the plane. Before going into the turret, Maude entrusts her package to one of the soldiers. And when the turret hatch gets stuck, Maude is trapped below, where she notices a dark beast crawling around the hull.
Maude must convince her dismissive fellow passengers of the monster's existence and reclaim possession of her top-secret cargo. To make matters worse, Japanese planes threaten to shoot the B-17 out of the sky.
New Zealand-born Chinese director and co-writer Roseanne Liang uses the film's fantastic genre foundation to build a story of female empowerment. In Maude, she finds a strong, resourceful woman that must not only battle supernatural forces but crushing real-world inequalities, as well.
And precisely because "Shadow in the Cloud" is such a thrilling escape, Liang manages to insert some subtle and not so subtle comments about what it is to be a woman in a patriarchal society. Like this year's much-loved "Promising Young Woman," written and directed by Emerald Fennell, "Cloud" uses edgy action elements colorfully while never forgetting grounded reality.
Consider that in WWII, there were more than 1000 female pilots. Many of the women flew ferrying missions, a fact mentioned in "Cloud." And those missions were an integral part of the war effort.
By casting Moretz as the film's hero, Liang knew that she was getting a powerful performer known for her acting and karate chops. After all, Moretz made her big splash by playing Hit-Girl in Matthew Vaughn's terrifically entertaining "Kick-Ass." But in "Cloud," Moretz is center-stage, expected to do more than punch, kick, and shoot. Maude is a symbol of all those fighting women of the day. And Moretz plays her with a concerted intensity that glows brightly as the film reaches its wild concluding act.
To be sure, "Shadow in the Cloud" is often an indulgent fantasy. The 1943 setting is mixed with a hybrid of 1980s pumping, synth music as part of a busy modern score. But Maude's fight to save her mysterious package is a metaphor for the struggle women endure across the ages. It's fitting that as the sequences become more and more bonkers, the only one among the crew that keeps her cool is Maude. And as we eventually learn, she's got more than herself riding on the mission.
Aside from the social commentary, "Cloud" is a darned entertaining action/horror movie. The B-17 makes a perfect claustrophobic set-piece, especially when it's flying recklessly through enemy airspace. At one point, Maude crawls around on the outside of the plane to retrieve her precious package. The whole time she's trading blows with a menacing, winged demon that's right out of a nightmare. It's thrilling stuff!
The closing credits pay tribute to women pilots and mechanics during WWII. A fascinating, celebratory montage of archived footage shows us the real fly girls of the day. We're reminded that all of us won the war. Our cooperation, regardless of gender, was and still is our biggest strength.
A RottenTomatoes.com Tomatometer-approved critic, Jonathan W. Hickman is also an entertainment lawyer, college professor, novelist, and filmmaker. He's a member of the Atlanta Film Critics Circle, The Southeastern Film Critics Association, and the Georgia Film Critics Association. For more information about Jonathan visit: FilmProductionLaw.com or DailyFIlmFix.com