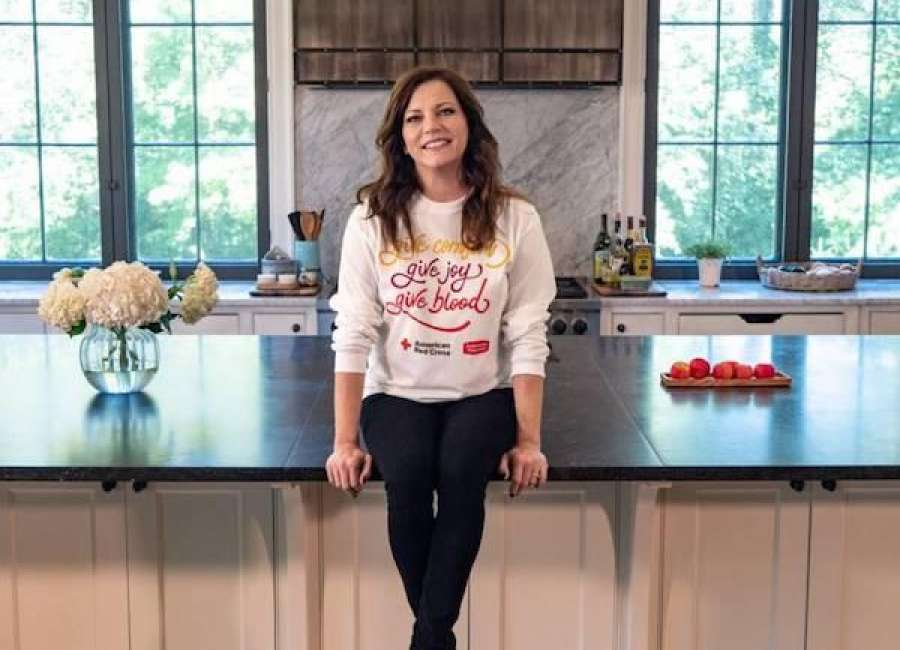 The American Red Cross and country music star Martina McBride have joined together this holiday season to remind everyone to take care of one another, through the gift of blood donation.
"Health emergencies don't pause for a pandemic, nor for holiday celebrations," according to a press release from the Red Cross. "The Red Cross needs the help of blood donors across the country now to ensure patients continue to have access to lifesaving blood."
As the U.S. experiences a new surge in COVID-19 cases, the Red Cross is becoming increasingly concerned about the nation's blood supply — including convalescent plasma.
A convalescent plasma donation collects plasma from COVID-19 survivors because antibodies to the disease in their blood may help patients who are currently fighting the virus. Increased hospitalization of patients with coronavirus this fall and winter, has caused the Red Cross to distribute a record number of COVID-19 plasma products to hospitals treating patients who are battling the virus, according to the release.
This holiday season, Martina McBride is reaching out to country music fans and all eligible individuals, "If nobody has ever asked you to give blood before, I'm asking you to give blood — especially during this trying time."
Now through Dec. 15, Suburban Propane is offering blood, platelet and plasma donors a chance to win an Outdoor Living Experience, powered by Propane, to enable a lucky winner to enjoy socially distanced celebrations with family and friends this holiday season. The prize includes a propane-powered pizza oven, fire pit, outdoor heater and stipend towards propane.
"Through our SuburbanCares initiative, giving back to our local communities is a top priority, and what better way to do that than to donate blood," said Nandini Sankara, spokesperson for Suburban Propane in the release. "Suburban is delighted to sponsor a Propane Experience Giveaway to help motivate more people to give the gift of life this holiday season."
Eligible individuals are urged to make an appointment to donate blood to help patients in need. Find a donation opportunity using the Red Cross Blood Donor App, visiting RedCrossBlood.org or calling 1-800-RED CROSS (1-800-733-2767).
The Red Cross is testing all blood donations for COVID-19 antibodies, which helps provide insight to donors concerning possible prior exposure to the virus. Donors can expect to receive the results of their antibody test within one to two weeks through the Red Cross Blood Donor App or on the donor portal at www.redcrossblood.org .
As part of this effort, plasma from whole blood donations that test positive for COVID-19 antibodies may now help current coronavirus patients in need of convalescent plasma. Each week, whole blood donors with COVID-19 antibodies are helping to contribute between 350-500 units of potentially lifesaving convalescent plasma for patients in need.
The Red Cross is not administering diagnostic tests intended to diagnose COVID-19. To protect the health and safety of staff and donors, individuals who do not feel well or believe they may be ill with COVID-19 should postpone donation.
Each Red Cross blood drive and donation center follows the highest standards of safety and infection control, and additional precautions – including temperature checks, social distancing and face coverings for donors and staff – have been implemented to help protect the health of all those in attendance.
Donors are encouraged to schedule an appointment prior to arriving at the drive and are required to wear a face covering or mask while at the drive, in alignment with guidance from the Centers for Disease Control and Prevention.
All blood types are needed to ensure a reliable supply for patients. A blood donor card or driver's license or two other forms of identification are required at check-in. Individuals who are 17 years of age in most states (16 with parental consent where allowed by state law), weigh at least 110 pounds and are in generally good health may be eligible to donate blood.
High school students and other donors 18 years of age and younger also have to meet certain height and weight requirements.
The following are local blood drives planned for December:
Thursday, Dec. 3, Asa M. Powell Expo Center, 197 Temple Ave., Newnan, noon to 5 p.m.
Friday, Dec. 4, Piedmont Newnan Hospital, 745 Poplar Road, Newnan, 9 a.m. to 3 p.m.
Monday, Dec. 7, Heatherwood Baptist Church, 721 Shenandoah Blvd., Newnan, 2 to 7 p.m.
Tuesday, Dec. 8, Southside Church - Newnan, 1821 GA-34, Newnan, 1 to 6 p.m.
Monday, Dec. 14, SouthCrest Church, 365 International Blvd., Newnan, 1 to 6 p.m.
Wednesday, Dec. 23, Asa M. Powell Expo Center, 197 Temple Ave., Newnan, 9:30 a.m. to 2:30 p.m.
Monday, Dec. 28, Newnan City Church, 17 First Ave., Newnan, 2 to 7 p.m.
Tuesday, Dec. 29, Newnan Church of Christ, 2675 Highway 34 E., Newnan, 10 a.m. to 3 p.m.
Thursday, Dec. 31, Asa M. Powell Expo Center, 197 Temple Ave., Newnan, 9 a.m. to 2 p.m.
Blood and platelet donors can save time at their next donation by using RapidPass to complete their pre-donation reading and health history questionnaire online, on the day of their donation, before arriving at the blood drive. To get started, follow the instructions at RedCrossBlood.org/RapidPass or use the Blood Donor App.