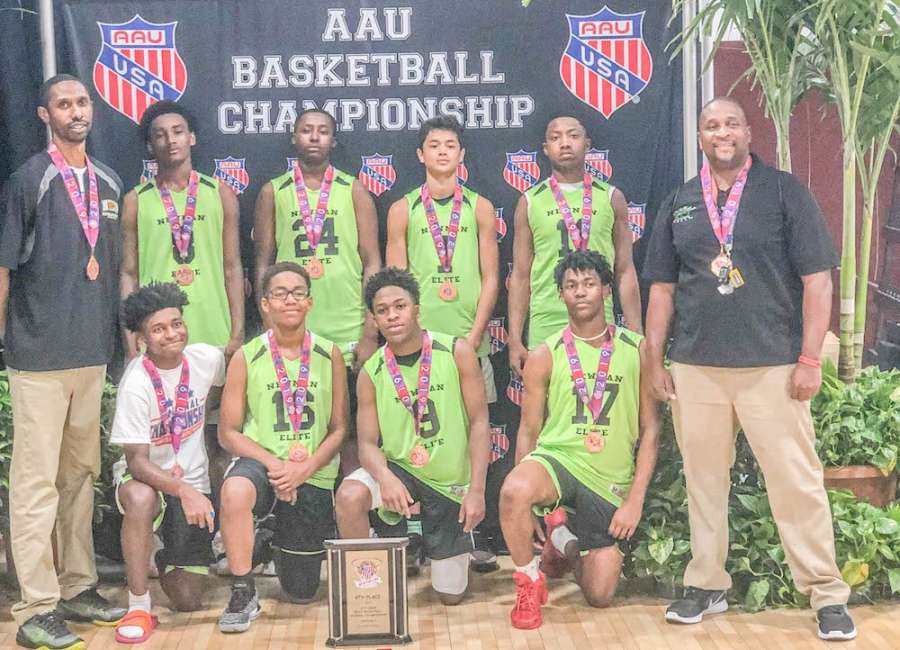 By Derrick A Teagle

One day after watching his baseball team "whoop" everybody, Pierce Colton decided to start a traveling basketball team. Pierce named this team Newnan Elite and one thing for sure is this organization based out of Newnan Georgia was "Elite."
Pierce is low key off the court but extremely passionate on the court. His favorite words after an accomplishment are, "That's big … ."
After their establishment in 2016, the Newnan Elite has been in the championship game in over 75 percent of their tournaments. The current 9th/10th-grade teams have won over 60 percent of their tournaments, knocking off Nike and Adidas Select teams.
The Newnan Elite has played in tournaments with NBA Legends Lebron James, Dikembe Mutombo, Chris Paul and Dwight Howard. Pierce said his first teared-up moment occurred when the local team beat NBA All-Star Derrick Favors Atlanta Celtics team after being down by double digits. That's big …
Pierce's wife, Lori Colton, is the true backbone of the organization as she handles the paperwork and social media pages. The Newnan Elite family is truly a family. You can hear the passionate parents throughout the games.
I remember the first tournament that I coached just like it was yesterday. I remember hearing Austen Colton's grandmothers (Mrs. Vivian Colton and the Late Mrs. Raymechia Smith) giving the referees the business from the stands. I was like, "Those two don't play," but was happy that they were on our side. That's big …
The Newnan Family
Kioka Render: The Newnan Elite Program was an amazing adventure for my son and my family. Coach Pierce saw potential in Jeremiah and worked hard with him on and off the court to push him to excellence. After joining the organization, we were introduced to Coach Teagle and joined Empowered 4 Life. These amazing youth organizations are changing their lives daily for our children as they genuinely care about their lives. The boys are required to perform on the court as well as in the classroom, which was especially important to me as a parent. That's big …
Karessa Smith: My son James Paige has truly been blessed by being a part of Newnan Elite. Newnan Elite was always overlooked and faced adversity. Newnan Elite didn't always have "matching shoes and warm-ups," but when the whistle blew, Newnan Elite out-hustled and outplayed their opponents. They always rose to the occasion and proved the doubters wrong. My son has made some lifelong friends who are more like brothers. I love that Coach Pierce and the NE organization not only help them on the court, but they all have grown into a great group of young men with good character. Newnan Elite is not just about basketball, we are FAMILY. That's big …
Genna Mitchell: One of my biggest joys as a parent is watching my son Samuel Moss develop into the young man he is today. Although Sammie has been playing since he was 4 years old, being a part of the Newnan Elite is where his love, energy and passion for the game begin to manifest. Coach Pierce has been more than a coach, he has been a motivator, an encourager, a teacher, but most of all, a person who doesn't change. Coach Pierce is still playing a major role in our lives. That's big …
Aaron Feminore Sr.: The Newnan Elite team helped my son Aaron develop as an athlete. The workouts with Pierce made a difference in his speed and explosiveness. The very first practice was brutal, aggressive and high speed. The boys learn to work, suffer and eventually win together. I realized after a few practices that Aaron was playing with some of the best athletes in the county.
Coach Pierce is the kind of coach I always respected as his expectations of his players were always high. He pushed the kids to be better as he ran physical, disciplined practices. The team got better every single practice. The best thing about him is he loved every one of the boys as if they were his boys. I really trusted every decision he made. That's big …
I have coached with Pierce and passionately against Pierce during the Recreation/Upward Leagues. I have learned so much from "Coach P" as a coach and as a father. Derrius and Austen both played on the same team when they were five. The friendship that we all have is unbreakable.
I talk to Pierce for hours about what we can do to make our team better. I love the road trips and the talk but truly love the sincere love Newnan Elite have for our boys. Coach Pierce is truly about the brotherhood.
I love the joy in Pierce's voice when I told him about my son Derrius's academic success. To me that means everything.
That's big …
Derrick A. Teagle is the founder and director of Empowered 4 Life, a local athletic mentoring program and co-host of the 'Monday Night Motivation' radio show.