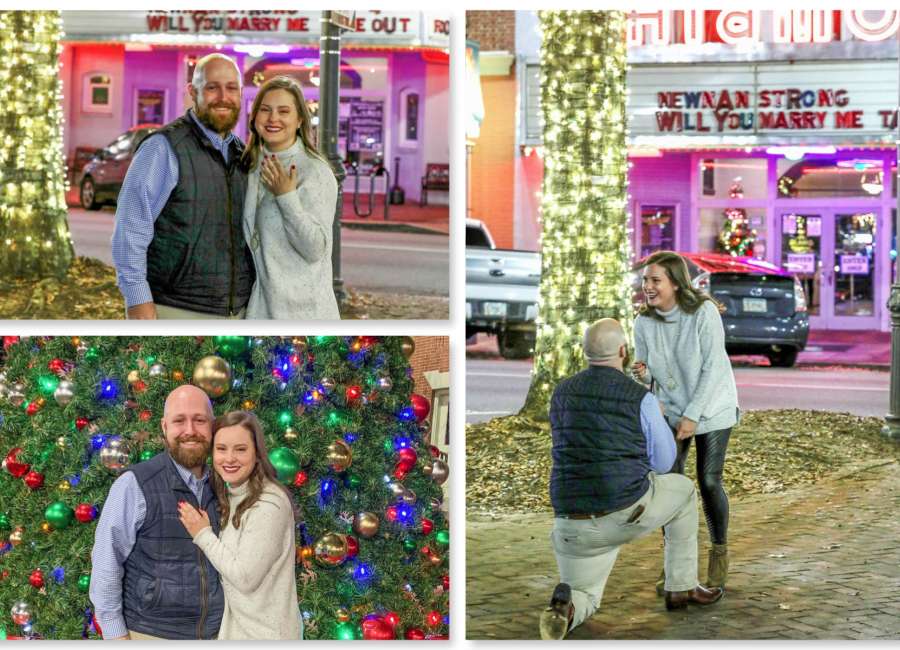 By Rachel Adams
Couples who grow up in Newnan together stay together.
Michael Nix and his fiancé, Carrie Riley, got engaged on Saturday, Dec. 12, outside The Alamo in downtown Newnan.
The couple are both Newnan natives; Nix has lived here his entire life, while Riley moved here in middle school. They met while working at the Dwarf House, now called Truett's Chick-Fil-A.
"We started dating in 2013, right before Carrie went off to school in Macon," Nix said. "She was down in Macon for two years and then Atlanta for two years, so we saw each other sometimes during the week and on the weekends for a while."
Riley attended Mercer University to pursue a nursing degree, while Nix stayed in Newnan and commuted to and from Georgia State University in Atlanta.
Soon after graduating, Nix and Riley reunited with each other in Newnan, where they have lived since. Nix is the Executive Director of the Georgia Emergency Communications Authority, while Riley works as a pediatric nurse at Children's Healthcare of Atlanta Egleston.
Nix decided to propose to Riley with some help from Amy Murphy, the owner of The Alamo. The movie-theater-turned-bar boasts a marquee above its entrance. Nix had the marquee adorned with the words "Will you marry me?" before popping the question last Saturday.
"The owners of The Alamo and Meat 'N Greet are family friends of ours," Nix said. "Carrie and I grew up in Newnan, and we both live in Newnan, and it's just a special place to us. I wanted to do something that was special to both of us."
The couple concluded their evening with a dinner at Meat 'n' Greet with a few close friends.
"I just wanted to do something that was special and different and memorable," Nix said. "Everything went perfectly as planned and exactly how I had had it in my mind, so I couldn't have asked for a better night."
Nix said he and Riley have high hopes for what the future will bring.
"We're just super excited to start the family and to plan the wedding and for all the stressors that come from that," Nix said.
Nix and Riley are currently planning their wedding for the fall of 2021.