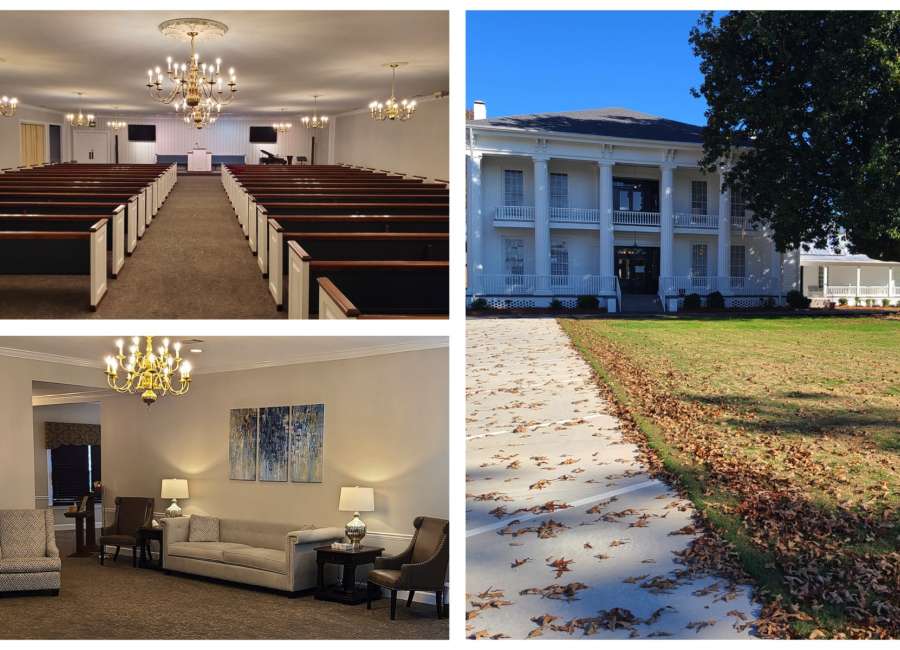 By Rachel Adams
Higgins Funeral Home Hillcrest Chapel has seen recent changes.
Current owners and funeral directors Joseph Wilson and Justin Grubbs purchased Hillcrest in August 2019 and have been working to remodel the historic home, originally built in 1852, to preserve its history while updating its services. They also plan to restore the business to its original name, Hillcrest Chapel Funeral Home.
"Our vision for Hillcrest is to restore it to its former glory while continuing to offer options to all families in the area," Wilson said.
Some remodels to the home include interior and exterior paint, an expanded parking area, an updated heating and air system, a sound system and video equipment that will allow for live streaming to accommodate extended families or when larger funeral services are not possible.
Hillcrest's updated funeral chapel is equipped to hold over 300 people, or 100 to comply with current social distancing guidelines.
Wilson and Grubbs said the goal of the remodel is to continue to provide services for Coweta County families while preserving the building itself.
"We're really excited about the inside," Wilson said. "It was really dated, and it just didn't feel comfortable. We tried to do more modern colors and comfortable furniture, so people aren't scared to sit down because it's antique."
While parts of Hillcrest in which services take place have been updated with more modern furniture and equipment, the exterior and front rooms of the home maintain their historic look.
Grubbs said purchasing the funeral home was a unique opportunity, as it was already a well-established business.
"Hillcrest has a lot of history in the community," Grubbs said.
According to articles compiled in the historical registry by the Newnan-Coweta Historical Society, the home is presumed to have been built in 1852 by John B. Willcoxon, one of Coweta County's most successful businessmen.
"A History of Coweta County, Georgia," published in 1988 by the Newnan-Coweta Historical Society, names William Yarbrough as the probable architect of the home due to stylistic similarities to other houses in Coweta and Meriwether counties.
The home stayed in the Willcoxon family until 1901, after Willcoxon's death in 1898. The home and property changed hands seven times in 12 years until it was purchased in 1913, when it was purchased by the children of Samuel James Arnold and Monterrey Houston Arnold. The Arnold family resided in the home for nearly 40 years before it was purchased by Daniel B. Blalock Sr. in 1950.
A funeral home was opened in the house in 1953 and has remained since, operated by different owners over more than 60 years of service. The Wilcoxon-Arnold house was listed in the National Register of Historic Places by the National Park Service in August 1991.
To celebrate the remodel and give back to the community, Hillcrest is hosting an open house and silent auction on Dec. 13 from 2-5 p.m., with light refreshments provided.
All proceeds from the auction will be donated to Joyful Beginnings, a Coweta-based nonprofit organization that works on donations to provide backpacks filled with clothes, shoes, toiletries and anything else foster children may need when transitioning between foster homes.
"We want to raise awareness for the charity, but we also want to give folks an opportunity to meet us and see everything we've done to restore Hillcrest," Wilson said. "Hillcrest wants to partner with the community, and this is the first of many partnerships."