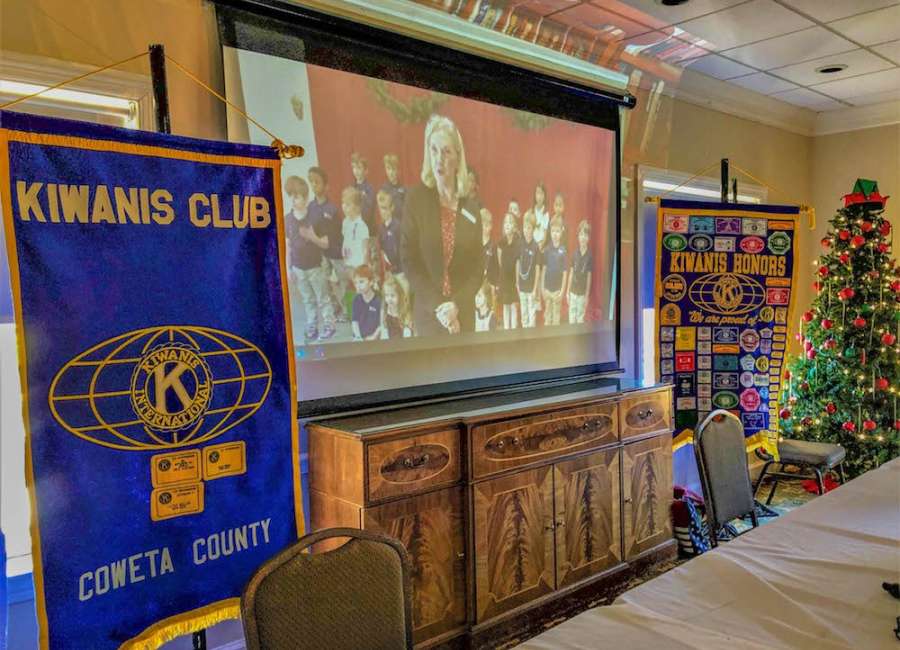 For its final meeting of the year, the Kiwanis Club of Coweta County broke out of its traditional bounds to enjoy a singing performance by Kindergartners of The Heritage School.

This was an innovative meeting because Kiwanians at Newnan Country Club (NCC) met/face-to-face (sitting socially-distanced and masked) and on ZOOM.
Simultaneously, members enjoyed the students' performance, which was live-streamed from the school's campus on Hwy 29 North, a distance of approximately 1.7 miles away from NCC. Coweta Kiwanian Tina Marsh handled Zooming for her fellow Kiwanians.
The simultaneous delivery of this charming holiday program was made possible by many talented Heritage staff. This included Candler Budd-Drama Teacher and Theatre Director, Eleanor Durrance---Computer Science and STEM teacher, Loretta Norton---Early Learning Center and Lower School Music Teacher, Donna Dougherty---Director of Early Learning Center and Lower School, Amy Beard and Emma Martin---Kindergarten Teachers, and Candi Bryant---Kindergarten Assistant.
Young children singing and wishing everyone a very Merry Christmas created such an uplifting moment for all.
Check www.cowetakiwanis.org for other Club activities and meeting details in 2021.