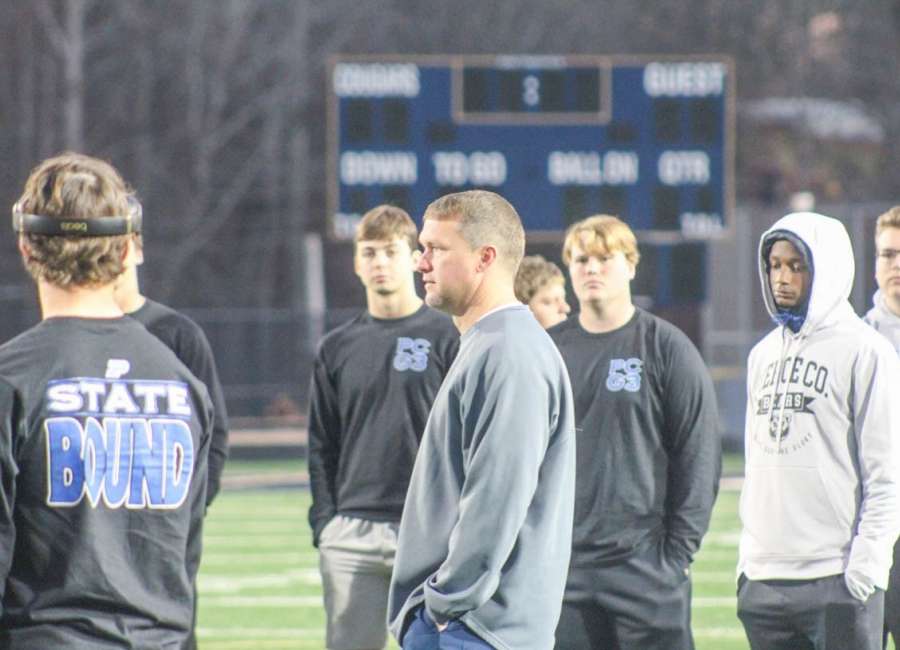 By Rob Grubbs
For a few moments on Tuesday afternoon, Drake Stadium was the temporary home of the Pierce County Bears.
The Bears – from Blackshear, Georgia – qualified for their first-ever GHSA high school football state championship game two weeks ago when they defeated Crisp County 25-13.
The Bears are coached by Ryan Herring, whose dad was legendary Newnan Cougar coach Robert Herring, who won 71 games in 10 seasons. Ryan Herring got his first job coaching defensive backs with the Cougars in 1999.
The Bears embarked on their 250-mile journey from Blackshear, which is just outside of Waycross, to Atlanta on Tuesday afternoon.
Their journey included a trip down memory lane for Herring. The Bears made a stop at Drake Stadium, where they had a final walk-through before the championship game at Center Parc Stadium.
For Herring, it was an opportunity to reminisce for a few moments. It was his first time on the Newnan field since he took another coaching job in 2001.
"In 1999, I had the choice to either coach safeties at Troy State or coach defensive backs here with my dad," Herring said. "It was too good of an opportunity, so I chose Newnan. We had some really good kids here. I am still friends with Rico Zachery, who was here then and is now a coach at Kennesaw State."
After the 2000 season, Cougar offensive line coach Craig Davis took the head coaching job at Pierce County and Herring followed him to South Georgia. He returned to the head job in 2019.
Herring still has ties to the Newnan area.
"My sister lives here and there are a lot of first-class people here that support Newnan High that I know. This is a good place," he said. "Thanks to Coach Chip Walker and Dennis McEntire at Newnan Utilities, we were able to stop and have a walkthrough, then have dinner and spend the night here before going up I-85 in the morning."
He spoke well of his 2020 Bears.
"We have a great group of kids," Herring said. "We don't have a lot of the tangibles that a lot of teams have, but we have all the intangibles. They play fast, they play big and they play hard"
And like Newnan, they have a whole community behind them.
"Down there (in Blackshear), you have Jesus, family and football, and that's the way we like it," he said.
The Bears beat Oconee County 13-7 in overtime for the Class 3-A state championship on Wednesday – with a few extra fans cheering on from Newnan.