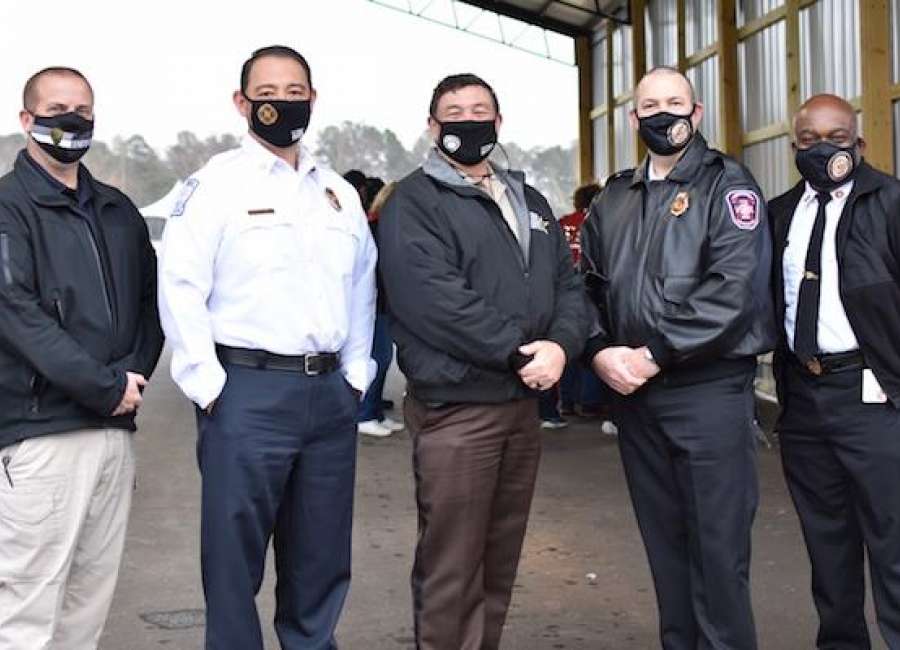 Local fire and law enforcement officials were the first to receive COVID-19 vaccines in Coweta County on Wednesday.

They included Deputy Chief Mark Cooper of the Newnan Police Department, Chief Stephen Brown of the Newnan Fire Department, Coweta County Sheriff Lenn Wood, and Chief Pat Wilson and Deputy Chief Chad Jones of Coweta County Fire Rescue.
The group visited the Coweta County Fairgrounds early on a day set aside by the Georgia Department of Public Health for administering the initial round of vaccines in Coweta County to health care workers and first responders.
"We had the chiefs come in because we have learned from other counties that the guys on the line are looking up to their leaders, and if their leaders aren't taking (the vaccine), they're not willing to take it either," said Hayla Folden of District 4 Public Health.
Folden said the agency heads can now go back to their departments and say they've had the vaccine without any issues, encouraging others to follow suit.
"It's really helpful to the community to see these guys stepping up," she said.
Only health care workers and first responders – who were notified in advance that the vaccine was available to them – were administered the shot Wednesday, and the vaccinations meant that the fairgrounds had to suspend its usual COVID-19 testing for the day.
Depending on the turnout, DPH may schedule another vaccination day for the same group of frontline workers as well.
"We don't know how long this will continue or if it will move to a different location, so we don't know how it's going to impact testing," Folden said. "We know it's impacting it today and it may impact it another day, but that's all we know right now."
She said there are a lot of questions that can't be answered just yet, and that the undertaking is "a process."
"What everybody wants to know is when the next phase of people can come through, and we just don't know that," Folden said. "We need all the patience we can get from people. We know they want the vaccine, and we're trying to move as fast as we can through this so we can get to the next phase."