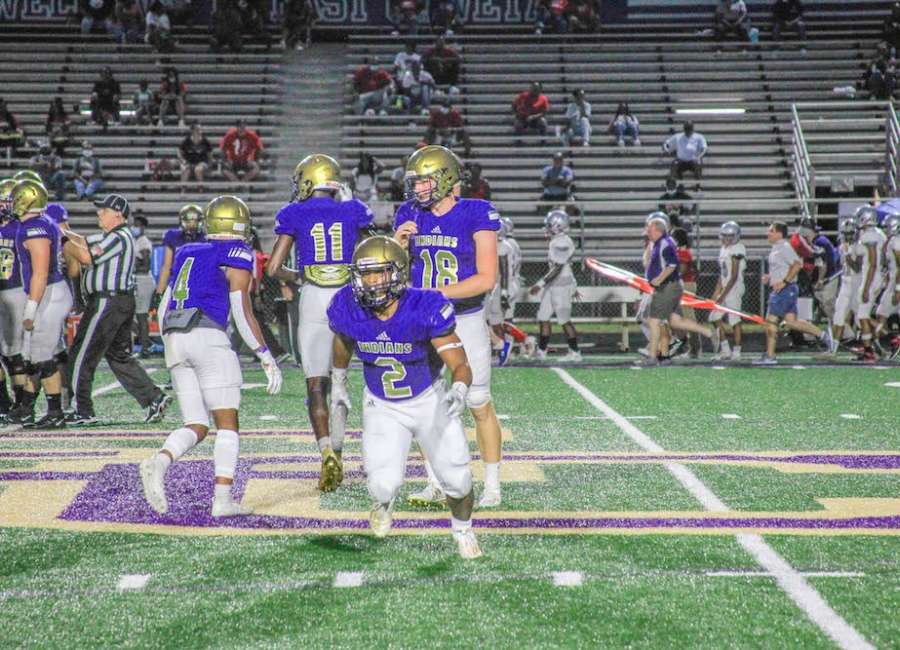 By Rob Grubbs
When putting a puzzle together, the toughest piece to place is the final one. Everything else is set; that piece must fit and match on all sides. You cannot force just any piece in its place; it has to be perfectly made for the vacant space.
There was a hint early on that this would be a special season for the East Coweta Indians' football team. Head Coach John Small had cast a vision for success, and the team and community had bought in.
With junior Gabe Gray at quarterback, the Indians won their first-round playoff game last year before falling to a powerful Grayson team.
The offseason sent a series of events into motion. A family from Pennsylvania decided to move south, a job change meant a relocation amid the COVID-19 shutdown, and a new quarterback was in town.
This time last year, sophomore quarterback Daniel Shoch led the Selinsgrove Seals to a 48-6 victory over the Midd-West Mustangs in the first round of the Pennsylvania state playoffs. It was an economical game for Shoch; he completed 4-of-5 passes for 87 yards, including a 24-yard touchdown pass to Ryan Aument.
The Seals' game plan was designed to feature their running game, and Dean Hollenbach had 165 yards rushing and three touchdowns.
Just seven months later, Shoch and his family were in Sharpsburg.
"My dad got a job opportunity down here, and I came down, eventually got in contact with the school and then obviously wanted to meet Coach Small," Shoch said.
But that still left the matter of the returning starting quarterback, and there was going to be competition for that job. The coaches were clear up front that Shoch would have to win the job, and nothing would be given to him. But Gray made that transition smooth when he decided to move over to defense. Gray's selflessness was one of the key components in the process.
"Gabe was one of the first people I met after we moved down here; he came out and threw with some of the receivers and me," Shoch said. "And he was super accepting. We're best buds now. He is a great teammate."
Shoch and the Indians' offense made an instant impression. In their first game of the season against Starr's Mill, Shoch found tight end Evan Prosser for a touchdown in overtime to win 21-20. That is still the only loss for Starr's Mill this year.
"That was a crazy game," Shoch said. "Evan Prosser, he really stepped up. I think he was over 100 yards in that game. And that was neat that we could get that connection, because he was one of the first people I met when I came down here, and we hung out throughout the summer. So we did some throwing besides the practices; we would get extra work and he really came through on that game."
It was obvious that not only was Shoch a great quarterback with superior arm talent, but he was a great teammate well.
Coach Small recognized that early on.
"Danny is obviously a good football player, but he is a better person. He's strong in his convictions and his walk with Jesus," Small said. "And he's a great example to the kids around him and other people around him and very humble, which you appreciate in a player. But you know, he came in and fit right in with our kids. I was never worried about that because I know our kids — and then getting to know him and talking to him and knowing what he's about. So that's an easy fit."
Fast forward a year later after the 2019 Selinsgrove's playoff win, Shoch is a winner again. He led the Indians to victory in their first-round playoff game against the defending state champion Marietta Blue Devils. The Indians' running game was dominant, but Shoch had a mistake-free game where he completed 12-of-14 for 120 yards.
He is loving every minute of it; he has the best seat to watch one of the best running back combos in the state of Georgia.
"Jayden Bolton is having an amazing year, and obviously, the line is what it starts with for the running backs and for me, so all credit to them," Shoch said. "And then to have Trey Bowles only a sophomore — we'll have him for two more years, is just a whole other threat. They're both studs."
That final piece of the East Coweta puzzle fit perfectly. It has been a special season for the Indians, but it was also a perfect fit for Shoch.
"My family has been so supportive," Shoch said. "My grandfather was hard to leave because he's like my best friend back home, but said it was for the best. My parents said, 'God has a plan,' and everything lined up perfectly. We knew it was our time and it worked out."
The last piece of the puzzle is in place, and it has been a pleasure to admire the beauty and symmetry of the final product.