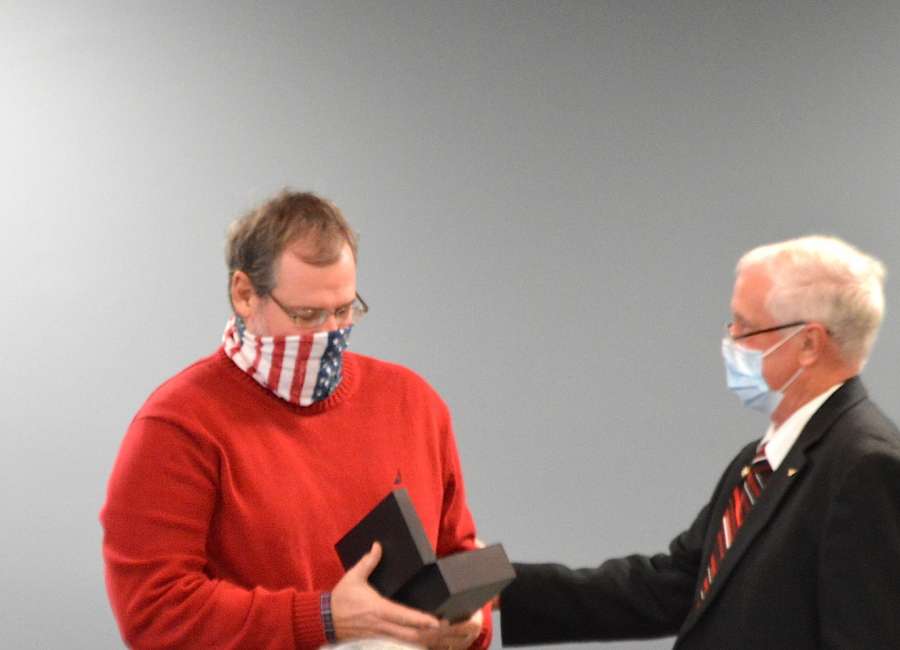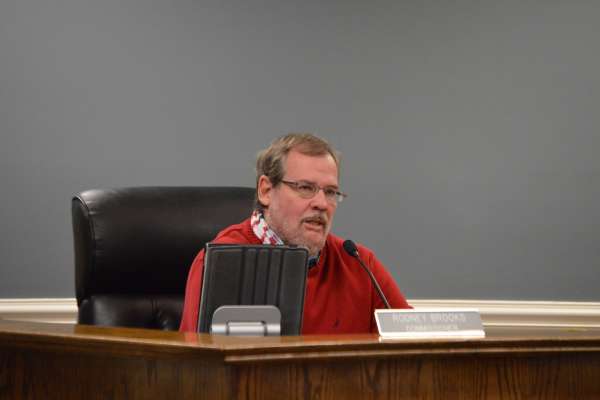 Coweta County Commissioner Rodney Brooks is retiring after 12 years in office, and he was honored at Thursday's commission meeting.

Friends and family members were on hand for the meeting, and Brooks was presented with tokens of appreciation from the commissioners and the Coweta County Fire Rescue Department.
Brooks was elected in 2008 to represent District 4. He succeeded Leigh Schlumper, who did not seek reelection. Brooks announced earlier this year that he would not be seeking reelection.
"This is kind of a sad event," said Chairman Paul Poole. "You've put in a lot, Rodney, and I know it's been tough. You've sacrificed a lot of time with your wife and your family.
"Time has flown by – it seems like the other day you were running," Poole said. "I don't know what I would have done without you … it's really been an honor to be serving with you."
Commissioner Al Smith spoke about meeting Brooks for the first time at a candidate forum when they were both running for their first terms. Brooks is a Republican and Smith a Democrat, but "we met on a heart level," Smith said. "That is what we are called to do, whether you are a politician, a citizen, an average Joe or even if you are out of your mind." he said.
"I appreciate what you've done; we have not always agreed – say Amen!" said Smith. "But we have never been disagreeable is our disagreements," he said. "We're going to miss you."
Commissioner Tim Lassetter thanked him for all the time and effort and his willingness to serve – and the way Brooks took the job so seriously. "I can tell that in some matters you struggled because you did take it so seriously. If you didn't, you wouldn't have cared; you would have just moved forward."
Lassetter also wanted to recognize Brooks' wife, Cindy.
"What can you say about somebody who has given so much to Coweta County?" asked Commissioner Bob Blackburn. "He's left an indelible mark, a positive mark. He's worked hard, and I'm proud to call him my friend."
Coweta Fire Chief Pat Wilson and several members of his staff presented Brooks with mementos.
"I want to thank you for your amazing service," Wilson said. "Without your foresight, we would not be where we're at today."
Robert Stokely said he has known Brooks for over 20 years. Brooks was the person Stokely reached out to when he learned his son had been killed in Iraq.
"I called him because I knew I needed help. My family was going to need help that day and for many days to come. And I knew he would come without hesitation, as would Cindy," Stokely said. Brooks has "been a good servant to this county. Just as he cared about me and my family that morning, he's cared for this county."
Brooks' pastor, Ken Adams, also spoke. When Brooks became a part of Crossroads Church, they were meeting in school gyms. Adams said he appreciates Brooks' love for the county, his love for his family and his love for Jesus.
"He is the real deal, he is a man of his word, and he is a man of integrity," Adams said. "These kinds of men are few and far between."
Cindy Brooks thanked the commissioners and county staff. "You guys are like family. In some of our toughest times and darkest days, you have been there for us," she said.
Being a commissioner takes a lot of education and long hours, said County Administrator Michael Fouts.
Brooks said it was sobering to hear his friends and family talk about him. "I just hope I'll live up to everyone's expectations," he said.
He said that ever since he was a teenager, he thought that he would be involved in politics at some level. In college, his favorite class was political science.
"It's been an absolute pleasure the last 12 years," he said. The people of Coweta are what makes Coweta County great, he said.
"It's not what we do, a lot of times, but it's who we do it with," he said. Brooks said he would trust every one of his fellow commissioners with his family and with his wallet. "I know this county is in good shape with you guys leading it," he said. "We've got such a great workforce, and it's just an honor to be a part of that."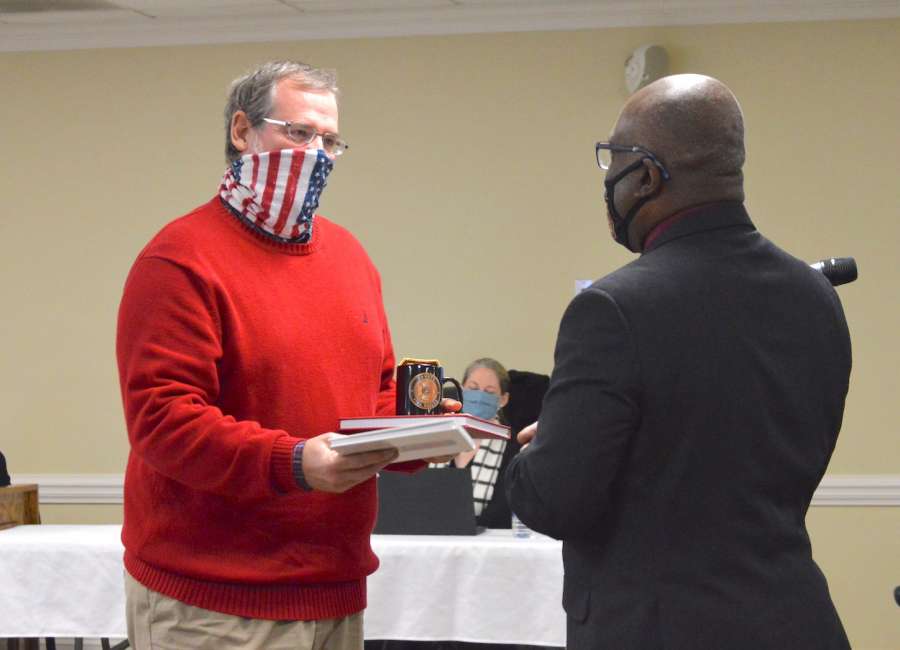 Coweta Fire Chief Pat Wilson presents Commissioner Rodney Brooks with several tokens of esteem at Thursday's commission meeting.