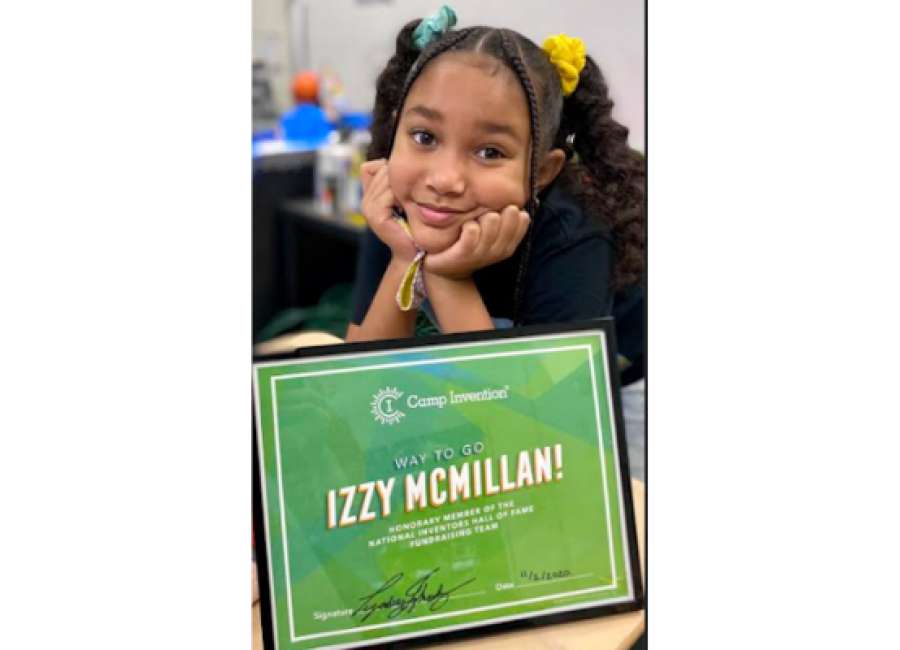 It may be winter break for the Coweta County School System, but there is a buzz of learning happening virtually via Camp Invention through the National Inventors Hall of Fame.
The virtual camp is sponsored by Ruth Hill Elementary School under the direction of the school's gifted teacher, Mary Thompson.
Fifty-two elementary students were given the gift of learning this Christmas. They were either awarded a full scholarship worth $175 or a partial scholarship worth $100 to attend the online camp.
Thompson said $7,000 was raised in order for 52 students to attend the camp, thanks to a "collection of special hearts from our caring community of Newnan." Over half of the donations were raised by the teamwork of Thompson and 8-year-old gifted student, Izzy McMillan.
When McMillan heard about the camp she wanted to help raise as many scholarships as she could for her friends to attend. So, after Thompson helped McMillan develop her pitch, they set out and visited local businesses seeking scholarships.
Thompson said all of the local businesses were welcoming and managers were inspired by McMillan wanting to help her classmates. Many businesses were willing to help by giving money towards a scholarship.
"Izzy spread light throughout the community and many were inspired by an 8-year-old that was so confident and willing to help others," Thompson said.
When Camp Invention heard about McMillan's fundraising efforts they awarded her an honorary member of the National Inventors Hall of Fame Fundraising Team as well as interviewing her to share on their social media sites.
McMillan said she learned many lessons about leadership and philanthropy. Among her greatest lessons learned from the experience were, "To teach people, kids and adults, that kindness is everywhere – you just have to find it."
Among those who donated full scholarships were: The Corporate Volunteer Council of Atlanta ($1,500); Coweta County Water and Sewerage Authority ($1,000); Yamaha ($1,000); Niagara Bottling ($525); McKoon Funeral Home ($525); Chuck Johnson, CPA ($350); Camp Invention ($350); Arnall Grocery ($175); Golden's Restaurant ($175); William and Shirelda Feagan ($175); Mulch and More ($175); Waterscape Nails and Spa ($175); James Malone Beauty ($175); and Christy Prater ($175).
Those who sponsored partial scholarships include: Mr. and Mrs. Ousley, Barbara Bishop, Susan Shaner for Alpha Delta Kappa, Newnan Junior Service League, Hair Society of Newnan Salon, Finley's Boutique, Chattahoochee Hills Confection and Newnan Mercantile.
Because of the generosity of local businesses and friends, the students experienced four days filled with hands-on opportunities to explore, create and invent in ways that promote a love of learning, Thompson said.
The students received an enrichment experience that encouraged children's creative problem-solving with STEM-focused activities, allowed them to see themselves as innovators and problem solvers, blended entrepreneurship with 21st century skills necessary for success in the global workforce, provided professional development for local teachers, instilled the value of intellectual property and the roles that patents, trademarks and copyrights play.
During the four day camp, the campers will work on a different theme and task each day presented by their virtual coach. The kick-off of the camp was a hit with its theme as the "Day of Champions."
The campers were given the task of creating their own sports stadium complex. Griffin Hopkins, a second grader from Ruth Hill Elementary created a soccer stadium.
"Playing the game was my favorite!" Hopkins said.
Hopkins and his dad enjoyed playing the game together. The challenge for Hopkins was to figure out how to move the players. He solved the problem of the straws bending by adding sticks to it.
"I'm so proud of myself for trying my best even though it was difficult," said Ruth Hill Elementary School second grader, Jaxon Styles. "My inspiration for my sports complex was to build a place to play all the sports. The fun part was how hard it was. I like things to be challenging. Greatness takes patience."
First grader Timothy Newsome Jr. from Ruth Hill said his favorite part of the day was learning about Dale Kleist, Games Slayter and John Thomas who invented the fiberglass for the back of the basketball hoop.
"This worthwhile investment of the gift of learning gave 52 elementary students from our local community the Camp Invention Connect experience, ensuring American ingenuity continues to thrive in the hands of these future innovators, entrepreneurs and community leaders," Thompson said.
Under the direction of Thompson, there were three virtual coaches who led each day's activities including Stephen Simon of the Coweta County School System, Sarah Harkins of the Fulton County School System and Simone Kelly of the Dekalb County School System.
"I would like to extend a sincere and warm thanks to all of those who made this year's virtual Camp Invention possible," Thompson said.
Thompson plans on directing the virtual camp again next year during winter break. Those that are interested in sponsoring a student in 2021 can contact Thompson at Ruth Hill Elementary School.