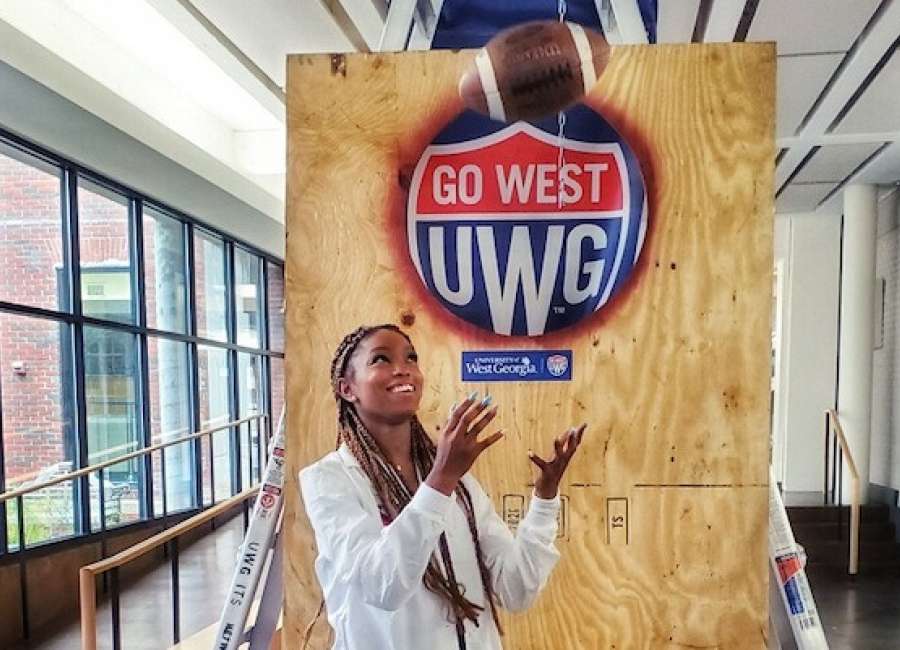 Chemari Reeves, a junior studying nursing at the University of West Georgia Newnan campus, was recently selected as a finalist in the annual Dr Pepper Tuition Giveaway.
Reeves, along with five other contestants, will compete for the chance to win $125,000 in free tuition to put toward their education. Contestants will attempt to throw the greatest number of footballs into the iconic oversized Dr Pepper can in 30 seconds, according to a press release from the company.
The competition will take place Saturday, Dec. 19 at 8 p.m. on CBS, as part of the SEC Championship game. The tuition throw competition will be recorded at the Dude Perfect headquarters in Frisco, Texas.
Reeves said she decided to apply for the giveaway so that she can graduate from college debt-free. One of the requirements for the application was to make a video about how your major can contribute to the community in a positive way.
She wants to be a neonatal nurse practitioner, and is working on research about better pain management techniques in the neonatal ICU. If she wins the tuition giveaway, that would help her in continuing her research.
Reeves is a single mom and has a 3 ½-year-old son named Ryland, who had been treated at Piedmont Fayette Hospital after an illness.
"The graciousness from the nurses at Piedmont Fayette inspired me to be a nurse," Reeves said.
Reeves was selected as a finalist out of over 111,000 students who applied.
"When I got the call Nov. 4 that I had been selected, I couldn't believe it," she said.
To train for the competition, Reeves said UWG Newnan built her a replica of the Dr Pepper can to practice with. She said she's been practicing, and has been making a few shots.
Despite the COVID-19 pandemic, Dr Pepper is doubling the amount of free tuition being awarded this year to $2 million, the largest ever to be given away in the program's 12-year history.