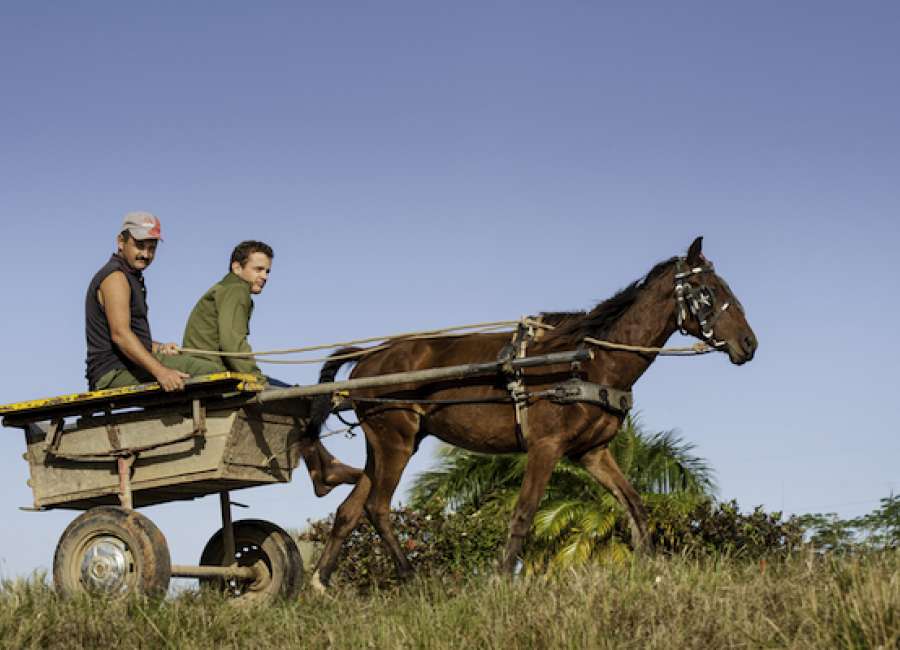 By GORDON KILGORE, Special to the NTH
Before it was legal for U.S. citizens to visit Cuba except on humanitarian missions, Margaret and I booked a two week tour to Cuba with Eldertreks, a Canadian company.

U.S. dollars were not widely accepted in Cuba, so we took euros left over from travels to Europe. First we flew to Cancun, Mexico, and spent the night. The next day, we went to the Cancun airport and paid $10 for a Cuban visa.
After landing in Havana, passport control stamped our visa and we were on our way. The stamped visa would be our legal exit paper for our flight back to Mexico.
Before leaving Havana airport, euros were exchanged for Cuban pesos. We found the Cuban people to be very friendly towards us. Be warned though: if you do not like black beans and rice, do not go to Cuba.
A - Quinceanera at Plaza de San Francisco in Havana, Cuba. Many cultures have coming-of-age ceremonies, but one of the most extravagant may be the quinceanera in Cuba when a girl reaches the age of 15.
Though slightly different throughout Latin America, the Cuban quinceanera tradition includes six costume changes, a massive party and a ride through the streets of Havana, waving to admiring fans.
Parents start saving for quinceanera when a girl is born, and some consider the quinceanera more important than a marriage ceremony.
B - Don Alfredo standing in his house in the Viñales Valley of Cuba. Don Alfredo is a tobacco farmer on his family's farm. The government takes all but a small percentage of the tobacco after it is cured.
The farmer is paid a fixed rate and can consume or sell the small amount of tobacco he is allowed to keep. Don Alfredo rolls his own cigars and sells the few that he does not smoke.
C - Horse-drawn cart traveling along the side of a four-lane highway in central Cuba. The background was very cluttered, so I knelt down on the ground and waited until the horse and cart were on a small rise to put blue sky in the background.
D - The Plaza Mayor in Trinidad, Cuba. The view is from the balcony of Casa Ortiz.
Trinidad is my favorite city in Cuba. It has many buildings from the colonial times and a very pleasant central square. You will see local people walking in the plaza, as well as riders on horses in the streets.
E - La Terraza de Cojímar restaurant in Cojímar, Cuba. The restaurant is on the coast, about 22 miles from Havana.
Hemingway lived near the fishing village of Cojímar, where he frequented La Terraza and always sat at the same table looking out towards Cojímar Bay. It became known as Hemingway's table. The restaurant is even mentioned in "The Old Man and the Sea."
Technical Data:
A - Quinceanera taken Jan. 23, 2010 at 10:59 AM with Nikon D3 body and Nikon 24-70 f/2.8 lens set at 35mm. ISO 200, 1/2000 sec and f/5.6
B - Tobacco farmer taken Jan. 25, 2010 at 9:37 AM with Nikon D3 body and Nikon 24-70 f/2.8 lens set at 70mm. ISO 1600, 1/45 sec and f/2.8
C - Horse and cart taken Jan. 26, 2010 at 9:19 AM with Nikon D3 body and Nikon 70-300 mm f/4.5-5.6 lens set at 80mm. ISO 200, 1/750 sec and f/8
D - Trinidad taken Jan. 29, 2010 at 2:14 PM with Nikon D3 body and Nikon 14-24 mm f/2.8 lens set at 14mm. ISO 200, 1/1000 sec at f/8
E - La Terraza de Cojímar taken Feb. 2, 2010 at 12:16 PM with Nikon D3 body and Nikon 14-24mm f/2.8 lens set at 22mm. ISO 400, 1/4000 at f/4