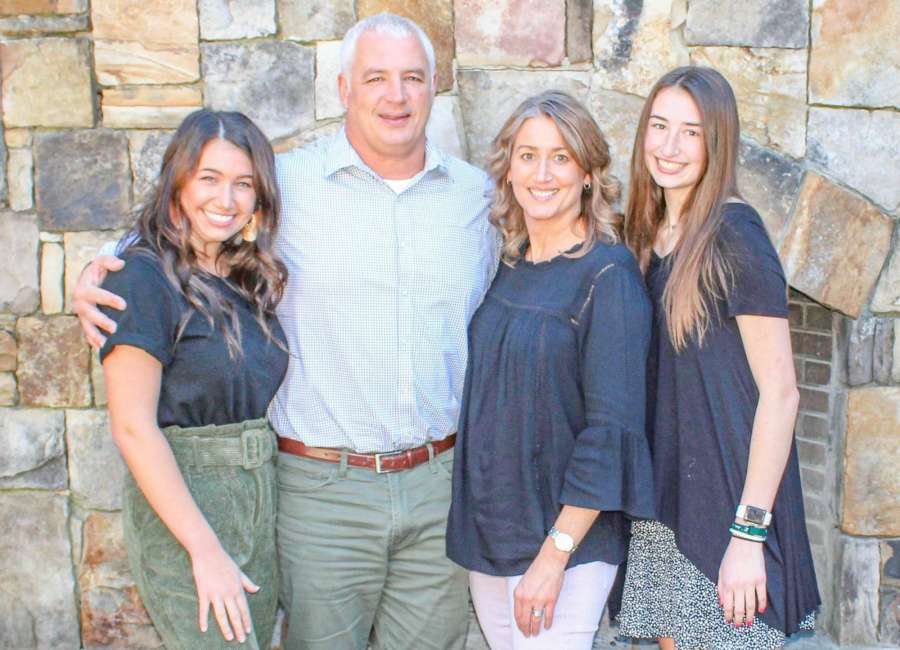 By Rob Grubbs
The job description for a high school football coach can be extensive.
You have to be a leader, a mentor, a father-figure, and possess organization skills and people skills, to name a few.
You must exhibit those qualities and also win ball games along the way. The person who understands those pressures the most is the coach's wife, a true unsung hero.
East Coweta Indian Head Coach John Small is quick to credit his wife, Julie, for being a huge part of his coaching success.
The couple met in Carrollton in 1997, he was an assistant football coach at West Georgia and she was a speech pathologist at Tanner Medical Center. They were set up on a blind date by then West Georgia Head Coach Charlie Fisher and shared a coffee at the local Waffle King.
"She had on a red fleece pullover, and I knew when I saw her that I was supposed to marry her," Small said. "We dated for six months, got engaged for nine months, and then got married."
That was the start of Team Small. And to clear up some misconceptions, Julie does not call plays or offer input on the game plan, "but I love the game, and we as a family are married to it."
Julie is also a co-worker with her husband at East Coweta High School. She serves the county and the students there as a speech pathologist.
Team Small includes their two daughters, Ashton, who graduated last year and is at West Georgia, and Emma, a junior at East Coweta. Julie shared about being a coach's wife during the early mom years.
"You go through seasons as a coach's wife; when your children are small, it is harder because you are caring for them on your own; they go to bed before he gets home. But I would just pack them up and take them to practice. It was just what we did. It was our family."
In their 21 years, Julie has only missed two games, both when their daughters didn't feel well.
"Our family is the most important thing, but we have an extended family of 200 boys that we love deeply," Julie said. "They are welcome in our home, and they can call at any time. They show up sometimes and that is fine. It is his calling to coach, and that makes it our calling."
Coach Small added, "These kids become your own because you know everything they are going through. I know our kids trust us because it is more than football to us. That is what we desire to do."
"It is our ministry," Julie said.
While admittedly not as competitive as her husband, Julie loves to see the team succeed.
"I like to win, too. I like to see the young men and coaches reap the benefits of their hard work," Julie said. "I see a bigger picture. It is so much bigger than football; it's about impacting the lives of young men on and off the field so they can impact future generations. That's what we do."
After a game, Coach Small stays late to watch film with the coaches, but Julie waits up. It is a special time for them, and it has been a special season for the Indians. There has been a lot of heavy lifting the past four years, and they see the fruits of their labor.
"I am blessed; none of this would be possible without her. She is my rock," Small said. "We have grown in our relationship, and we are excited to see what God has done and will continue doing."
As the Indians prepare for their biggest game of the season against Newnan, both Coach Small and his wife recognize the work the younger coaches and their wives are putting in. That group is also part of their ministry.
"We want to recognize those ladies as well. Jody Glover, Lauren Dean, Anne Honeyman, Gina Beldon, Mallory Washington, Maggie Smith, Judy McGimsey, Allison Ingram, Lisa Crafton, Ashley Teal, Jenah Tracy, McKenzie Woody and Rebecca Blackington," he said. "They have played a huge part in our success. We appreciate them and our coaches."
"You hope the way we live our lives impacts those around us," Julie said.
Team Small has been doing that for 21 years and counting.