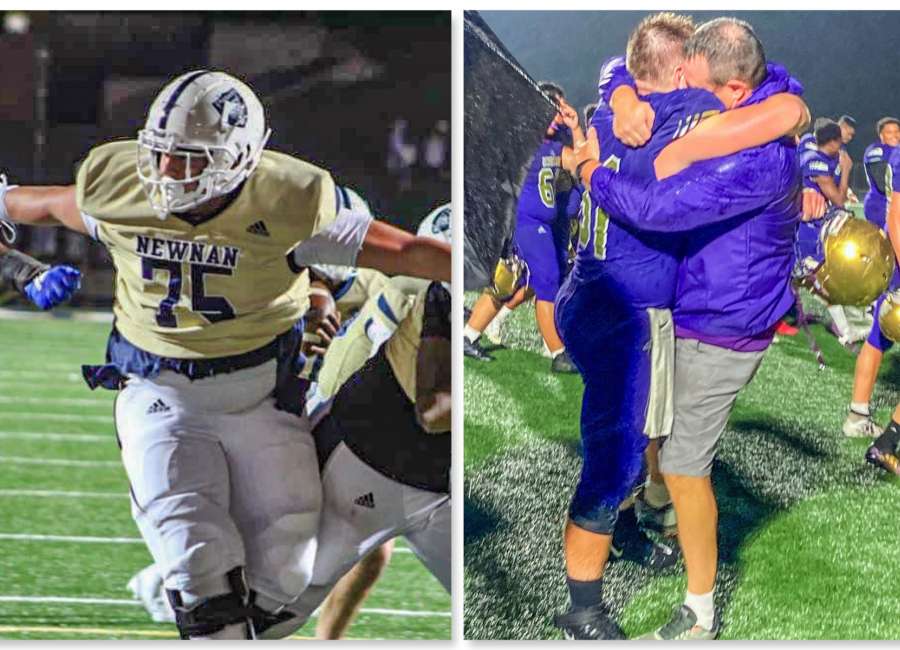 By Derrick Teagle

The Newnan Cougars and East Coweta Indians currently have two of the best football teams in Georgia. The state-ranked Cougars, led by Coach Chip Walker, are 9-0 and feature a dynamic offense full of explosive playmakers.
The state-ranked Indians, led by Coach John Small, are a well-balanced juggernaut on offense. The two teams will meet this Friday at East Coweta High School.
I have heard over the years that big games are won in the trenches, and this game will be no different. If you Google the word "anchor," you will find certain words like "reliable" or "strong object." I want to give some valuable insights into two local anchors.
ADAM RUSH #75
Newnan's Adam Rush is a 6-foot-3, 295-pound offensive lineman who's started the last three years at center. Rush, a soft-spoken, low-key leader, has been challenged to lead this year's offense. The 3.4 GPA student has been motivating his fellow lineman on and off the field to become a dominating offensive line.
Coach Walker shared that Rush is the anchor of his line, as he is the QB up front. Walker also stated that Rush's work ethic on the field, in the weight room as well as the classroom, has made him the player and person he is today.
Coach TJ Braden said Rush has stepped into his role as a leader this year. His easy-going personality and sense of humor were recognized by both coaches – great attributes to have in battle.
AARON FENIMORE #61
East Coweta High School Aaron Fenimore is the 6-foot-1, 265-pound starting center for the Indians. Fenimore is an outstanding student (3.9 GPA) and has been the man in the middle as soon as he stepped on the East Coweta campus.
Fenimore is someone who literally wants to dominate his opponent every single play. East Coweta Coach John Small stated that Fenimore is a young man who exudes character and integrity in all walks of life.
He is not only a tremendous football player that plays the game the right way, but he also lives out his beliefs every day and is a great example to those around him.
THE BUILDUP
The buildup for this Friday's game is intense and has been the talk of our community for months. Both teams are loaded, as I have personally seen both teams practice, and if we follow CDC guidelines, we will be in for a treat in November.
I remember back in the 2009 game where it seems like it was 15,000 people at Drake Stadium to witness the Ogletrees, Tay Willis and so many other phenomenal athletes on the field. I fully believe this game will exceed so many expectations.
THE PARENTS
Rush's mother, Holly, said she'll be nervous until the first hit and then will be ready to watch some football. She also gave a ''unbiased" prediction of a Newnan victory over East Coweta.
Fenimore's mother, Jill, said it's an exciting environment for players to participate in a cross-country rivalry and region championship game, all in one. It's also the kind of opportunity these kids have worked for, have prepared for and have dreamed about.
Mike Rush said last year's experience is what makes this year's team special. With the loss of key players throughout the year, as well as the close loss very East Coweta and Walton in the playoffs, Mike got the sense at home from his son that those losses didn't settle well and have driven his son to finish it.
Fenimore's father, Aaron Sr., said what makes him feel so proud is the work ethic of his son. No matter the situation, Fenimore will fight for what's right, driven by his faith and his desire to be a great man and teammate.
THE MENTOR
I have been blessed to mentor two outstanding young men who will not only be playing football in college one day but will also be future leaders of the community.
I think that the word "anchor" fits them both because of their reliability on and off the field. I can always count on them to volunteer and truly be engaged when I deliver them vital messages. I'm extremely looking forward to having the younger siblings in Empowered 4 Life.
THE PREDICTION
I predict that both teams will show up, play hard and represent Coweta County to the fullest. I predict that the fans on both sides will get their money's worth. I predict it will be cold, as a cold front always seems to come the week of the East Coweta vs. Newnan game. I predict that the scoreboard will be changing a lot, because both teams have a great anchor in the middle.
Derrick A. Teagle is the founder and director of Empowered 4 Life, a local athletic mentoring program and co-host of the 'Monday Night Motivation' radio show.