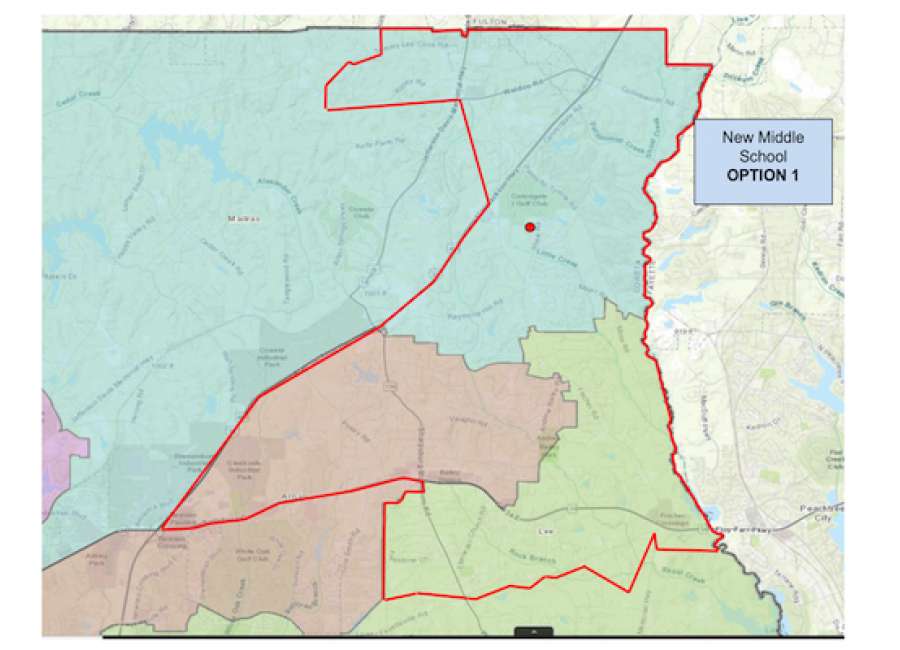 District lines and grandfathering procedures for Blake Bass Middle School were approved by the Coweta County Board of Education at its Nov. 10 meeting.
Recommendation for approval came from a working committee that was formed last year to research potential redistricting options and procedures for allowing rising eighth-graders the option to finish middle school at their current schools.
The committee – made up of parents from Arnall, Lee and Madras middle schools, along with school system employees – provided two potential redistricting options. Both affect approximately 175 students from Arnall Middle School, 185 students from Lee Middle School and 400-425 students from Madras Middle School.
Both maps broadly propose to redistrict northern portions of the current Lee and Arnall districts closest to the location of the new middle school on Shaw Road, follow Interstate 85 as a natural boundary for much of the district, and incorporate all portions of Madras' district east of I-85 and various Madras neighborhoods just to the west of I-85.
The school system solicited public input on both options, and that feedback was provided to board members for review before the vote.
"Both options compare enrollment-wise – there are no changes between the two (options)," Superintendent Evan Horton said. "Demographically, both are very similar. We felt like from a transportation perspective, (Option 1) made the most sense."
Blake Bass Middle School is scheduled to open in August of 2021. Rising eighth-graders who otherwise would be included in the new school district will be allowed to stay at their current middle schools if they choose.
The school system's grandfathering procedures, as adopted by the school board, state that eighth-graders must be enrolled at Arnall, Lee or Madras this year to qualify for grandfathering. That includes students in those school districts who are in the Empower online program.
For the 2021-22 school year only, siblings of rising eighth-graders can be grandfathered. Once grandfathered, the sibling can complete middle school at that school. The rising eighth-grader must be grandfathered for the sibling to qualify.
Parents or guardians must provide transportation for grandfathered students – no out-of-district busing will be provided. The opportunity to utilize grandfathering expires at the end of the first day of school in 2021.
For more information on redistricting and enrollment projections for Coweta middle schools, visit www.cowetaschools.net .