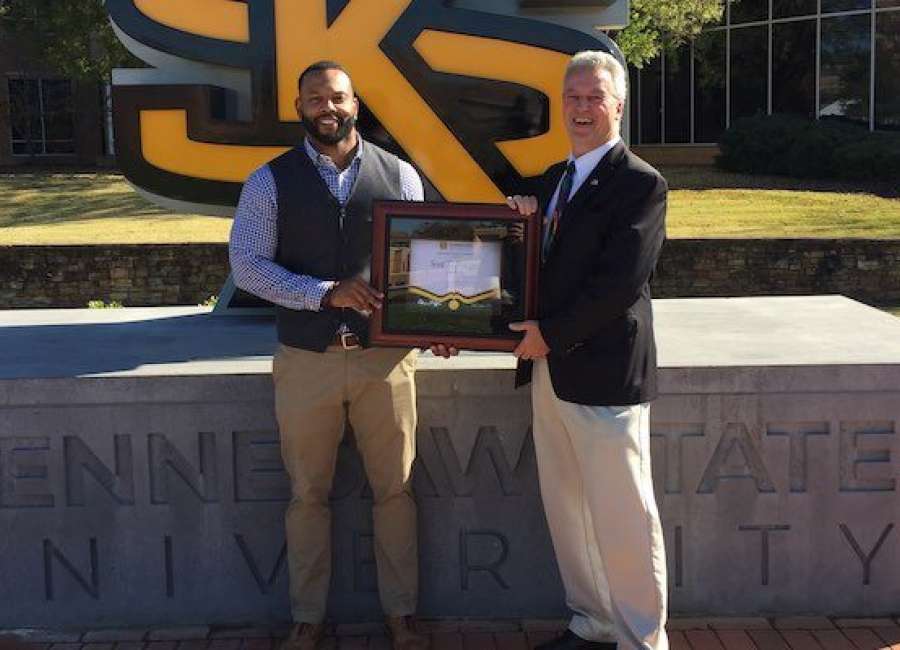 Principal Scot Hooper of Odyssey Charter School has been named an Outstanding Scholar Award recipient by Kennesaw State University.

Hooper recently earned his educational specialist degree from KSU. He also holds a BS from the University of Wisconsin, a master's from Texas A&M and a certification in charter school financial management from the University of Georgia.
While completing his degree at KSU, Hooper was nominated for Outstanding Graduate Student in the Bagwell College of Education by Dr. David Buckman, assistant professor of educational leadership.
Buckman is the recipient of the Outstanding Faculty Award for KSU and is chairman of the Ph.D. dissertation committee.
Hooper said he read several published papers authored by Buckman when he was at UGA.
"When I was informed that he was the lead professor in a Ph.D. program at Kennesaw State
University, I attended the orientation to see what he had developed," Hooper said. "I was very impressed with the program, and I enrolled."
Hooper said he was flattered by both the nomination and subsequent award.
"To receive the award by unanimous vote of your professors across the entire program is quite a surprise and more than a bit humbling," Hooper said. "It was truly a pleasure to work with nine different professors in 12 different subject areas across such a broad field of expertise."