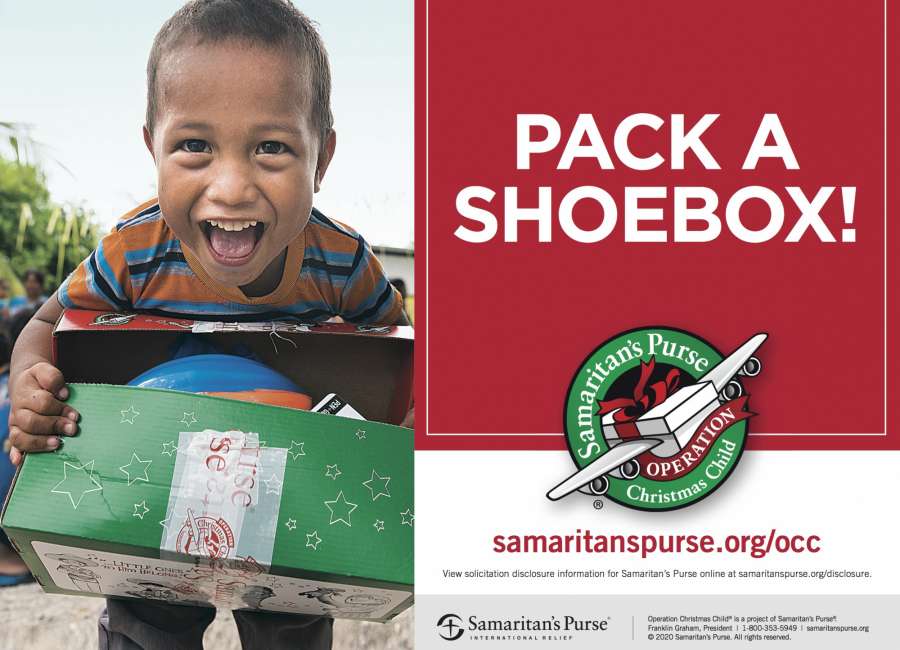 Time is running out to participate in the 2020 Operation Christmas Child.

Monday is the final day to drop off your shoe boxes filled with gifts for children overseas.
But the online "build a shoebox" option remains open for those who miss the local deadline, or who would rather choose an online option.
Operation Christmas Child is a ministry of Samaritan's Purse. Each year, volunteers throughout the U.S. pack either actual cardboard shoe boxes or, more commonly, shoebox-size plastic tubs.
Tubs often contain soap and hygiene products, toys and school supplies. Those boxes are sent all over the world, and those who pack boxes can send a note and photo. There is also the ability to track your box and find out which country it ends up in.
Certain items cannot be included, such as candy, military or war-like items, and liquids, including toothpaste and lip gloss.
This year, the only remaining drop-off point in Coweta is Mills Chapel Baptist Church, 85 Country Club Road, Newnan, off U.S. 29.
There are also drop off points in Peachtree City, Fayetteville, Franklin, Greenville and Carrollton. Different locations have different hours.
At Mills Chapel, hours are 9 a.m. to 2 p.m. Saturday, 9 a.m. to noon Sunday and 9 a.m. to noon Monday.
Peachtree City First Baptist Church and New Hope Baptist Church in Fayetteville will be open later hours on Sunday and until 5 p.m. Monday.
For more information about Operation Christmas Child, drop-off hours and locations, tips on how to pack your box, lists of items that can't be included or to pack a box online, visit https://www.samaritanspurse.org/what-we-do/operation-christmas-child/ .