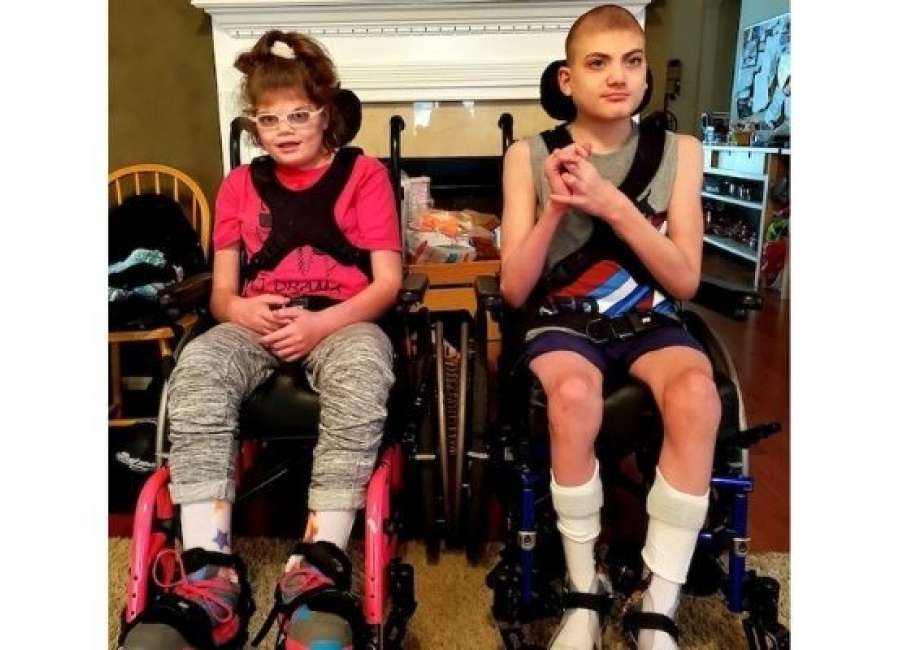 The Tuttle family has been raising money for a new wheelchair adaptable van for their two children with special needs since 2017.
Jason Tuttle lives in Newnan with his wife, Jennifer, and their two children, Zachary, 13, and Samantha, 12, who both have multiple special needs.
Zach has Eagle-Barrett syndrome, also known as prune belly, a rare condition characterized by the absence of abdominal muscles. He also has epilepsy, is nonverbal and can't walk without assistance.
Samantha has the same conditions as her brother, except that she doesn't have prune belly.
Jason works part time, so he is able to take Zach and Sam to doctor's appointments, and his wife, Jennifer, works full time. He said between general expenses and their family's medical expenses, they don't have much money left over for other expenses.
Three years ago, the Tuttle family realized they were going to need bigger wheelchairs for their growing kids, which would mean purchasing a bigger van. The Ford Transit they have can only be converted for one bigger wheelchair, and they need to fit two.
"For this industry, there's only one or two places that do this type of vehicle," Jason said.
To buy a new van that can fit both Zach and Sam's wheelchairs, and has a lift, is upwards of $60,000, Jason said.
"It floored us," Jason said. "We didn't know how we were going to afford it, we talked to the dealerships, and insurance won't pay for it."
Jason said his mom had the idea to start a GoFundMe, and Jason shared it on social media. He said the fundraiser went well in the beginning, and then there was no activity on it for a while.
In September, GoFundMe reached out to them asking if they wanted to keep their fundraiser, since there hadn't been much activity on it. Jason said they decided to keep it, and reached out to 11Alive who did a segment on their family.
The owner of H.J. Wings and Things in SummerGrove, Penny Munford, said she saw the story about the Tuttle family on the news, and it tugged at her heart.
Munford said Wings and Things has hosted school spirit nights and other fundraisers, and sent Jason a message letting him know they wanted to host a fundraiser for his family on Nov. 8.
"We're a family," Munford said. "We wanted to support somebody who's a part of the SummerGrove location."
Wings and Things donated 50 percent of the profits from sales that day to the Tuttle family. Munford said some people also donated money directly to the family, and they sold raffle tickets.
Munford said they also set up a Tuttle Family Fund at Ameris Bank, and they raised over $6,000 for the family.
"I really would like to thank the SummerGrove community for coming out," Munford said.
Jason said after the fundraiser at Wings and Things, they are at 60 percent of the total amount they need for a new van.
"At this point, we've been very fortunate," Jason said. "However, it's still a lot of money to overcome."
He said they need to meet 100 percent of their fundraising goal, as they can't make up much of the extra cost.
Jason said several people have asked him why he doesn't try to get help through a medical charity. He said most medical charities focus on specific disabilities, so there aren't that many to choose from.
Even the charities that are available for their children's medical conditions don't give out money for vans. Jason said he thinks it's because they would be overrun with requests for vans if they did.
"Those who need it — they're all in the same boat," Jason said. "Vans start at $40,000 and can go up to $90,000."
Jason said he'd like to reach their goal sooner rather than later, but he's realistic in that they still have a ways to go. He said he's been overwhelmed by the support, and the people he doesn't even know who have contributed large sums of money.
"We are very fortunate that people are wanting to help us out," Jason said. "I understand during the pandemic that it's tough out there — that does not fall on deaf ears."
The Tuttle family fundraiser can be found at www.gofundme.com/f/k2xdn-safe-transportation-for-zach-and-sam .