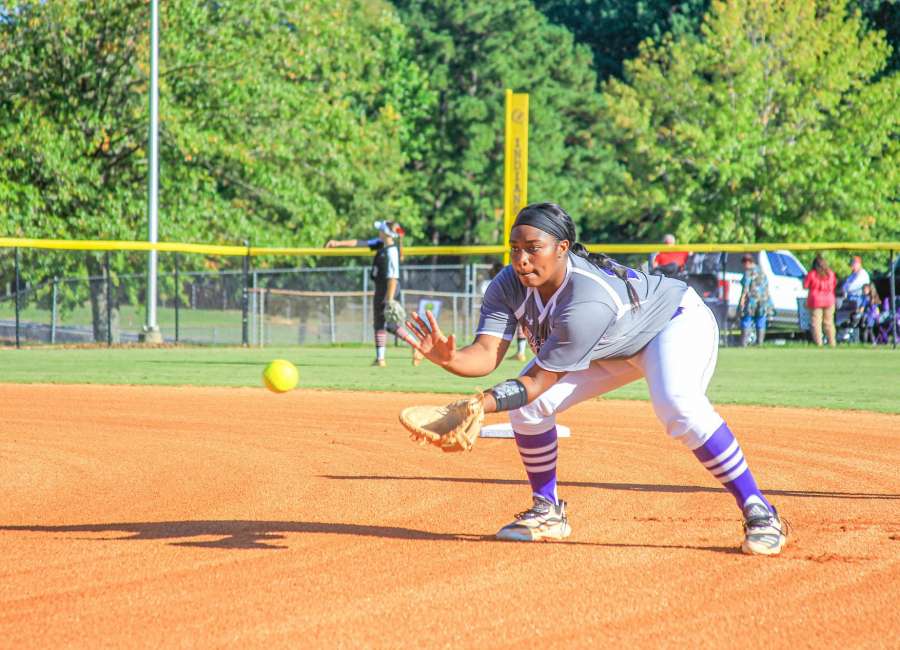 By Derrick A Teagle
East Coweta High School has the premier high school softball program in the nation.

The Indians are led by Head Coach Franklin DeLoach, who won over 570 games in the past 22 years. The Indians staff (Coach Bowles, Coach Blair, Coach Ridgeway) is full of big-time coaches.
East Coweta has a long list of softball players who have excelled on the next level. The list includes Shemiah Sanchez (LSU), Ashlynn Gunter (Georgia Southern), Rachel Vaughan (South Carolina), Dani Morgan (Florida State) and Kelley Lynch (Washington).
The Indians have one of the nation's most famous supporters in Deangelo Sanchez, who has been featured on ESPN. If you ever attend an East Coweta game, you can hear Sanchez all over the stadium yelling "Fist Pump Blue," which means an Indians pitcher like Jaliyah Holmes is about to strike out an opponent.
Or you can hear "Rock That Baby To Sleep," which means a potential home run is coming.
I shared these words on Monday Night Motivation Sports Talk Show this year — that I thought this year, the Indians were overrated. I've said to my broadcast partner, David St. John, that East Coweta lost too many starters, as well as some very important role players.
The Indians lost 10 players off a playoff team last year. The Indians had to replace one of the best players in Georgia — Ansley Gunter, a Georgia Tech Signee. I asked: Who will fill those shoes? A very dedicated and determined Kaliyah Matthews enters the equation.
Matthews, a JV player as a freshman and sophomore, played a very limited role for the Indians as a junior.
Matthews, who trains with former East Coweta baseball standout and Major League Baseball 4th Round Draft Pick Kieron Pope, is a "blue-collar worker," as described by Assistant Coach Mark Bowles.
Bowles stated that people just don't see all the work she puts in to perfect her craft.
Matthews' father, Anthony, shared with me last year the ability of his daughter, but she was unknown to the softball world. East Coweta is a true softball dynasty (137-6 record with three state titles in four years) and can really test the mentality of a very talented softball player.
Matthews, the very soft-spoken but confident first basemen, had to wait her turn.
The journey can be hard for the student as well as the parents, Anthony and Nina, who have never missed a softball game in Matthews' career. It's so hard to have a testimony without going through a test, and the test of perseverance is so tough.
Matthews started off her senior year with a home run off a state Final Four Whitewater team. The Indians started proving the naysayers, including myself, wrong. I watched the Indians destroy opponents left and right on the way to a state championship.
Matthews, a very intelligent (3.4 GPA) student committed to Georgia Gwinnett, produced one of the best seasons in East Coweta history.
Matthews set the home run (20) and RBI record (58) while batting .448 for the season. Matthews' last bomb was against the Number 2 ranked team in the nation, North Gwinnett, in the State Finals.
Her father described that as his "proudest father moment." He shared that the Indians were down two runs in the last inning with a full count, and Matthews stayed focused and delivered the home run.
Matthews' mother, Nina, describes the season as a great season. Matthews waited her turn and delivered. Nina also shared that this year has been memorable because we all have laughed and cried with each other knowing that this will be our girls' last year together.
Nina stated that she will be an EC softball mom forever because we all are FAMILY. Coach Bowles stated that Matthews waited her turn and came so far since last year, and she will do extremely well on the next level.
Matthews was recognized as the Co-Region Player of the Year last week, which is a major accomplishment for a first-year starter. Matthews shared that was shocked by the selection as she couldn't do anything but scream, "OMG!"
Matthews stated that it felt good to know that all of her hard work paid off.
Derrick A Teagle is the founder and director of Empowered 4 Life, a local athletic mentoring program and co-host of the 'Monday Night Motivation' radio show.