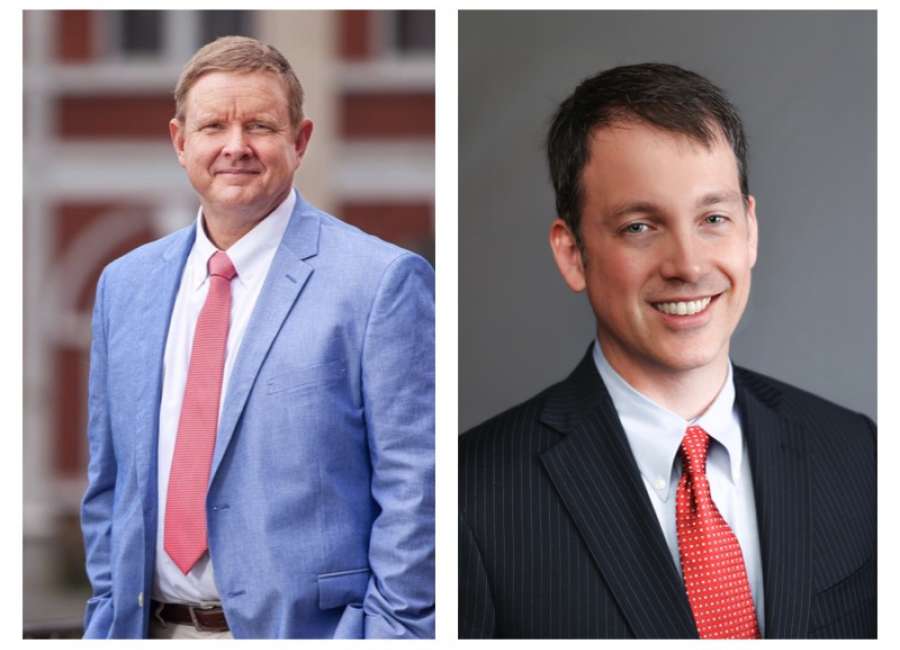 Following what may have been the most expensive Georgia House race in history, relative newcomer David Jenkins pulled off a decisive victory night against Rep. Bob Trammell, D-Luthersville, for the Georgia House District 132 seat.
Jenkins, a Republican who lives in the Grantville area of Meriwether County, beat Trammell, who serves as House Minority Leader, with 52.29 percent of the vote.
With most precincts reporting Tuesday night, Jenkins had 10,788 votes to Trammell's 9,842 votes. These totals do not include absentee mail-in votes from Coweta. By Friday afternoon, the vote was 11,450 for Jenkins and 10,775 for Trammell.
It was a big election night for the Jenkins family, as Jenkins's wife, Cat, was elected as the new Meriwether County Tax Commissioner.
Jenkins said they were happy with the results. "We worked hard and it paid off," he said.
Trammell said he wanted to extend congratulations to Jenkins and "wish him much success as representative elect and in his tenure as the representative for District 132.
"I want to thank the constituents of District 132 for trusting me and allowing me to serve for the past six years."
Jenkins attributed his win to the growth of the rural areas of District 132, which includes Meriwether County and portions of Coweta and Troup.
"The Democratic area of the district is primarily the cities of Newnan and LaGrange. The rural area of the district has growth and that growth has been Republican growth," he said. "Rural conservative Republican growth is essentially what went ahead and flipped the district."
Trammell said the district is very close and competitive, "which is much like Georgia, and we're seeing this in the presidential election."
He thinks Georgia will continue to see close elections in the immediate future.
The race was heavily funded, including by the Republican State Leadership Committee, a national organization that funded ads and even a website dubbing Trammell a "liberal golden boy." The RSLC works to get Republicans elected to state legislative seats.
Trammell said that the extensive funding is "a testament to how competitive Georgia overall has become and how much national attention there is around Georgia becoming that competitive."
Jenkins said his next steps are catching up on some farm work – and taking down a lot of campaign signs.
"It's been wonderful. I've really enjoyed all the people I've met," he said of the campaign. He spoke of the relationships he's made during the campaign. He's gotten to know old friends better and met new friends that he feels like he's known his whole life.
Trammell said he is looking forward to spending some time with his family in the immediate future. "We've got plenty of time to figure out what's next." If Joe Biden wins Georgia's electoral votes, Trammell will be one of the 16 electors casting Georgia's electoral college votes for him.
In the meantime, Trammell is still the representative for District 132 until January, and said his duties, including constituent services, will continue.
Coweta's other state representatives held onto their seats easily.
Rep. Philip Singleton, R-Sharpsburg, who was elected last year in a special election to serve out the unexpired term of Rep. David Stover, won reelection to his seat against Democrat Jill Prouty. Singleton won with 76.68 percent of the vote.
Singleton said he was humbled by the results and looks forward to serving the community.
"In Coweta, three of four state legislators are former armed service members and, in my opinion, Coweta has solidified its reputation as one of the most conservative counties in the state of Georgia," Singleton said.
With a decisive victory, Singleton praised his opponent for running a clean campaign.
"I think Jill Prouty did a great job representing her values and ran a very respectable campaign," he said.
Looking ahead, Singleton said he's optimistic about getting strong conservative legislation passed and said next year will be a major opportunity.
"It's hard to overstate how important the Collins/Loeffler race was to the state of Georgia," he said. "Voters are looking for grassroots, non-establishment conservatism that gets things done."
Rep. Josh Bonner, R-Peachtree City, was challenged by Democrat Fred Rovner and won with 73.99 percent of the vote.
"I'm grateful to the good folks of District 72 for once again entrusting me with representing our community," Bonner said Tuesday night. "I look forward to returning to Atlanta along with a strong Republican majority to keep fighting for low taxes, less regulation and ensuring our Constitutional rights are protected."
Rep. Lynn Smith, R-Newnan, did not have any opposition this election.