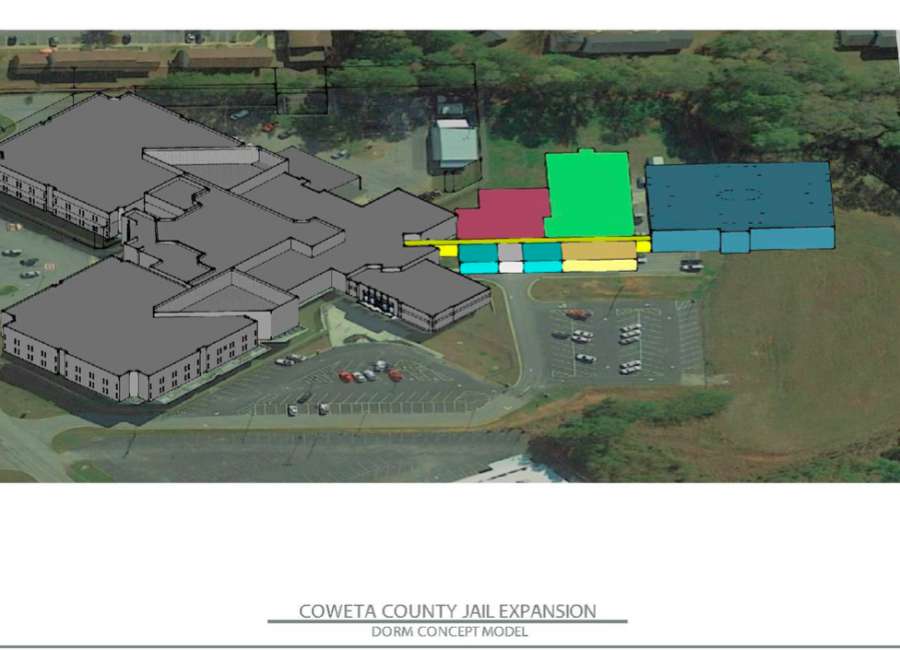 A proposed expansion of the Coweta County Jail would include a new kitchen and laundry facility, a new medical wing and a new double cell pod with 160 beds.
The expansion project, presented this week to the Coweta County Board of Commissioners, is expected to cost $15 million to build and approximately $1.7 million per year to operate.
The annual operating cost includes staff, utilities, maintenance and "every number we can think of," said architect Kip Oldham.
A major expansion project at the jail has been discussed – and needed – for many years. There have been interim measures put in place to expand capacity, but they are only interim measures. Last year, Oldham was hired to do a needs assessment for the jail expansion.
The commissioners didn't take a vote on the proposal this week.
County Administrator Michael Fouts said that county staff will continue discussing the concept plan with Oldham while they also determine a funding source.
"It's anticipated that staff would bring this project to the board for approval around the first of the calendar year as part of a work session to evaluate short-term capital needs," Fouts said.
Major Warren Campbell, jail division director at CCSO, talked to the commissioners about the need.
To manage the jail population, those serving short sentences – such as 60 day sentences – are often released 30 days early. "We simply don't have beds for them," he said.
Over the past few years, they've had to release inmates even earlier to get to an appropriate number of available beds before night shift. Night shift can pick up 15 to 25 inmates, Campbell said.
Campbell said they looked at the jail's population trends from 2008 to 2019. And most of the time, the jail has been averaging 85 percent capacity.
In 2018, there were 223 days when there were more than 400 inmates. One day, there were 459, Campbell said. They try to stay under 400.
"The last two years, it's been at a tragic number. So high we early early release."
If all inmates had to serve out their full sentence "the inmate population would probably exceed 600," Campbell said. "We're just weathering the storm."
COVID-19 dramatically dropped the jail population, in part because judges cooperated with the sheriff's office to help keep the population low.
About three months ago, the population was down in the 250s, and they decided to use one existing inmate pod to build a new medical unit.
The jail had a four-unit infirmary, and inmates with medical needs often ended up taking up many of the six booking cells.
The new medical dorm has 32 beds and opened four weeks ago. It's already at full capacity, Campbell said. Some inmates can't be housed together, so full capacity can mean fewer than 32.
Even with that new space, on Monday, four of the six booking cells were being used for inmates with medical or mental health issues, Campbell said.
Oldham told the commissioners that a review of other counties with similar populations shows that Coweta is on the low side.
Douglas County has a population of 146,343 compared to Coweta's 148,509, but has 15,000 jail beds. Houston County, with 10,000 more people, has a capacity of 507. Carroll County, with 119,992 people, has 682 jail beds.
On the other end of the spectrum, Columbia County, near Augusta, has a population of 156,714, and only 266 jail beds.
The current jail opened in 1991 as the result of a court order. At the time, Coweta's population was just 48,000, Oldham said.
"The sheriff's department should be awarded medals for what they've done with the facilities they have," Oldham said.
When considering the future, there was a need to look at updating the kitchen and laundry, which are 30 years old, so that they can handle the increased population.
"When this was first brought to us, the idea was that we would try to provide a number of beds," Oldham said. "The challenge is, when you bring more people into the facility, you also have to take care of those people."
An infirmary of four cells for a jail population of 400 is woefully inadequate, Oldham said, especially when inmates have mental health challenges.
The plan adds a new kitchen, laundry, infirmary and the two cell pods to property in the back of the jail, accessed by the continuation of an existing main hallway. The design is such that two new cell pods can be added easily in the future, without any big changes needed. The plan is to go with steel cells, Oldham said. They are economical, flexible and don't take as long to build as other types, he said.
The infirmary would include 40 beds and a day clinic, Oldham said.
Moving the kitchen and infirmary from the existing area of the jail would free up some space, too – 2,418 square feet for the kitchen and 3,762 square feet for the infirmary.
As part of the needs assessment, the commissioners took a tour of the jail.
"When you can see what all is going on, it's amazing what you and your fellow deputies have done," said Commissioner Bob Blackburn. "Hats off to you."
Commissioner Tim Lassetter said, after seeing what all is done at the jail and in the laundry and kitchen, "It's amazing that you have been able to do all that you do for so long."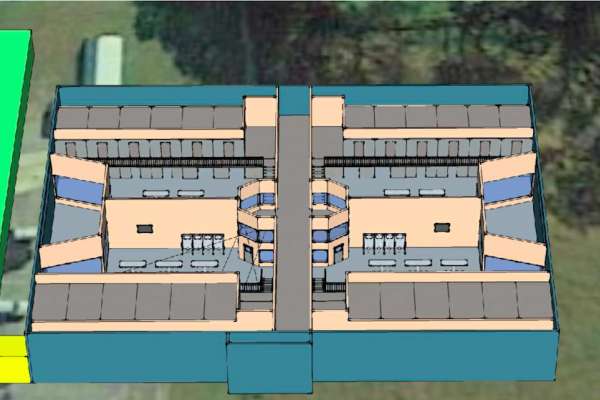 This rendering shows the concept for the new cell pods. With the proposed layout, a second 160-bed unit could be easily added.