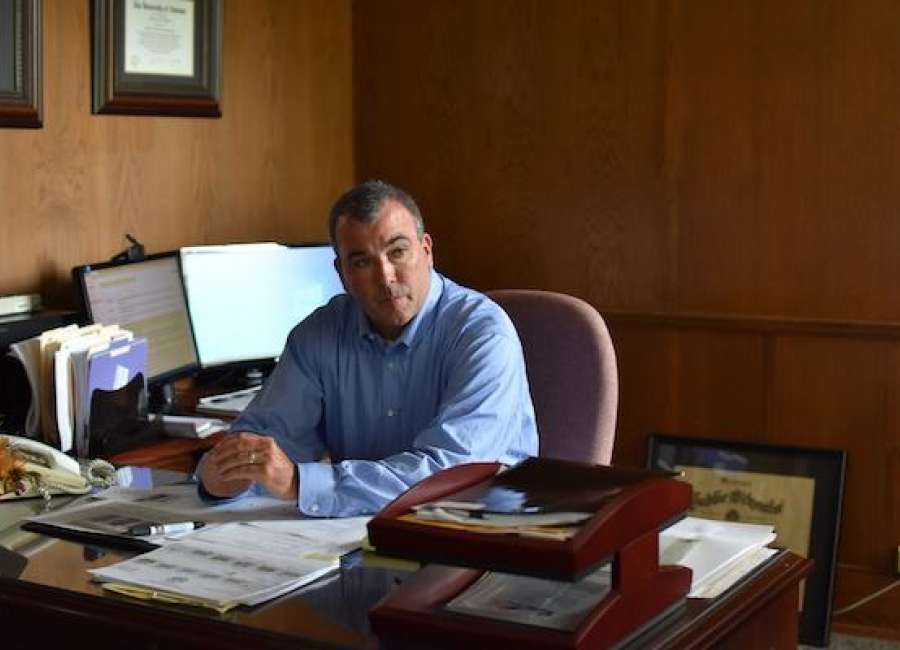 Coweta County School Superintendent Evan Horton spoke to the Kiwanis Club of Newnan Tuesday to give an update on the system's COVID-19 challenges and successes.
Horton said he was named the new superintendent by the school board on March 3. March 12, students left school for the year because of the COVID-19 pandemic.
"It has been a whirlwind since that time," Horton said. "A lot of very difficult days, a lot of very difficult decisions — a very, very challenging time."
Horton said despite all the challenges the COVID-19 pandemic has brought, there are lots of good things going on in the school system.
He said despite budget cuts at the state level, the Board of Education passed a balanced budget for the school system over the summer. Horton said they did this while also lowering the millage rate to 17.33, the lowest property millage rate since 2004.
Knowing that students would have to do some of this school year virtually, the school system was able to provide Chromebooks to students in kindergarten through second grade, in addition to the Chromebooks third through 12th graders already receive.
Horton said over the summer, the school system worked to provide students with over 500 Wi-Fi hotspots. He said the school system also served over 100,000 meals to families over the spring and summer.
"I can't say enough about the work of our cafeteria staff and our bus drivers," Horton said. "They are true heroes in every sense of the word, and they showed up week after week to accomplish that."
Horton said last school year, the SAT scores from students in the county increased by one point above the state and national average. This is the sixth year in a row that SAT scores have been above the state and national average.
Horton also mentioned that the new middle school currently being constructed on Shaw Road, expected to open in August 2021, was recently named after former Coweta County School Superintendent Blake Bass.
"Mr. Bass led our school system out of a difficult time," Horton said. "He led through a period of great difficulty and set our school system up for today. A lot of the things going on today are accredited to decisions he made years ago."
Horton said they are also in the process of renovating Northgate High School. He said they waited to see what the impact of COVID-19 would have on SPLOST collections, but the collections have been good and the renovations have begun.
He said they've postponed the addition to Northgate because of uncertainty about enrollment in the wake of COVID-19. Horton said some students have chosen other instructional models.
As far as athletics, Horton said this past weekend East Coweta High School won the 7A softball state championship.
"That's a big accomplishment in any year," Horton said. "I'm here to tell you today, just being able to have a fall athletic season, in and of itself, has been a huge accomplishment."
COVID-19 effects
Horton said COVID-19 is going to be around for a while in the school setting.
"Now it's really about managing COVID," Horton said. "It's about communicating effectively with our stakeholders about COVID."
He said over the summer, there were a lot of unknowns about COVID-19 and how it would affect schools.
"The first question was, 'Can you even have school safely?'" Horton said. "When you go to school, what's going to happen?"
Horton said when planning the school year at the beginning of the summer, the school system had every intention of starting school face-to-face on Aug. 6. He said every meeting and discussion they had was with that goal in mind.
He said over the summer, he was alarmed by how COVID-19 cases were going up in the community. Horton said he began to talk to the health department and hospital about cases going up and what their models looked like going into August.
"Remember, we didn't know a lot about the virus and how it could potentially affect a school community at that time," Horton said.
He said the school board, on his recommendation, voted to start the school year virtually.
"Here's the why behind that decision," Horton said. "I didn't want to be, as the new superintendent, the first system to jump out and be the test case for what may happen when we open the schools in the era of COVID-19."
He said he felt like the best thing to do for the safety of students and staff was to implement a phased approach to in-person instruction. Horton said they were able to learn a lot from the experience of other school systems.
Horton added that in the face of so many unknowns, they wanted to provide parents with as much flexibility as possible. One of the things the school system has done is to allow parents the flexibility to change their child's instructional model.
"As of today, every student in the Coweta County School System that wishes to be face-to-face for in-person instruction is back," Horton said.
He said looking back to March 12, that's a great success.
"It's all been accomplished by staff and leadership that wanted to put students first to provide as much flexibility as possible to be able to allow people to make choices regarding how they want to keep kids safe in the middle of a global pandemic," Horton said.
He said COVID-19 cases are here to stay, and they have cases in the district every week. Horton said they decided early on that they wanted to be transparent about COVID-19 cases. The district's COVID-19 dashboard is updated daily at www.cowetaschools.net .
What's on the horizon
Horton said they will start the process of staffing Blake Bass Middle School at the end of this year or beginning next year.
He said they will also be examining enrollment changes because of COVID-19. Across the state, Horton said kindergarten and first grade enrollment is trending downward due to COVID-19, while middle school enrollment is even, and high school is trending up.
Horton said there will be some budget uncertainty because they aren't sure what the long-term impact of COVID-19 will have on the school system's budget.
After having to postpone graduation for the class of 2020, Horton said all three high schools will have graduation ceremonies for those students on Dec. 16.
Horton said despite the challenges of this year, good things are still happening in the school system.
"The sky's the limit, and good things are going to happen for our school system," Horton said. "We're going to manage the other stuff; we're going to manage the pandemics and the tropical storms."
"We're going to keep teaching and learning and keep students at the forefront of every decision that we make," Horton added.