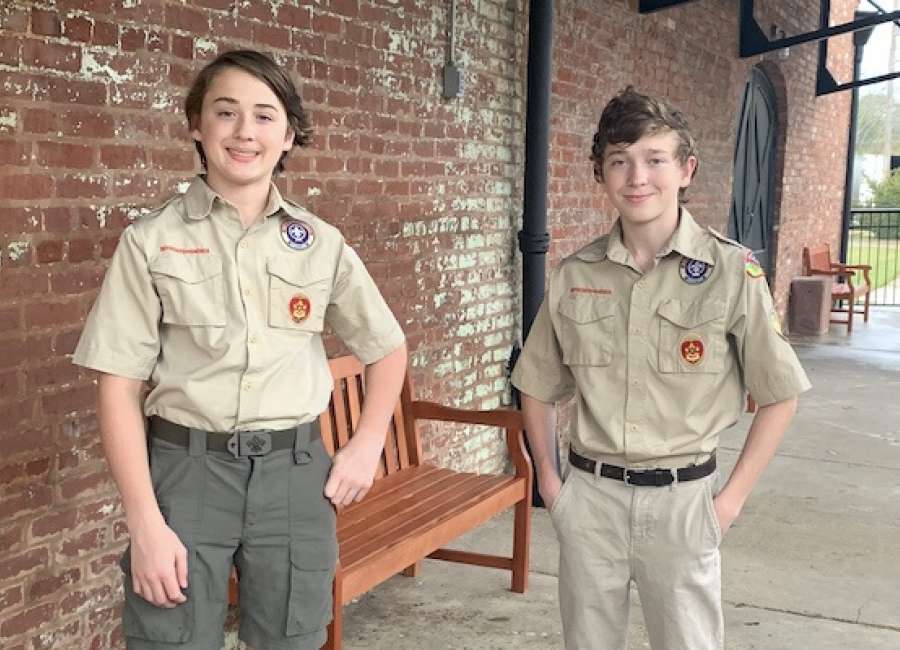 The railway platform at the Newnan Historic Train Depot is now more "passenger" friendly thanks to two local Scouts.

Cambron and Jackson Berry, members of Troop 41 of the Flint River Council, met with Emily Kimbell, Director of the Newnan-Coweta Historical Society in August to discuss working with the organization on a community project that would earn the two their Eagle Scout badges, according to a press release from NCHS.
The rank of Eagle Scout is the highest rank in Scouts BSA, formerly the Boy Scouts of America, and only 4 percent of Scouts have achieved the title since the organization's inception in 1911. To reach this rank, a scout must earn and pass through all other ranks, earning a minimum of 21 merit badges and demonstrating leadership across the various ranks, and then successfully plan, lead, and execute a community service project.
Cambron and Jackson along with their father, Randy Berry, are history buffs and have been longtime members of the NCHS, making the organization a natural choice to be their community project beneficiary.
The brothers proposed two separate projects for the society. Cambron's project focused on improving the landscaping of the area next to the railroad tracks by removing all weeds, adding plants, and spreading pine straw. Jackson's projects focused on improving the appearance of the railway platform by repainting the scaffolding and building four benches for visitor use.
"Cam and Jack have added such value to the Historic Train Depot," Kimbell said in the release. "The railroad platform is once again a place for visitors and community members to congregate, sit, and enjoy the passing trains. The work is even more meaningful knowing that our local youth completed the project and that our organization got to play a small part in helping them reach their goal of becoming Eagle Scouts. We are so proud!"
The two projects took over 224 hours to complete with 24 volunteers working to complete them, and the brothers faced challenges while completing their work. Painting the scaffolding on the railroad platform and clearing out rocks to re-landscape proved to be particular challenges.
"One of the most challenging parts of leading a project is staying focused on the task at hand, being patient with people, and providing instructions for the tasks that were required," Jackson said.
Despite the difficulty of the project, the experience was rewarding for both the NCHS and Berry family, according to the release.
"The most rewarding thing about being the leader was the feeling of successfully leading and executing a project that will truly benefit the Newnan-Coweta Historical Society...plus we got to have some pizza," Cambron said.