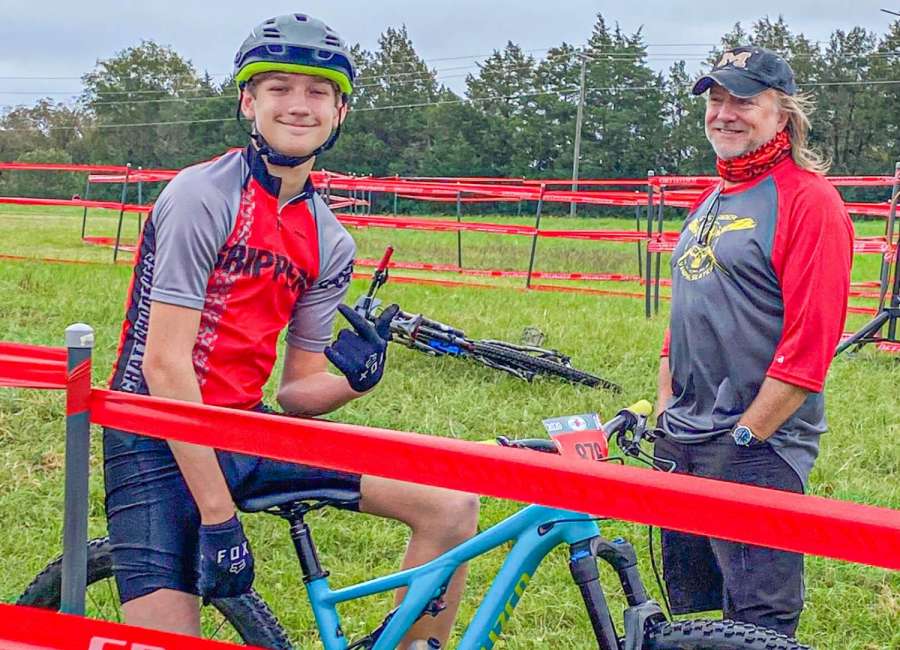 In their final race of the season, the Chattahoochee Grippers made another powerful statement, sending three of their riders to the podium.
Riders navigated hard-packed sand, along with rooty trails with several big climbs, at BartramTrails in Milledgeville, Georgia, last weekend.
When racers emerged from the woods and across a grass field to the finish line, they were met with a stiff headwind, making the final stretch of the race that much more difficult.
In the end, the Grippers had 20 racers, six of them making the top 10 in their division, and three of those making the podium (top 5 in their division).
For the fifth race in a row, and despite a crash, varsity rider Caleb Landgrebe took the podium coming in second place with a lap time of 20 minutes, 40.1 seconds. This was enough to give Caleb a series finish of second place.
Ruth Rhymer, for the fourth race in a row, took first place in the eighth grade girl's division with a winning time of 25 minutes, 50.5 seconds. This also secured her first place position for the series.
For the fifth race in a row, Junior Varsity 2 rider Alex McClellan took the podium again, coming in second place out of 108 competitors with a lap time of 21 minutes, 27.8 seconds. For the series, Alex placed second out of 139 competitors.
"Bartram was the hardest trail for me this season," McClellan said. "The wind at the end made it even harder. I gave it everything I had, and when I got to the last hill, I went so hard that I couldn't even finish with one last pedal before the finish line."
Freshman racer James Noori placed in the top 10 for the series, coming in at ninth place against 111 competitors.
Head Coach Kurt Dorshimer thanked parents, sponsors and coaches for allowing the team to have an amazing season, despite the obstacles of the global pandemic.
"Without their dedication, donations, and willingness to volunteer their time, this season wouldn't have been possible," he said. "Given the situation, with the COVID-19 pandemic, it's been an honor to be a small part of bringing some normalcy to these kids by getting more kids out on
bikes this year, while at the same time supporting the Georgia Interscholastic Cycling League."
When the pandemic hit, Team Director Kent McMullen didn't know if the team would have a season at all, much less a race season.
"The Georgia League staff found a way to make it happen, allowing us not only to have a practice season but also a race season for these student-athletes," he said. "One of the parents commented to me that this team was the only sense of normalcy that his son had through the year.
"To see this team grow from 11 students last year to 38 students this year was nothing less than amazing," he continued. "And to watch these kids grow in their confidence on the bike and also see their character develop was truly spectacular."
As a Georgia League Core Staff member, McMullen said it was an honor to be able to help the Chattahoochee Grippers, and the rest of the 64 Georgia League teams, bring a race season they can be proud of, "as well as bring a sense of normalcy to their lives."
Grippers finishing in the top 10 in their division were:
Varsity: Caleb Landgrebe in 2nd
JV2 Boys: Alex McClellan in 2nd
8th Grade Girls: Ruth Rhymer in 1st
6th Grade Girls: Bryce Edmondson in 9th, Chloe Tanski in 7th
6th Grade Boys: Flint Drummond in 8th
With their season coming to a close for 2020, their sights are set for 2021. The official start of recruiting will be April 1, 2021, and the practice season will begin July 1, 2021.
Those that are interested in joining the Grippers can follow them on Facebook or email: chattahoocheegrippers@gmail.com .