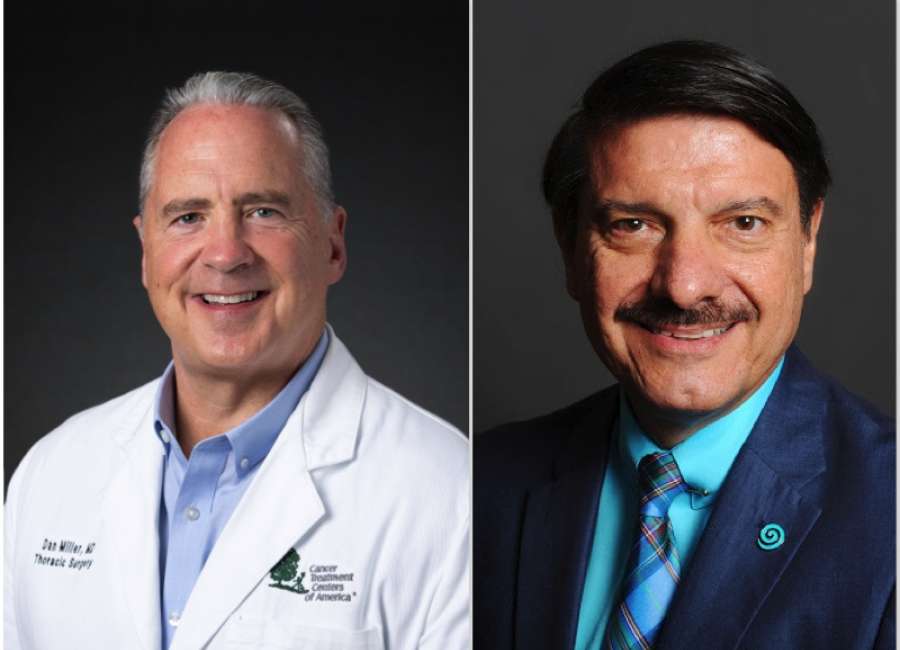 Daniel Miller, M.D., Thoracic Surgeon, Cancer Treatment Centers of America Atlanta

Albert Rizzo, M.D., Chief Medical Officer, American Lung Association
As we round out the eighth month of the COVID-19 pandemic, we must maintain awareness of other diseases that may cause more serious complications for vulnerable members of the population if exposed to COVID-19. Lung cancer is the leading cancer killer in the U.S., but only a small fraction of the public is aware of this fact, according to new research.
It is estimated that more than 225,000 Americans will be diagnosed with lung cancer and 135,000 will lose their lives to this deadly disease this year. Additionally, the lung cancer death rate among Black men is 23 percent higher than white men, with a 12 percent lower survival rate among Black people.
In Georgia, the trends are even more concerning. The incidence rate is higher than the national average, and the five-year survival rate is lower than the national average. More concerning is that only 4.4 percent of people at high risk are screened in Georgia. That number needs to change immediately.
Moreover, an alarming number of adults are unaware of these statistics. According to the 2020 National Lung Health Barometer compiled by the American Lung Association and Cancer Treatment Centers of America®, only 8 percent of adults are aware that lung cancer is the number one cancer killer of women in the U.S., and just 21 percent of adults know the disease is the leading cancer killer of men.
Nearly eight million Americans meet screening criteria and are at high-risk for lung cancer due to smoking history, which means approximately 48,000 lives could be saved if these individuals got screened for the disease. Unfortunately, only about 5 percent in the high-risk group have done so. These numbers could look more optimistic if people were more aware of risks and screening options.
Early detection and treatment lead to higher survival rates. While everyone should be taking precautions against COVID-19, those at high risk should not delay this conversation with their doctor, given the critical importance of screening. A low-dose CT screening can decrease lung cancer mortality by up to 20 percent among high-risk adults.
Unfortunately, people at high risk don't get screened for lung cancer as frequently as other cancers, and only 17 percent of cases are diagnosed early, when the disease is most treatable. When detected and treated at stage I, lung cancer has a five-year survival rate of nearly 63 percent. That rate drops to 41 percent at stage II; 18 percent at stage III; and 4 percent at stage IV.
So, why aren't more people getting screened?
COVID-19 impacted the normal workflow of many screening centers. However, adults at high risk must work with their health care provider to get screened as soon as possible.
Also, awareness is low. Too few adults understand that lung cancer is among the cancers most likely to affect women (20 percent) and men (34 percent).
Finally, and perhaps the most significant barrier, is a lack of support for lung cancer screening within our health care system. Current smokers make up more than one-quarter (26.3 percent) of Medicaid recipients and, thus, are at higher risk for being diagnosed with lung cancer, yet 10 state Medicaid programs do not cover lung cancer screenings. That must change.
What can be done to help reverse this trend?
Understanding risk: Visit SavedByTheScan.org to determine your risk by taking a simple eligibility quiz. If you discover that you are at risk, speak with your doctor about getting screened.
Go for routine screenings: For those at high risk, screening is recommended every year. Hospitals and other screening facilities have established COVID-19 precautions, and you can ask for information about how you can be protected during your visit.
Talk to your family: If a loved one might be at high risk for lung cancer, discuss the importance of talking to their doctor about screening. Your advice might save their life.
One day, COVID-19 will be a distant memory. Our aim should be the same for lung cancer.