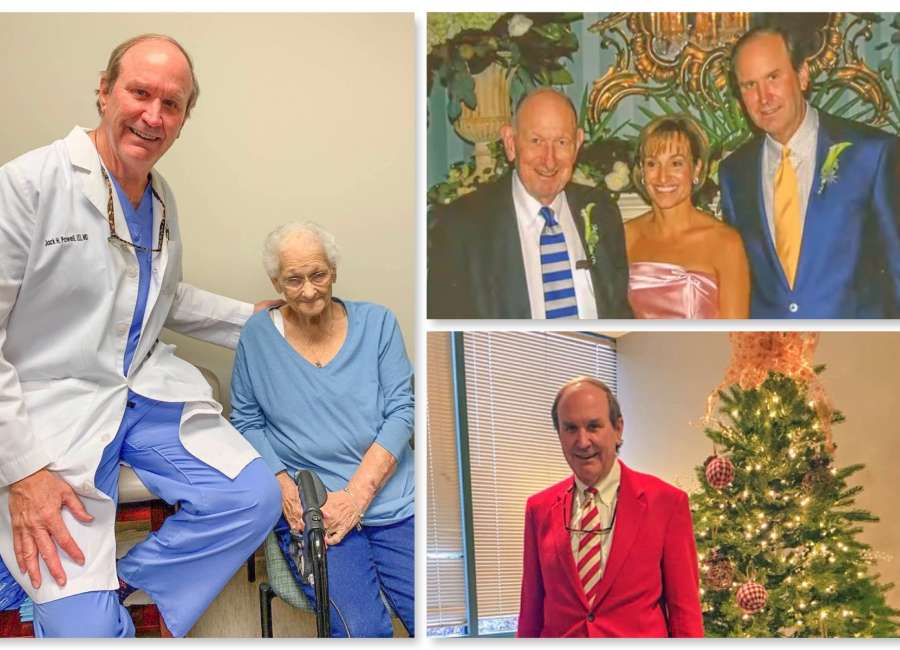 By Jill Whitley
Dr. Jack Powell III, Newnan's first orthopedic surgeon, founding partner of Georgia Bone and Joint, and one of the medical directors of Atlanta's 1996 Olympic Games, initially planned to announce his retirement at the reopening of the practice's refurbished facility in late March.
Before the novel Coronavirus forced his early retirement, Dr. Powell says it ushered in one of the most promising new trends in orthopedics: telemedicine. "One of the things before I left that was very important was that we start a telemedicine program to serve our patients. I believe that is the cutting edge of medicine and will become increasingly important in the future."
Dr. Powell is an expert on envisioning trends in his field: he's been a pioneer in orthopedic medicine for nearly 50 years. After his graduation from the Medical College of Georgia in 1977, Powell completed his general surgery internship and orthopedic residency at Emory University in Atlanta.
Dr. Powell completed further training in spine surgery during a fellowship at the University of Ottawa in Canada. He also did a hand fellowship at The University of Alabama and a sports medicine and arthroscopy fellowship at Tuckahoe Orthopaedics in Virginia before returning to Newnan to practice general orthopedics at PAPP clinic in 1984.
Powell was no stranger to Coweta County's medical community. Dr. Powell comes from a family of prominent doctors and is the fifth generation to practice medicine in Coweta County. His grandfather, Dr. Joe Peniston, and his father, Dr. Jack Powell Jr., were two of the four original doctors who founded the PAPP Clinic.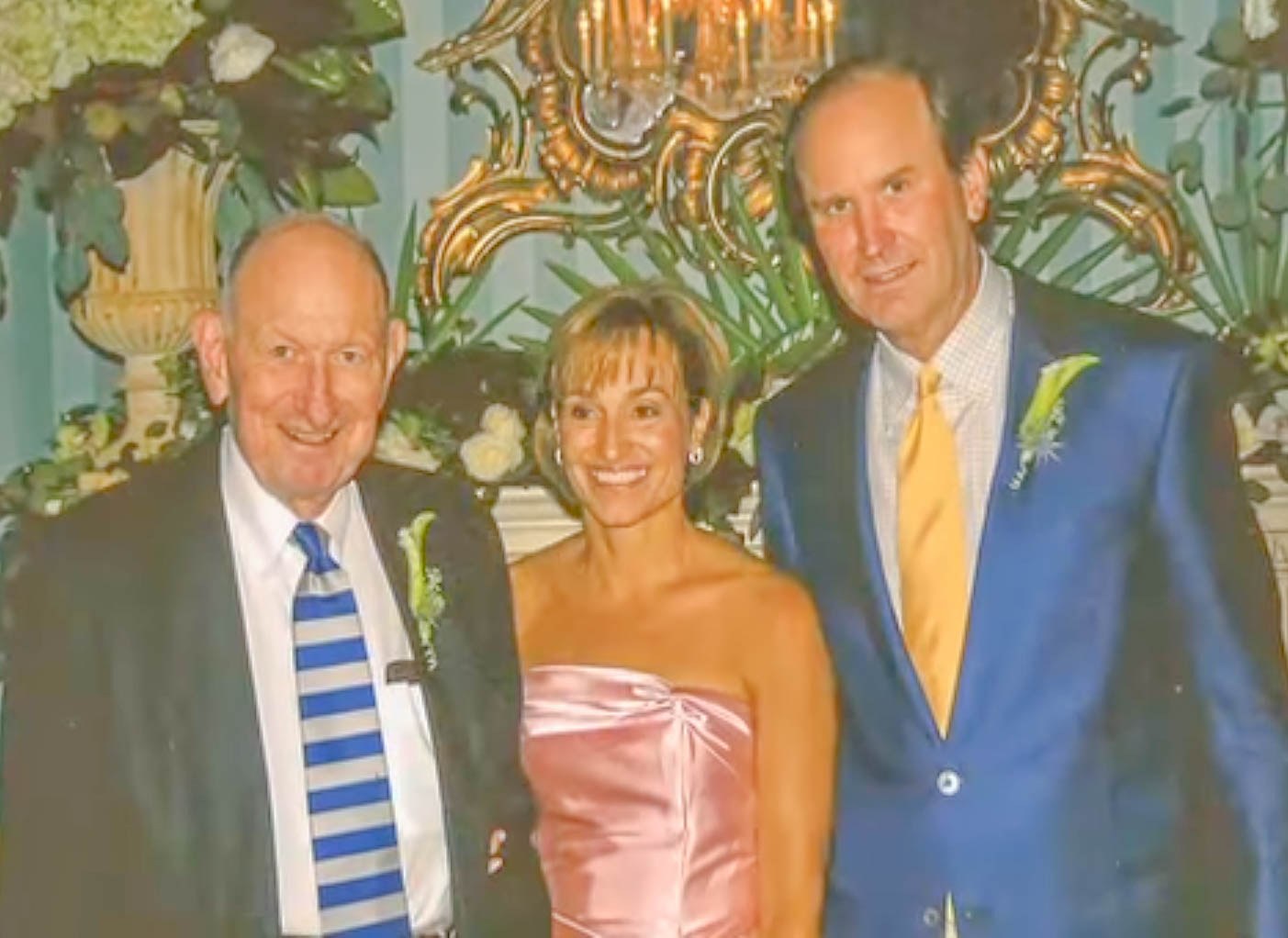 Powell is pictured with his father, Dr. Jack Powell, Jr., and his wife, Page.

Powell said the intensive training he received, especially during his residency at Emory, helped lay the groundwork for his general orthopedics practice at PAPP clinic: "The reason I trained at Emory is because I wanted to be close to home, and I wanted to give the folks in Newnan the same care they would get in Atlanta. I knew I was going to be the first orthopedist at PAPP clinic, and I wanted to be able to make referrals back to Atlanta if I ever needed to."

As his patient load grew, Dr. Powell initially practiced alone, assisted by the general surgery team at the PAPP Clinic who still did some orthopedics. However, after a few years of being the PAPP Clinic's sole orthopedic surgeon, he knew he needed help. He first brought on a physician's assistant, then hired Dr. George Ballantyne as his first partner. After that, they added a new physician "every three to four years," until Powell's drive to bring world-class orthopedic care to his hometown led him to think bigger.
"We were working at PAPP clinic, which was a multispecialty group. Doctors Gruber, Ballantyne, Kessler and myself realized that while we loved working with internists and general surgeons, we felt like we needed more specialists and a surgery center. And the only way to get a surgery center is to have a single-specialty center, so we could build our own operating rooms for orthopedics."
"With the surgery center, we also had to have physical therapy, an imaging center and pain management. It was also important to have some kind of fitness component, because when patients finish physical therapy, they need a fitness center to return to their normal lifestyle. That's where the Summit Family YMCA came in to be a part of the facility. We got the support of the hospital and the doctors to build the Summit in 2000. It has been the Georgia Bone and Joint campus since then," Powell explained.
The creation of an all-inclusive orthopedics practice wasn't enough to satisfy Dr. Powell's need to innovate: Soon after, Powell realized that the field was changing in a significant way.
"I saw that we needed subspecialization, and we felt that was where orthopedics was going. Dr. George Ballantyne, Dr. Michael Gruber and myself were the last of the old guard general orthopedists who saw a bit of everything and took care of everything. Now orthopedics is much more subspecialized. So that's why, at Georgia Bone and Joint, we have Dr. Dave Heinsch doing foot and ankle, Dr. Chad Kessler and Dr. David Love doing spine, Dr. Trevor Turner doing regenerative medicine and orthobiologics, Dr. Michael Cushing doing shoulders, Dr. Clark Walker focused on sports medicine and Dr. Jayson McMath offering pediatric orthopedics so families do not have to drive to Atlanta for care."
Powell continued to innovate. Russ Foley, a physical therapist from Northwestern University, was an integral part in developing the physical therapy and rehabilitation programs at Georgia Bone and Joint. "He's easily one of the top five guys in the state for physical therapy. He helped organize the rehab department, which is very important for patients and is a huge component of our facility. Russ also developed our sports medicine partnership with the Coweta and Fayette high schools. It was all fun, and we had a great time doing it."
Powell and his team at Georgia Bone and Joint also helped pioneer safer surgical procedures. "David LaGuardia, an anaesthetist for 35 years, developed spinal and extremity-blocking procedures for our patients instead of general anesthesia that put them at much less risk during surgery. That model was based on techniques to improve patient safety and was expanded to multiple hospitals and facilities by LaGuardia.
When asked how he was able to grow such a successful practice, Powell is quick to share the credit: "I always believed in bringing in people that were smarter than me, and they're all honest as the day is long. They're all good, family people. We've not had one doctor leave, either, which is remarkable. Everyone loves Newnan. They've raised their families here."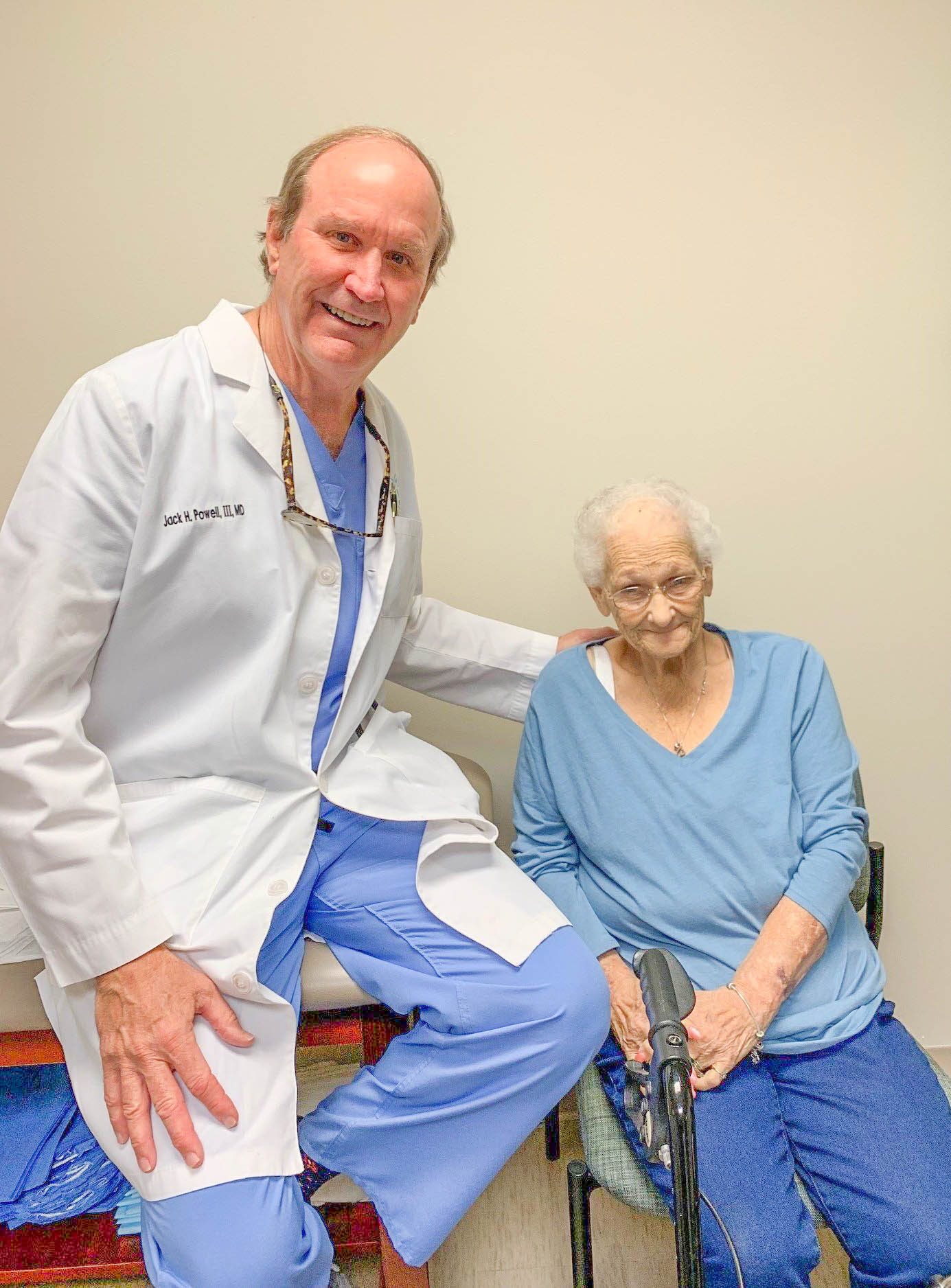 Dr. Jack Powell, III treats a patient of over 30 years before his retirement from Georgia Bone and Joint.

Dr. Jayson McMath, the current president of Georgia Bone and Joint, refuses to let Powell downplay his contribution to the creation and growth of the practice: "Dr.Jack Powell's passion and heart for the patients of Newnan and Coweta County is boundless. As the founder of Georgia Bone and Joint back 35 years ago, Dr. Powell has served thousands of patients, and he has led our practice with grace, passion and intellect. We wish him every success in his retirement and know he will not be too far from Georgia Bone and Joint."

Powell is confident he's leaving both the practice and the community in competent hands:
"I think we have a great medical system here in Newnan, and I am proud of the role Georgia Bone and Joint plays in that system providing orthopedic excellence and exceptional care for our patients. We have the new Piedmont Hospital facility and the Cancer Treatment Center, which are both wonderful. We've got a great foundation. Strong doctors, great hospitals, good education and strong leaders — what else can you ask for? It's all very important. I think we're on the road to success."