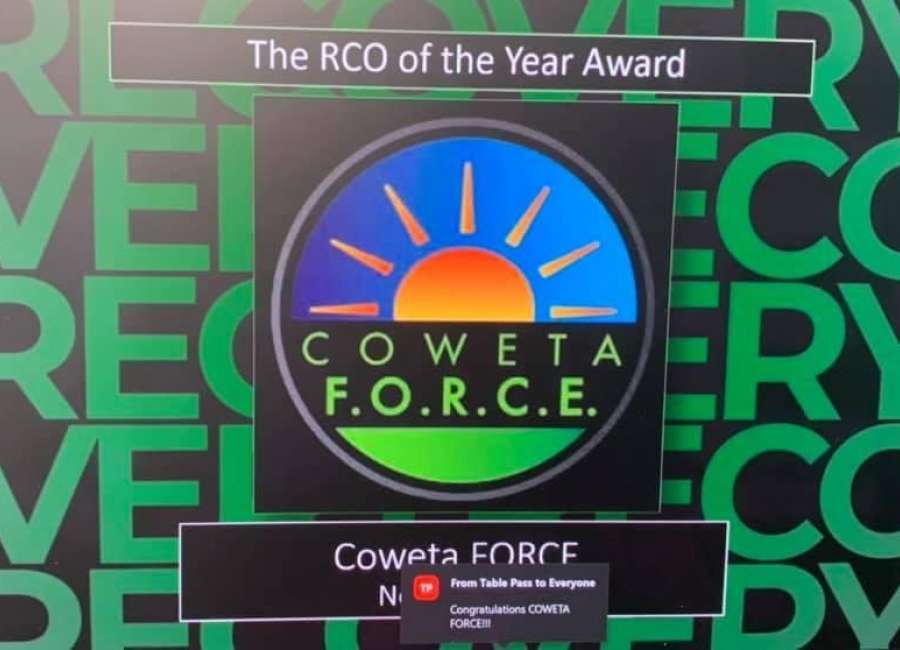 Coweta FORCE is one of two recipients of the Georgia Recovery Community Organization of the Year award.
Coweta Friends of Recovery for Community Empowerment is Coweta's Recovery Community Organization, and provides a number of services for those in recovery from substance abuse in Coweta and surrounding counties. It's located at 48 E. Washington St. near downtown Newnan.
There are 32 RCOs in the state, and each one votes for the fellow organization that it thinks deserves to be the RCO of the year.
The award was announced at the Georgia Council on Substance Abuse's second annual recovery luncheon. The luncheon was held virtually.
"That's a really cool thing to be recognized by our peers," said Hank Arnold, founder and executive director of Coweta FORCE. "For me, I'm constantly thinking about how we can do more, how we can reach more people, how can we provide a space in our community where we can help people find restoration in their lives."
"It was really cool to be selected and really unexpected – because I think everybody does such a good job," he said of other RCOs.
Coweta FORCE is a peer-led, peer-founded recovery community organization.
"A lot of people think that's treatment or some sort of clinical model, but it's not," he said. "Although we work with clinical programs, we are a peer model."
A clinical model would be using clinicians, such as licensed professional counselors and social workers. It's a medical model. A peer model consists of people in recovery working with other people in recovery, or those supporting people in recovery. "We are more the social model of recovery," Arnold said.
"We recover in our communities."
A lot of people still don't understand what Coweta FORCE is, Arnold said. "People call us treatment. When the general public thinks about recovery, they think it is something that happens somewhere else. But people don't really recover in an institution. They may begin their recovery there; it may start there. But that's not a place that really initiates long-term recovery. We recover in our communities."
Coweta FORCE helps link people in recovery from substance abuse with recovery support services to help them sustain long-term recovery.
Because living a life of recovery from substance addiction is more than just getting recovery, and recovery is more than just not using substances.
"We're working from a lifestyle switch. From just 'I'm not going to be putting substances in my body', to 'I'm sustaining my abstinence through a healthy lifestyle,'" Arnold said.
"One of the things we try to help people do is find new ways to experience pleasure," he said. For so many people who have substance use problems, using substances is a way to unwind, relax, cope or belong, or to simply experience pleasure.
"So ultimately, we're trying to do that without a substance," Arnold said.
Long-term recovery can be sustained "through overcoming challenges and through being supported and through facing adversity, and through our resilience and through achieving new goals," Arnold said.
Coweta FORCE hosts a number of recovery meetings, including 12-step meetings with anonymous fellowships. But there are also programs like Yoga in Recovery. The facility is also a place where people in recovery can come and hang out when they need a safe place to go.
Coweta FORCE also takes its message to the Coweta County Jail. Arnold hosts an education and peer support group for two pods every Tuesday, and ladies from Coweta FORCE provide yoga classes for the two women's pods.
Meeting people where they are
But a big part of what Coweta FORCE offers is "peer check-ins."
Staff members are trained peer recovery coaches, who are in recovery themselves.
Those in recovery, seeking recovery, and even loved ones of those who are in recovery or still in the depths of addiction, can work with peers.
The first step is to assess where someone is – and meet them where they are.
"Where else would you expect to find someone?" Arnold said. "We meet them where they are, we figure out what is going on with them and we try to build a relationship." Coaches help peers figure out what their end goal is and use special interviewing techniques to help the peers understand if their actions are getting them to where they want to be. "We really try to get some buy-in and some commitment for some action steps," Arnold said. They can also help people see some options they may not have considered. Peer check-ins usually happen at least once a week, he said.
There are special procedures in place for COVID-19. Everyone is encouraged to stay at least 6 feet apart, and masks and hand sanitizer are available.
During COVID-19, Arnold said they have seen a big increase in requests for help from family members who are trying to support someone who struggles with substance abuse.
"They want to come and figure out – what can I do to support my loved one? Because the way they have been doing things isn't working," Arnold said. They help family members understand that helping their family member is less about trying to control that person and more about supporting them while maintaining healthy boundaries.
Family members can get Narcan/naloxone, which can reverse opioid overdose, and training on how to use it. They can also help family members figure out treatment options if that is needed.
Far-reaching impact
Coweta FORCE is relatively new, though planning meetings for it began in 2016. The organization held its grand opening in March of 2019.
The things Coweta FORCE is doing have had an impact all over the state, according to Jeff Breedlove of the Georgia Council on Substance Abuse.
The organization has gotten support from local elected officials, and when COVID-19 related budget cuts threatened to defund RCOs all over the state, Coweta FORCE held an event that featured State Rep. Philip Singleton, R-Sharpsburg, and State Sen. Matt Brass, R-Newnan. A video of Singleton and Brass speaking about the importance of what organizations like Coweta FORCE do "went all over the capitol," Breedlove said.
"It went far beyond Coweta County so that other senators and representatives could see," he said. When state senators and representatives saw their fellow officials speaking out publicly in support of recovery, it let them know they could, too. It also showed elected officials that their colleagues were willing to stand up and speak out against budget cuts for RCOS.
"That is how important what Hank and his team are doing is," Breedlove said. "When they create an RCO that earns the respect of the state representatives and state senator and sheriff and county commissioners and mayors – when we help them to apply that to other parts of the state, that makes those people not want to cut funding. It makes them want to increase funding," Breedlove said.
Statistics show that there are over 800,000 Georgians in recovery, said Breedlove. When you add in their family and friends, that's a huge number of Georgians impacted by the issue.
Because the number is so large, a change is occurring in the way people think about addiction, Breedlove. There is a stigma around it, but that stigma is decreasing.
"What RCOs are doing is two things at the same time – showing that recovery is real, that recovery works, that people in recovery look like everybody else and they have families," Breedlove said. "On the other hand, they are also breaking down that stigma. They are saying – you don't have to be ashamed, you don't have to live in secret anymore. We have a right to speak up and speak out."
The other winner of the RCO of the year is R2ISE in Atlanta, which uses the arts, including music and theater, as part of recovery.
For more information about Coweta FORCE, visit www.CowetaFORCE.org , the Coweta FORCE page on Facebook or call 678-633-5688. Coweta FORCE is open 9 a.m. to 5 p.m., Monday through Friday.