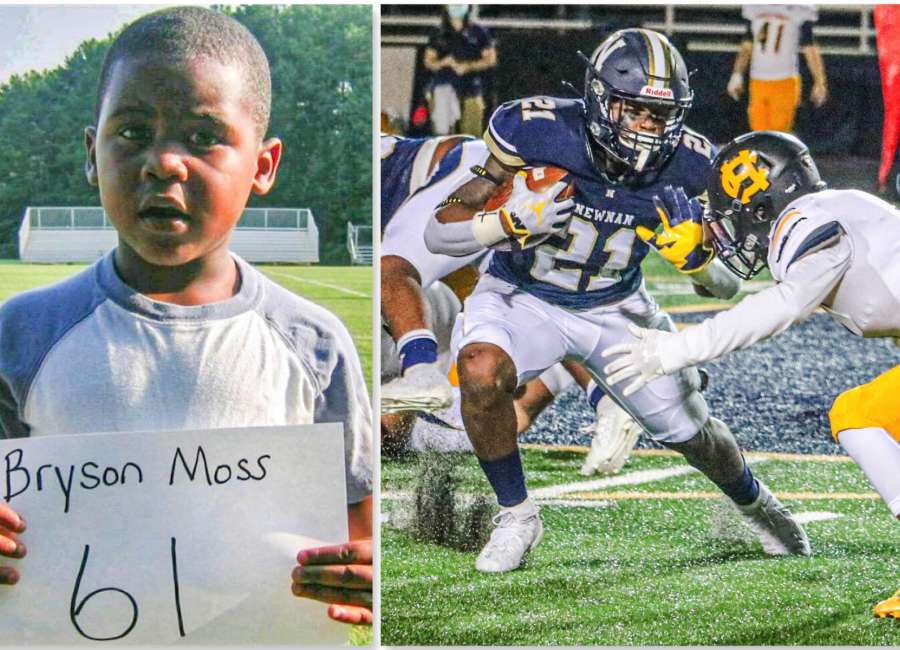 By Derrick A. Teagle

Bryson Moss is one of the most talented student-athletes that has ever come through Coweta County.
Moss, a 5-foot-11, 200-pound running back, is also a very accomplished baseball and basketball player. Moss has a gift for football and is driven to be great at his craft. Now a senior at Newnan High School, he has an athletic scholarship commitment to Eastern Michigan University.
The Beginning
Since birth, Moss has always been dedicated and committed to being great. He refused to crawl as a baby; instead, he walked at 6 months. Moss actually started school at the age of three and has been an Honor Student throughout the years.
Moss' father, Tony, also shared that he loves the fact that he never let adversaries get in his way. Tiffany Moss said she knew from a very early age that football was her son's passion.
Moss never quit, even when he made mistakes or had injuries.
Moss's grandmother, Earnestine, said he's always been a very bright kid.
"We had this thing about him getting taller than me," she said. "We would visit each other; we would do the measurements for height, and I lost a couple of years ago."
She noticed his hard work in sports beginning at his flag football days.
The Setback
Moss started out as a Coweta County Cobra (now the Outlaws) and destroyed the Coweta County Recreation League as he played for his father's team. He also joined the Sharpsburg Stallions and the dominance didn't end.
Moss' next step was at Evans Middle School, playing on a team featuring a dozen future college prospects who won the Middle School Championship.
Moss was a part-time starter as a freshman at Newnan High School. The next year, he had the direct attention of college coaches. I remember one coach telling me after watching the Newnan vs. McEachern film, Moss was poised to explode on the college scene, believing his natural ability at running back.
I remember texting Moss after coming back from a trip. I started crying as Moss told me he injured his ACL and would miss his entire junior year.
Tiffany shared that Moss has always had a crazy kind of drive to make any obstacle his motivation to be better than he was before.
The Comeback
Moss was very positive and went through rehab passing with flying colors. I started watching workout videos of him on Twitter and noticed he was quicker, faster and stronger.
Moss's favorite scripture is Joshua 1:9 which states: "Be strong and courageous. Do not be afraid. Do not be discouraged, for the Lord your God will be with you wherever you go."
His Aunt Sha shared that Moss is a beautiful young man whom she loves and adores so much.
"I am so proud of him, and he will go far," she said. "He keeps God first in everything he does. I am truly blessed to call him my nephew."
The Decision
I have been blessed to see hours of Moss' high school film, and I love sharing them with my family members before I send them out to see college coaches. Moss' talents and grades (3.6 GPA) gave him an opportunity to choose Eastern Michigan University over a dozen colleges.
Why Eastern Michigan? Earlier this year on a Monday Night Motivation Sports Talk Show, Moss shared that he loves the family environment, and he felt like it was the right place to put him in the right position.
The Senior Season
I can't imagine how disappointing and crushing it must have been to sit out a year. However, instead of giving up, he used the opportunity to get stronger, and he came back with an agenda – not only for him, but for his team.
Moss' grandfather, Walter, said watching Moss play football always reminds him of when he played football, "although I told Bryson that I was faster," he said.
"I ask him was he going to be ready for his Senior year and stated that his goal was to score plenty of touchdowns," he said. "He also said he felt like this team could go far in the playoffs."
Tiffany stated that she truly believes in her spirit that this is his time as he is turning into an amazing young man on and off the field. I am blessed and eternally grateful that God chose me to be on this incredible journey with him.
Coach Chip Walker loves the leadership of Moss and feels like he is getting more comfortable every single week. He is looking like the Moss from his sophomore year.
"He is getting stronger, and we are going to keep feeding him," Walker said.
Moss said he's thankful to have a wonderful support system.
"I can hear them from the stands and can hear 'Pops' Walter yelling from the stands, 'Hit the hole, Bryson!'"
I pray that Moss continues to understand the importance of faith, family and football.
Derrick A. Teagle is the founder and director of Empowered 4 Life, a local athletic mentoring program and co-host of the 'Monday Night Motivation' radio show.