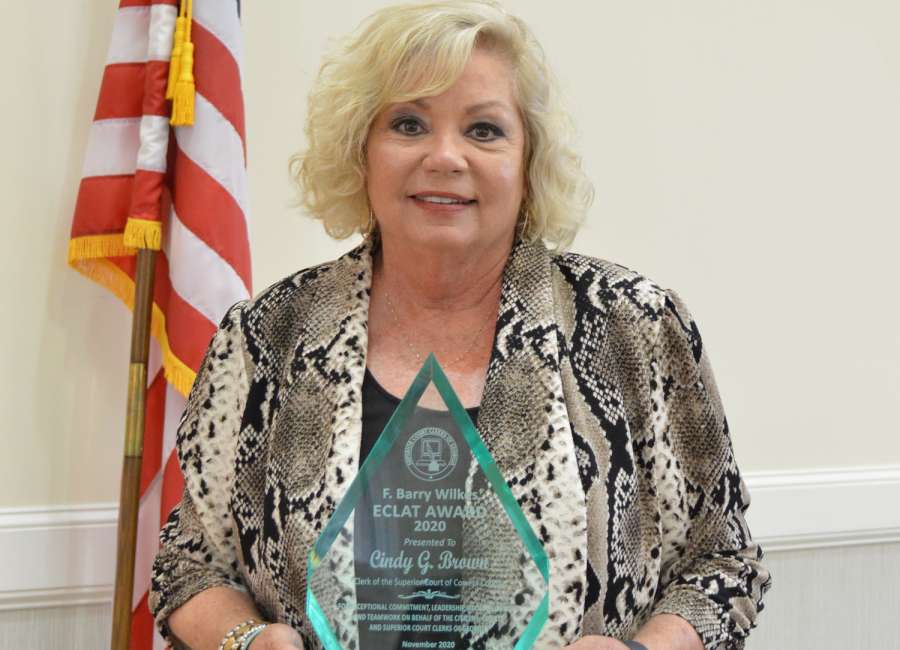 Coweta Superior Court Cindy Brown has been awarded one of the highest honors given to superior court clerks in Georgia.
Brown was one of two winners of this year's ECLAT Award from the Superior Court Clerks' Association of Georgia.
ECLAT stands for Exceptional Commitment, Leadership, Accomplishment and Teamwork.
"It's a huge honor," said Brown. "I never thought I would see this. Never, ever."
The award goes to clerks who have exhibited leadership or innovations in their offices that produce tangible improvements to service for clerks or the courts and judicial system.
A selection committee accepts notations every year for the award, and Brown's colleagues and local superior court judges wrote letters of support.
The clerk who nominated her wrote that Brown "doesn't draw attention to herself, but … does all that she does only to help improve her office and for the benefit of others across the state."
One judge's letter was read during the award ceremony, saying, "If this award is to recognize exceptional commitment, leadership, accomplishment and teamwork, I think you would be hard-pressed to find a better example."
An employee in Brown's office wrote that Brown "always credits her staff with her great accomplishments, but it has always been her ability to convert our mistakes into lessons, pressure into productivity and skills into strengths that has built this office."
Brown began working in the Coweta Superior Court Clerk's Office in 1986 and was elected as clerk in 2001.
In that time, Brown and her office have pioneered new processes and easier ways to do things, or done beta testing for new programs. Brown's office was the first in the state to begin the e-filing of child support cases.
Her office was also the pilot site or beta site for other statewide projects, including UCC e-filing, court e-filing through PeachCourt, transmission of criminal records to GCIC and participation in the Five-Points exchange of court data and an index-to-index deed program.
"We were the first to do a lot. And it's because I had a good staff, and we care about Coweta," Brown said.
The award was announced at the Association's training in Savannah.
Brown and her employees weren't there. Brown already had enough training hours from the spring, and the office was preparing for the first grand jury since March. If they had gone to the training event, they would have been getting home the day the grand jurors arrived, she said.
So her employees and her husband had to get creative to make sure she saw the award presentation live.
The ECLAT Award is named in honor of Barry Wilkes, a long time clerk in Liberty County, and Wilkes made the award announcement.
"They tricked me, and said, 'They want you in on this Zoom to see Barry Wilkes,'" Brown said. "That's when I learned that I got the award."
"It's nice to be recognized when you do try your best," she said. "I'm a public servant. I'm here to serve Coweta County the best way I know how."