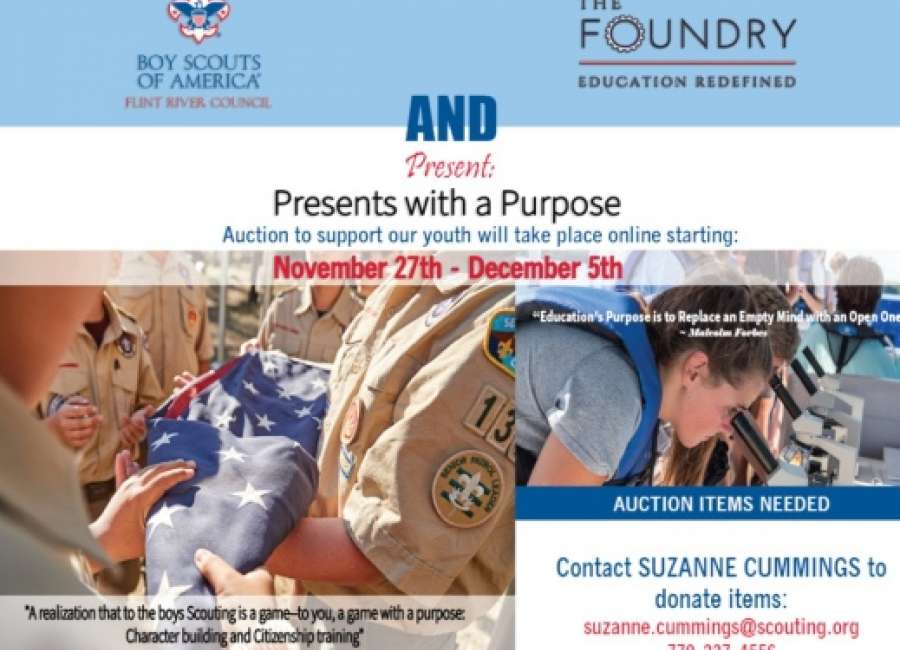 A wide array of items will be up for bid at the first Flint River Council silent auction, being conducted in partnership with the Foundry School.
The "Presents with a Purpose" auction will go live on Friday, Nov. 27, concluding with an in-person event hosted by Southern Conservation Trust in Fayetteville on Dec. 5.
Items include beach vacation homes, hunting weekends and an African photo safari. As the holiday season approaches, this is a great opportunity to pick up a few gifts and support a great cause, according to Robert Johnson, Flint River Council Scout Executive.
"We are asking for community help in two ways — by contributing items that can be sold through the auction, and by signing up to participate in the auction," Johnson said. "We need items both large and small, including gift certificates or valuable things that have been lightly used and are still useful."
The auction will benefit thousands of scouts in the Flint River Council, which includes Fayette, Coweta, Henry, Butts, Lamar, Pike, Spalding and Upson counties. The Foundry is a private school in Peachtree City focused on preparing students for college and future careers.
To donate, visit www.flintrivercouncil.org for a donation form, and describe the item you wish to contribute. The auction site can be accessed by clicking on http://bidpal.net/pwap .
"These are challenging times for everyone." Johnson said, "but together we can help ensure a great scouting experience for our boys and girls — an experience that can help carry them through life."
The Flint River Council served over 5,400 youth with leadership from 1,500 adult volunteers. It operates a full-service camp, the Gerald I. Lawhorn Scouting base in Upson County.
For information, contact: Danny McCranie Danny.mccranie@scouting.org, 770-227-4556.