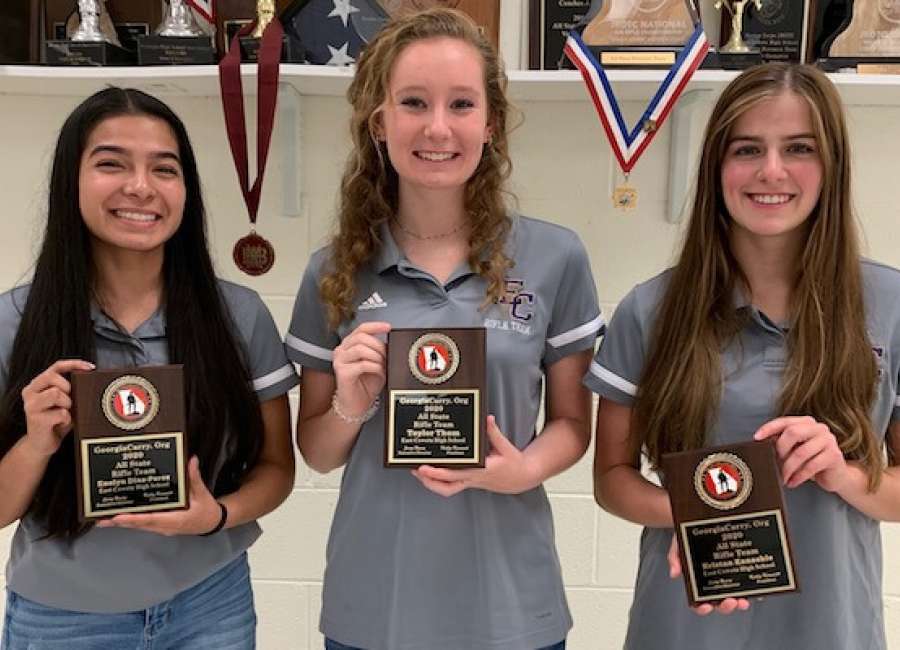 Despite an abrupt end to their junior season thanks to COVID-19, three East Coweta High School shooters posted averages that put them on the 2019-20 Georgia High School Association All-State Rifle Team.

Taylor Thom, Kristen Kanaskie and Enelyn Diaz Perez – poised to open their senior season Dec. 3 against Union Grove – posted numbers that put them in the top 10 shooters in the state.
GHSA riflery competition consists of 10 area conferences and 1,000 varsity shooters. Thom finished fourth in the state with an overall average of 292.33 out of 300 points; Kanaskie was seventh with a 291.33 and Diaz Perez was ninth with a 290.8.
All three participate in the riflery program through East Coweta's Marine Corps JROTC program, led by Maj. Pete Merrill.
"These three athletes have been extremely reliable competitors at a very elite level," Merrill said. "It has been a real privilege to watch them grow up over the past four years. They have been leaders on both the rifle team and in our JROTC program."
ECHS team performed well overall during its abbreviated 2019-20 season. Thom, Kanaskie and Diaz Perez also were the top three competitors on the GHSA All Area 5 team, which was rounded out by Class of 2020 teammates Kinsley Hannon at fourth, Bo Saaveedra at fifth and Roy Roughton at sixth.
Last year's team finished with an overall season average of 1,167 and claimed the GHSA Area 5 title for the eighth year in a row. East Coweta also finished second in the nation in the JROTC All Service National Championship Match, which consisted of 650 schools nationwide.
Thom said that while she looks forward to her senior season, she misses pre-COVID riflery.
"When our first match got canceled last year, we thought it would be over in a month," she said. "For the seniors last year, I think it was more sad that they just didn't get to finish. For us, it's just accepted, but it's definitely sad to see the younger shooters – this is all they know. They don't know the fun things we used to be able to do, like going out to Arizona for the (JROTC) competitions."
Thom, who has been involved in riflery since her freshman year, learned about the sport when her brother Grant was on the team. She had played volleyball but said she felt like something was missing.
"When you come to rifle, it's a completely different dynamic," she said. "It's a team sport, but it's also an individual sport. You do shoot as a team, but if your team doesn't do as well as you, you can be pulled into a higher match."
Thom said she likes the focus required for shooting.
"I had a really hard time focusing when I was a freshman," she said. "I couldn't even finish a match without being completely off-topic. It helps a lot with that, which I carry into class."
While Thom said she never picked up a gun until she joined the rifle team, Kanaskie is a hunter who also frequents shooting ranges with her dad. She and Thom have been friends with Merrill's daughter, Brooke, since third grade, and that was her introduction to the East Coweta team.
"All I knew about rifle was when she said, 'Kristen, come try this. Come do one match with us,'" Kanaskie said. "I stuck with it mostly because my friends were doing it."
A former hockey player, Kanaskie said riflery requires more thought than physicality. All State honors came after a particularly trying season for her personally, she said.
"Junior year was a struggle for me," she said. "I definitely had to work harder than I've ever worked. At the beginning of the season I was more focused on school. But when I started focusing on rifle, I think it also helped me focus on schooling."
Kanaskie intends to study aircraft mechanics after high school, while Thom will pursue a career in agriculture. Both will leave team riflery behind when they graduate. Diaz Perez is the only one of the three who plans to compete in college, as she is seeking a nomination to a military academy.
Diaz Perez, a competitor in tae kwon do, joined the East Coweta team her sophomore year without ever having touched a gun before.
"When I first started, I had no expectations, and my scores were pretty good," she said. "When I was starting to compete, I thought, 'Ok, I shot well before, and I'll just keep shooting well.'"
She didn't practice over the summer and found out she wasn't at the same level when she returned for her junior year, Diaz Perez said.
"I just had to focus on the process, and keep telling myself it's a process," she said. "That's actually what shooting is. It's not like one day you just figure things out."
Much has changed since the three athletes entered their junior season. At practice, shooters wear their masks unless they are shooting, and they are separated by plastic barriers. At matches, they are no longer allowed to get ready for matches or stretch in a group, and they are required to wait outside until it's their turn to shoot.
"It's a different environment," Kanaskie said. "It puts you in a different mindset. It takes time out of our practices to put up guards and mask up at practices, but pushing through it will make us better and more prepared for the future."
Diaz Perez said she and her teammates also learned a valuable lesson when they weren't able to complete their season last year, and it's something that will help them be better equipped for success this year.
"We have to appreciate practice and each meet, and shoot like it's our last," she said.