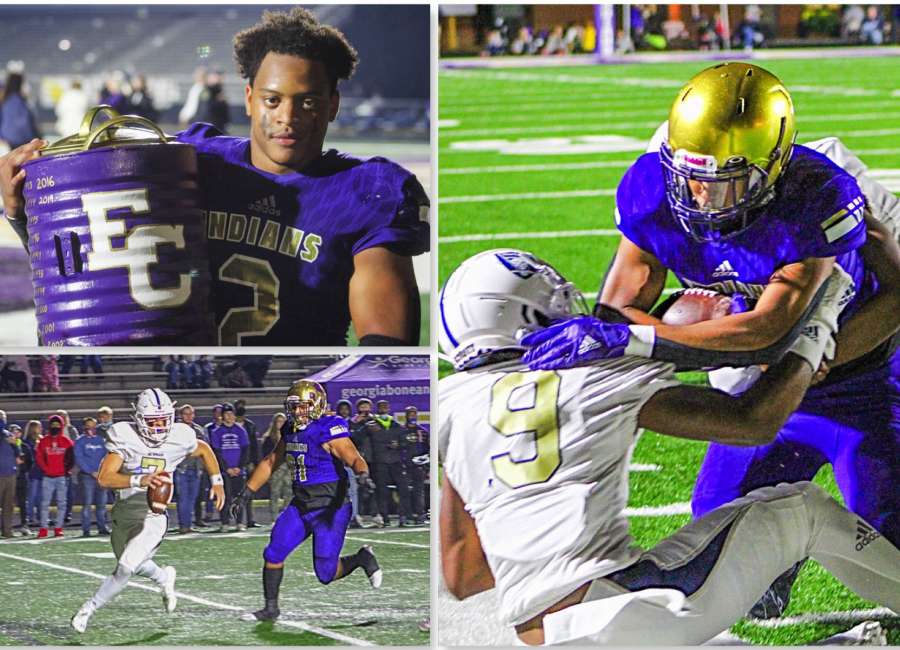 By Arvon Bacon
In big games under the bright lights, the biggest plays are made, and there is always that one play that will withstand the test of time that will be passed down from generation to generation.
On an extra point attempt, after the Newnan Cougars drove the field pursuing a hopeful overtime contest, senior Chase Lewis met the kicker in the backfield and blocked the kick to seal the win for East Coweta 27-26.
"Chase Lewis just has something about him that's different, and he always has. He's not very big, but he's got a heart bigger than this stadium," said East Coweta head coach John Small.
"He was beaten up tonight, and he gave every ounce he had and made a play for his team, and he went and sat down," Small said.
With the win over the undefeated Newnan Cougars, the Indians earned the Region 2-7A 2020 Champions, which will grant them home-field advantage for at least the first two rounds of the playoffs.
On the way to becoming region champs, the Indians jumped to a 10-0 lead, bearing fruits from a Pierre Robinson first quarter defensive interception and 5-yard touchdown pass from Daniel Shoch to Amariyon Moss.
Despite the early Indian lead, the Cougars clawed their way back into the game, cutting the Indians lead to four, 17-14 after Michael Maginnis and Joshua Harris connected on a 10-yard touchdown pass right before halftime.
Similar to the first half, the second half kept everyone on the edge of their seats with two lead changes and the blocked kick which cemented the Indians victory over the Cougars 27-26.
Indians quarterback Daniel Shoch connected with Amariyon Moss and Hazaia Phillips for two passing touchdowns and running back Jayden Bolton getting into the end zone on a 5-yard run in a winning effort. Michael Maginnis connected with Joshua Harris on three occasions for touchdowns, and Bryson Moss added a 17-yard rushing touchdown in the losing effort.
Next Friday, both East Coweta and Newnan will host home games for the first round of the playoffs; East Coweta will host the Marietta Blue Devils (3-7), while Newnan will host the Harrison Hoyas (3-6).