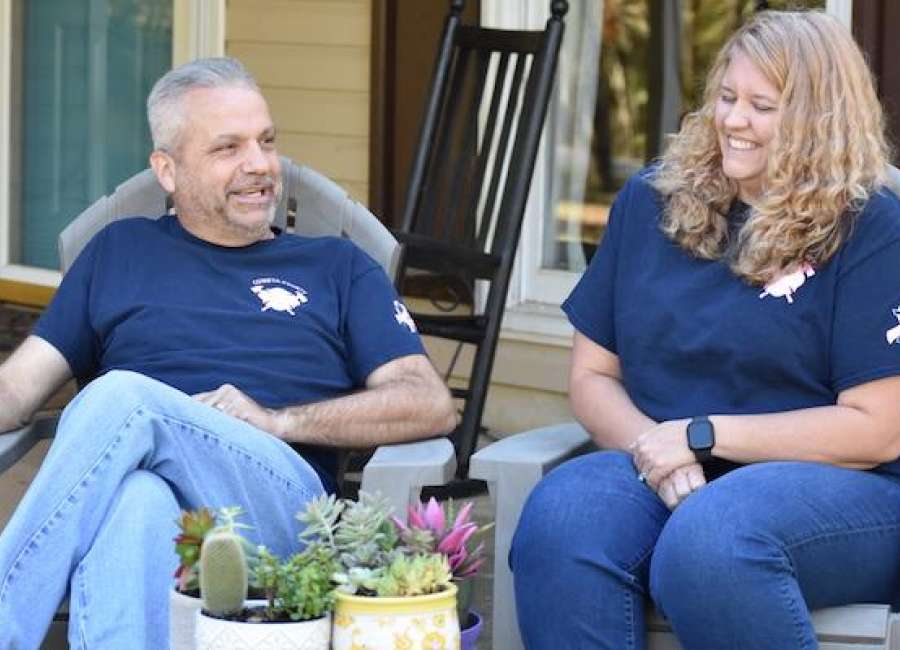 Veteran Coweta County firefighter wages war with Stage 4 esophageal cancer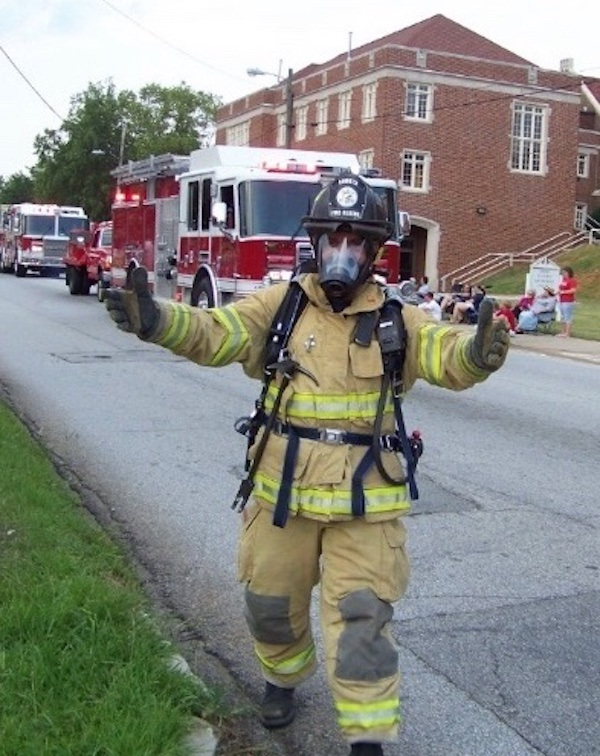 In full firefighter gear, Bubba Hammond walks a parade route in downtown Newnan. (Photo courtesy Bubba Hammond)
•••
Bubba Hammond has a message not just for his fellow firefighters, but for everyone: Don't ignore your body.
The 29-year veteran Coweta County firefighter was diagnosed with Stage 4 esophageal cancer in July – a diagnosis he received when he discovered he began choking on his food, months after attributing persistent, severe fatigue to a new blood pressure medication.
"I knew something was wrong for a few months because I was tired all the time," said Hammond.
Firefighters are required to undergo annual physicals, and Hammond's bloodwork for the previous two years had indicated he was anemic.
"They didn't act like it was a big deal," he said. "They were more concerned with my high blood pressure."
That made sense to Hammond, because his late father, Neil, had heart problems. But during a camping trip last summer, he started choking on his food.
"The first time it happened, I was like, 'Eh, I'm a firefighter. I'm eating too fast,'" he said. "But the second time, it got to where it stopped me from being able to breathe."
Hammond's wife, Shannon, had to perform the Heimlich maneuver that time, and she insisted he see a doctor right away. On July 7, he underwent a routine endoscopy while Shannon waited elsewhere, per COVID-19 restrictions.
When he awoke, his wife was by his side.
"I thought, 'Well, this ain't good,'" Hammond said.
Tests revealed a tumor discovered on his esophagus during the procedure was carcinoma, and that it already had spread to his lungs, liver and lymph nodes.
At the end of July, Hammond began the paperwork to be treated at CTCA. A surgeon put a stint in to help him swallow but couldn't complete a scheduled ultrasound.
"He said, 'Look, I can't even get the ultrasound (equipment) down your throat,'" Hammond said. "He said, 'If you can't drink it, don't put it in your throat.'"
He lost 22 pounds and began to loathe the protein shakes he depended on for nutrition, crushing up his blood pressure medication and drinking only water. Hammond said he learned that carcinoma is a common cancer in people who suffer from acid reflux – which he does – and often is caused by smoking – which he doesn't.
Long before much of the current protocol, procedure and gear were in place, the now-52-year-old Hammond was fascinated by fire. His parents, Neil and Wynell – also known as "The Cardiac Kid" and "MaMa" – were adjunct instructors for the Georgia Fire Academy, and Hammond helped start and put out countless blazes from his early teen years.
While his occupation may have played a part in his illness, Hammond is adamant that he is not looking to place blame anywhere, just to raise awareness.
"The chief and the department have been very good to me," he said.
The county's human resources representatives have helped him figure out the best use of his enormous amount of sick leave – "I never call out," Hammond said – and his co-workers visit frequently now that he's not coming into work.
That's a situation Hammond said he didn't expect when he started chemotherapy on Aug. 24. He knew he couldn't wear his firefighting gear with a chemo port, but as a trained paramedic, he could still "ride ambulance."
"I figured I'd still be working between chemo treatments," he said. "But that first chemo dang near whooped me."
Each treatment includes a four-hour infusion, followed by five days at home with a "5-FU" pump. Hammond has completed three of six anticipated treatments with good results. At this point, Hammond said, the tumor is now half its original size, the spots on his liver and lungs have decreased, and the lymph nodes in his chest are clear.
He can eat regular food without choking, as long as he doesn't revert to his firefighter habit of wolfing down his meals, and drinks a lot of water. Hammond even had a cheeseburger recently, although he said he's saving his original goal of eating a Wendy's Baconator for when he reaches a celebration-worthy milestone.
Hammond said he has some regrets about not taking his unusual symptoms more seriously. While he said his doctors are confident he will beat the disease, earlier detection could have meant less aggressive treatment and less stress for his family, especially with Shannon acting as his main caregiver.
He said he hopes to be healthy enough to return to work sometime after February. Meanwhile, Hammond is advocating for the health of everyone else, particularly his fellow firefighters, men and fathers.
"Being anemic for two years should have been a big red flag," he said. "I was not passing blood, but that was because the cancer was eating the blood, so they should have caught that. If you have any symptoms, you need to listen to them even if the doctor says it's nothing to worry about. Go somewhere, and find out what's wrong."