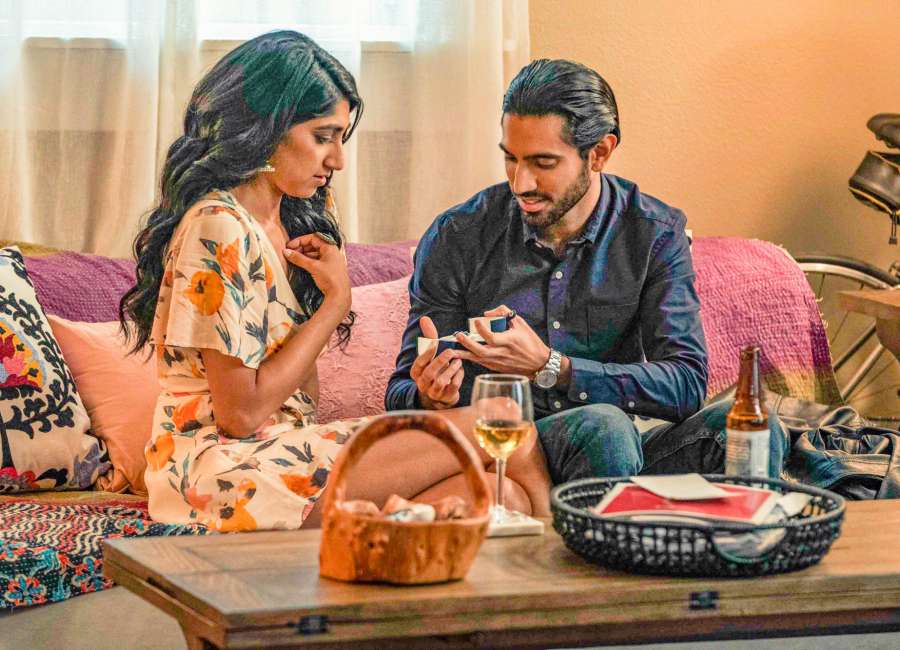 Review By: Jonathan W. Hickman
Jason Blum is a producing superstar. His Blumhouse Productions is responsible for a string of modestly budgeted horror films that have grossed millions in the box office.
In 2009, Blumhouse scored with its acquisition of "Paranormal Activity," a spooky movie made for just $15,000 and shot on a prosumer video camera in the director's home. After a worldwide gross north of $190 million, a new era of lower budget tinglers routinely crept into theaters. And Jason Blum, with his maverick production company, led the charge.
But while Blumhouse was frightening us with the likes of "Insidious," "Sinister," and the critically lauded and Oscar-winning "Get Out," the company also produced straight dramatic films such as "Whiplash" and "BlacKkKlansman." That's why the serious tone of "Welcome to the Blumhouse," a partnership with Amazon Studios, shouldn't be surprising. Based on watching two of the four-films released this month, it's safe to say that what might be pitched this spooky month as part of the horror brand is more akin to the dramatic arm.
Possibly trying to prepare audiences for more laid back offerings, Blum emphasizes in the accompanying press materials that the four films are "original stories from diverse perspectives." And if the trailers for the film series tease the macabre and horrifying elements, Blumhouse and Amazon state clearly in promotional documentation that "'Welcome to the Blumhouse' focuses on thrillers, suspense and psychological dramas — genres beloved by audiences but rarely offered in theaters."
It would be catty of me to take issue with the assertion that "thrillers, suspense and psychological drama" are "rarely offered" to the movie-going public. But it's fair to recognize that the diversity of the casting and choice of young, emerging filmmaking talent for these productions is commendable. And although I've only seen two of the four movies, I wish that the result was more entertaining and impactful.
"Welcome to the Blumhouse" consists of four feature-length films: "Black Box," "Evil Eye," "Nocturne" and "The Lie." They are currently streaming on Amazon Prime Video.
Evil Eye
Review Rating: 5/10
Running Time: 1 hour 29 minutes
"Evil Eye" is adapted from the best-selling Audible Original production by Madhuri Shekar. The film tells the story of a mother named Usha (Sarita Choudhury), who believes that her daughter's new boyfriend, Sandeep (Omar Maskati), is somehow supernaturally connected to her violent past. The daughter, Pallavi (Sunita Mani), lives in New Orleans and Usha lives in Delhi, India. But across that great distance, foreboding feelings of dread travel. And as Pallavi grows closer to Sandeep, Usha decides that she must save her daughter from a terrible fate.
This one might sound like a horror film, but it moves very slowly, exploring the romance like a languid relationship drama. The always excellent Choudhury does her best with the worried mother routine, but aside from an unsettling tone, not enough happens for an hour or so, until an abrupt thriller shift.
This handsomely made film is directed by twin Indian American filmmakers Elan and Rajeev Dassani, born in Nashville, Tennessee. These two talented directors want to explore themes related to their heritage. And for an audience interested in that material, this movie may connect fully. I suspect that my daughter, whose mother is Pakistani, may find it more to her liking. But I thought the ultimate payoff couldn't overcome the dull mood and sluggish pacing.
Like "Nocturne," I got the impression that it would have worked in a shorter format.
Nocturne
Review Rating: 6/10
Running Time: 1 hour 30 minutes
"Nocturne" is a dark tale about twin sister piano students in an ongoing competition at an elite arts academy. The siblings are the introverted Juliet ("Euphoria's" Sydney Sweeney) and the outgoing Vivian ("Jumanji: The Next Level's" Madison Iseman). After the disturbing suicide of a promising violin prodigy, Juliet discovers the ill-fated student's notebook that may hold a sinister key, improving her musical talents.
First-time feature director Zu Quirke wrote an original screenplay in "Nocturne," which is more engaging than "Evil Eye." Part of the attraction comes from the distinct central performances, with Sweeney getting most screen time. Again, the tone is more drama than horror, as Quirke's script examines teen girl struggles, enhanced by pressure to perform at a high level.
Quirke, a trained musician, relied on her upbringing in music to craft the narrative, and the personal touches shine through. Sweeney and Iseman are both credible as competing musicians with differing approaches and personalities. And the infusion of supernatural elements is used ambiguously, as Juliet is already emotionally unstable, relying on medication, before finding the damning notebook.
"Nocturne" weaves a small but somewhat compelling story of sibling rivalry and maturation in the shadow of psychiatric disorder.
A RottenTomatoes.com Tomatometer-approved critic, Jonathan W. Hickman is also an entertainment lawyer, college professor, novelist, and filmmaker. He's a member of the Atlanta Film Critics Circle, The Southeastern Film Critics Association, and the Georgia Film Critics Association. For more information about Jonathan visit: FilmProductionLaw.com or DailyFIlmFix.com