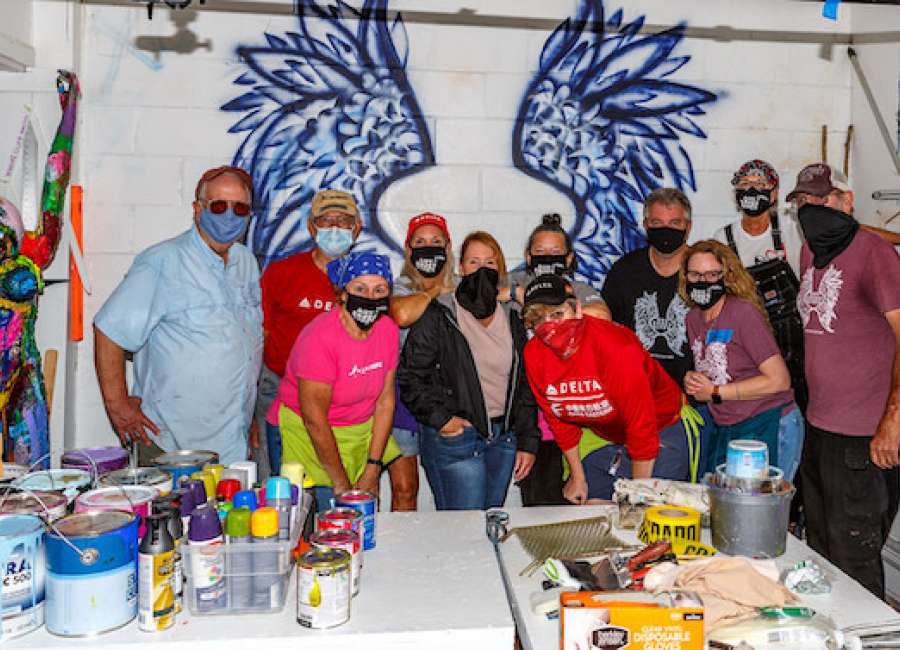 A team of volunteers spent their weekend helping build an outdoor classroom for Backstreet Community Arts.
Kim Ramey, director of Backstreet Arts, said they have tried to stay in touch with their participants while they've been closed for seven months because of the COVID-19 pandemic.

"We realized what an important service Backstreet offers for people staying mentally healthy," Ramey said.

Ramey said she was trying to think of ways they could reopen the studio again, as safely as possible. She said many Backstreet Arts participants are in higher-risk categories.

To make it safer for everyone, they decided to create an outdoor classroom space. She said participants will be able to create pottery and mosaics, or learn how to play the ukulele, in the outdoor classroom.

Ramey said the outdoor classroom will have a raised deck with a wheelchair ramp, a storage shed, tables and umbrellas, and shade sails. She said when the temperatures start to get cooler, they will be able to put heaters out there as well.

Carmela Carter is on the board for Backstreet Arts and works for Delta Air Lines. She brought in a group of volunteers to help with the outdoor classroom over the weekend.

Carter said a group of people who work at Delta met through a Habitat for Humanity build in Mexico in 2016, and have continued to work together and volunteer for different activities not sponsored by Delta.

She said they have volunteered with playground builds, Habitat for Humanity builds, the United Service Organizations and food banks all over the country. She said when the idea for the outdoor classroom came up, she told Ramey she knew a group of people who would be willing to help.

Carter said she emailed the group to see if they were able to help, and 14 were able to make the trip. She said volunteers flew in from cities including Los Angeles, Detroit, Minneapolis and Syracuse, New York.

Despite the weather, the group was able to get the deck built for the outdoor classroom and complete most of the storage shed. Carter said they also worked on gardening and put up a fence around the building.

"We love giving back, and we love people and community service," Carter said.

Ramey said they hope to have the outdoor classroom completed in the next couple of weeks.

"I was stunned," Ramey said. "Stunned that there are so many good humans in the world, it's nice to be reminded of that."
Updates about Backstreet Arts' new schedule and information about the fundraiser for the outdoor classroom can be found at www.backstreetart.org .