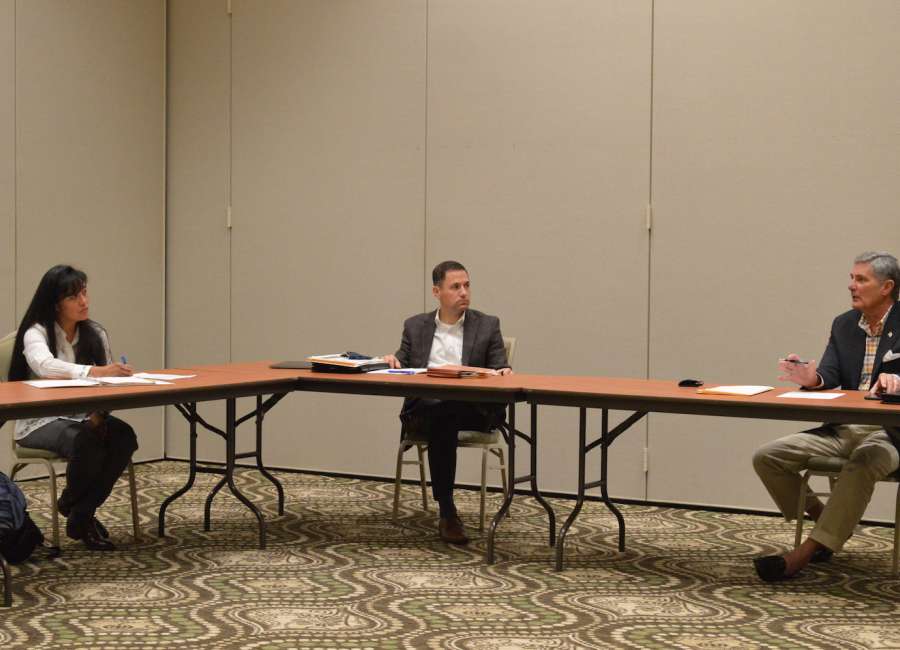 Newnan and Coweta's new "destination marketing organization" will be looking for a highly skilled – and highly paid – director.
Explore Newnan-Coweta Inc., which was formed after Coweta and Newnan increased their hotel/motel tax rates, had its first meeting with a full board this week.
The board includes the city manager and county administrator, a city and county appointment, four members who operate tourism-related businesses and an appointment from the Newnan-Coweta Chamber of Commerce. It was the first meeting for the business and chamber appointments.
The organization will be funded through the increased hotel/motel tax revenue. Newnan City Manager Cleatus Philips said the organization will likely have funding of over $300,000 annually.
"We should have plenty of resources to fulfill the mission and goals," he said.
The next steps are to elect officers, hire a director or president/CEO, and get an office space, said Mayor Keith Brady.
Each member was asked to introduce themselves and talk about their goals for tourism.
Tony Ventry is with Paramount Hospitality Management and has worked in the hotel industry about 30 years.
"We see things going in the right direction … sometimes we're calling it a recovery and sometimes we're calling it surviving," he said of the industry's status with COVID-19. "It's a little bit of both right now."
Typically, from November to the first of February is the slow time for the industry, he said. "We're basically looking at it almost day to day as opposed to 30, 60, 90 days out," he said.
Brittany Thompson has worked for Chick-Fil-A for 15 years in the real estate division.
Candace Boothby, president and CEO of the Newnan-Coweta Chamber of Commerce, said she thinks Coweta has an incredible opportunity with tourism.
Philips said that when you say "tourism," most people automatically think of the beach or the mountains. "Obviously, we don't have either of those resources, but there are so many other tourism attractions we can tap into."
Brady said he's looking forward to finding the person that is going to come to Newnan and Coweta and tap into that potential. He said the top priority is to "hire a person that is going to bring instant credibility to us."
He doesn't want someone fairly new to the field or in an assistant position. Brady said he wants to see someone with proven results and the skills to start an organization from scratch. "Don't price out a median income," he said.
The county Convention and Visitor's Bureau has done a great job, said County Administrator Michael Fouts. "We don't want to discount that."
Michelle Alexander is with catering company Your Chef To Go.
"I'm excited to see tourism really explode in this county and this city," she said. The community has so many things it can share, she said. "This can truly be a destination place."
Alexander said her business has started construction of a new bakery. "We want to grow with this community," she said.
Julie Brown is with the Georgia Tour Company in Senoia. Before starting the tour company, she worked with the Georgia Department of Community Affairs.
Coweta has a huge opportunity, she said. "The Walking Dead" has brought so much exposure to Senoia, and many of those who come to visit Senoia stay in Newnan hotels, she said. Visitors come from all over the world.
Chris Doane owns a marketing business and is also involved in outdoor recreation through Bike Coweta and the Friends of Chattahoochee Bend State Park.
There are cities and counties who are marketing themselves as outdoor recreation destinations even if they don't have mountains or beaches, he said.
"We've got all the assets across Coweta to do something just like that."
Tim Chason and Randy Cardoza of the Chason Group spoke about the executive search for the person to head up the organization.
They need to know what the organization is looking for in a person, and what the community is looking for, Chason said. They'll come back with a position description and proposed compensation package at the November meeting.
Chason said the search process and getting the new person hired will take about 120 days.
There was also discussion of how the new organization and its paid staff will interact with the CVB, which operates the Coweta Visitor's Center.
"I don't think a final decision has been made," said Fouts. "I think at some point in the future it makes sense to merge those two. The functions provided under the current CVB would be under this umbrella."