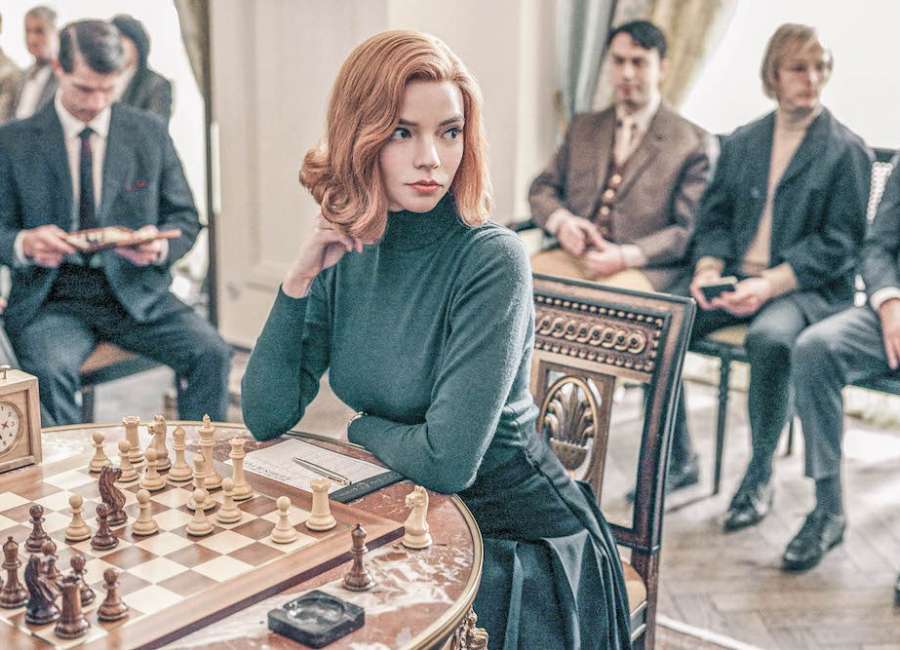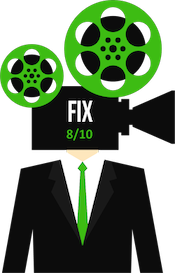 Review by Jonathan W. Hickman
It's the focus on the cost of genius that makes writer/director Scott Frank's adaptation of Walter Tevis' novel, "The Queen's Gambit," exciting. The world of competitive chess may thrill players and fans who study the game, but translating those rich emotions to the screen for both competitors and nonplayers has been elusive.
Only through a seven-episode series are we able to feel the power of obsession and understand the toll that it takes. Genius can be a curse.
Written by Tevis in 1983, "The Queen's Gambit" gained a cult following over the years. Tevis was the writer of "The Hustler" in 1959 and "The Man Who Fell to Earth" in 1963. Both of those works were adapted into excellent feature films. But it wasn't until the 1980s that he began publishing novels again, with sci-fi tome "Mockingbird." "Gambit" is a fantastical work of fiction, but it's grounded in the effects of addiction, a recurring Tevis theme.
In this Netflix adaptation, Tevis' "Gambit" protagonist, Beth Harmon, is played by Anya Taylor-Joy. She's the striking actress who burst into our popular consciousness in Robert Eggers' horror indie "The VVitch: A New-England Folktale" and her star-turn under the direction of M. Night Shyamalan in "Split" and "Glass." In addition to embodying an ethereal innocence, Taylor-Joy conveys a subversive inner strength in almost every performance. And here, as a haunted chess prodigy, she's given one of her most demanding roles.
"The Queen's Gambit" is an unusual coming-of-age story. Harmon (Taylor-Joy) is an orphan who discovers that she has an almost supernatural penchant for the game of chess. The setting begins in the late 1950s. The prospect of a young girl playing the game competitively is a novelty. But the idea that a genius can rise from a humble Kentucky orphanage is maybe more a fantasy.
When Harmon meets the quiet orphanage janitor, Mr. Shaibel (a terrific Bill Camp), she's instantly drawn to his chessboard in the basement. Shaibel is cautious and perplexed. Should he engage with this little girl? It's a risky gambit for a loner man who pines away in a dank basement. But his intuition is that she is special. He's right.
After playing Harmon and losing, he introduces her to the local high school chess coach. And in time, she's playing and beating everyone on the team, all simultaneously. It's hard for me to contain how exciting these scenes are. While I dabbled in chess in high school, I've been away from the game for many years. Watching the meticulously and accurately staged chess scenes enchanted me. And I won't be the only one captivated.
As Harmon gets older and develops addictions to tranquilizers and alcohol, she leaves the orphanage and finds her way back to competitive chess. Adopted as a 15- or 16-year-old, she joins the home of Alma and Allston Wheatley. The Wheatleys aren't doing too well, having lost a daughter. And when Allston abandons them, Alma turns to Harmon for support. The two women form an enduring but off-kilter mother-daughter relationship. Chess becomes a focal point.
Accomplished feature film director Marielle Heller (see last year's superb "A Beautiful Day in the Neighborhood") plays Alma. While Heller has acted in the past, her performance is so good here that I suspect we will see her more often in front of the camera. As a jaded mother and scorned wife, the character is a perfect companion for the chess-obsessed Harmon. And by playing the role at a completely different speed from Taylor-Joy, Heller makes Alma distinct and memorable.
Taylor-Joy, who plays Harmon from age 15 through 20, is a revelation. Not only does she play well against Heller's performance, but she credibly sells herself as a tortured genius. Part of this has to do with the careful attention paid to the game itself. Every move on the board seems authentic, and Taylor-Joy makes so many confident choices for Harmon.
The history of this project dates back many years. At one point, the late Heath Ledger was slated to direct it as a feature film with Ellen Page in the lead. While that pairing seems inspired, "The Queen's Gambit" benefits from a systematic, detailed series treatment. Seven 60-minute episodes allow the story to breathe and for characters to develop. It's a testament to the long form because while you can binge it, watching the show in installments may give viewers a chance to reflect on the issues raised from episode to episode.
And as the series gains momentum, a pause is a good idea. Some viewers may find the geographic jumps jarring, especially when things move to Moscow, but these scenes give the entire project an epic, socially relevant sweep. It's a crowd-pleasing Americana narrative with a subtle dark undertone.
This series is handsomely produced with director Frank reteaming with his "Godless" cinematographer Steve Meizier. Production designer Uli Hanisch ("Cloud Atlas") handles the shifting time and locations (including taking Harmon to Russia) seamlessly. The series is a terrific time capsule of the late 1950s through the late 1960s. It's a unique sports film that examines feminism while also touching on ominous Cold War politics.
"The Queen's Gambit" is one of the most intelligent and engaging Netflix series presently on the streaming platform.
A RottenTomatoes.com Tomatometer-approved critic, Jonathan W. Hickman is also an entertainment lawyer, college professor, novelist, and filmmaker. He's a member of the Atlanta Film Critics Circle, The Southeastern Film Critics Association, and the Georgia Film Critics Association. For more information about Jonathan visit: FilmProductionLaw.com or DailyFIlmFix.com