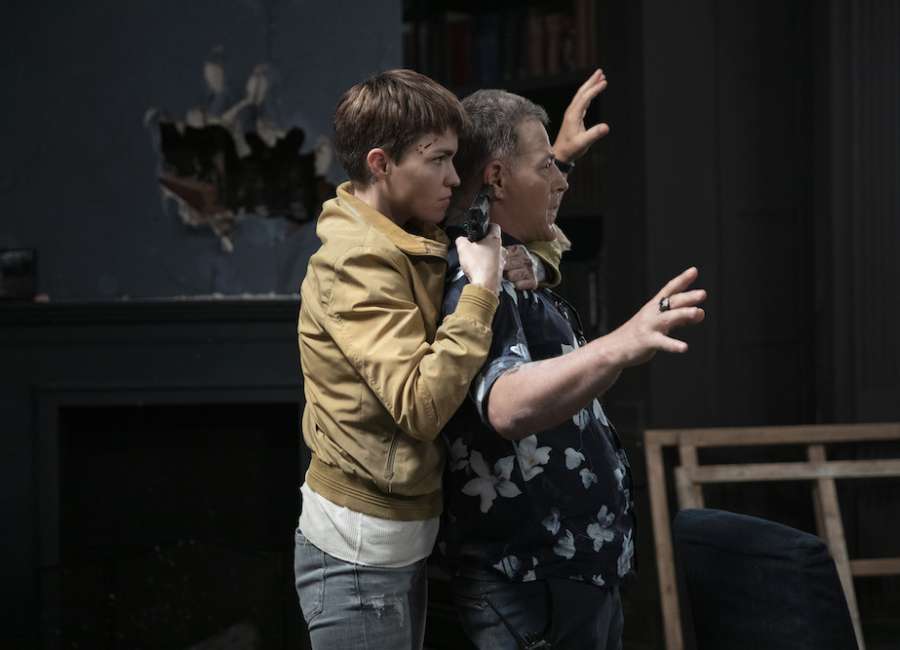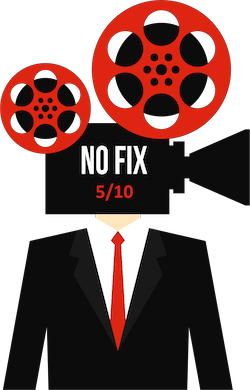 Review by Jonathan W. Hickman
Fresh off leaving the CW's "Batwoman" after one season, Ruby Rose is sharpening her next act.
"The Doorman," a low-end "Die Hard" clone, trades heavily on the physicality of the athletic actress. This safe, set-bound production is a decent showcase, but the overly familiar beats fail to distinguish it from numerous others in the genre.
When Ali (Rose) leaves military service after an assignment that ends in a deadly explosion, her uncle Pat (Philip Whitchurch) gets her a job as, drum roll please, a doorman in a stately apartment building. It's dull work—just what she needs after years of bullets and blood. Peace and quiet seem all but guaranteed because the building is mostly vacant due to construction.
To her surprise, Uncle Pat conveniently hid that her brother-in-law, Jon (Rupert Evans), and his children live in the building. The family's tragic backstory centers on a fatal love triangle and her sister's untimely death.
Interrupting this middling melodrama is the welcomed arrival of the scheming Victor Dubois (a typically good Jean Reno), with an assortment of muscled up henchmen. All the typical machine gun-toting baddies are there, including a crafty safecracker—this flick knows the formula. Dubois' dangerous group is determined to find several priceless paintings hidden in one of the apartments. You can guess whose apartment they visit.
"The Doorman" is by-the-numbers actioner directed by prolific Japanese filmmaker Ryuhei Kitamura, who gave us the cult fave "The Midnight Meat Train." While "The Doorman" looks excellent, and the pace is systematically taut, the fight sequences lack intensity and an acute sense of danger—all this despite Rose's balletic physicality.
As Ali, the thin, attractive Rose morphs instantly into an efficient killing machine. In some sequences, she disarms and bests many hard-hitting guys who menacingly surround her guns and knives at the ready. Perhaps still channeling a certain DC superhero, Rose and her stuntwoman handle the flips, kicks, and spins with artful grace, but it's almost too much to take. And the showdown with fellow doorman gone wrong Borz (a snarling Aksel Hennie) is downright laughable. But, to be fair, the goofy, grindhouse scene, featuring some tricky, swirling camerawork, does share a John Woo vibe.
As a way to display Rose's action chops, "The Doorman" succeeds. But the hammy one-note narrative is missing the snappy dialogue and satiric wit that made "Die Hard" a bonafide classic. In its place, Rose delivers empty copy that leaves her character cold and wooden.
From what I've seen of her work, Rose certainly could have delivered some tasty one-liners with a curled lip and reliable comic timing. It doesn't help that the villains here, led by the talented French actor Jean Reno, are unsophisticated. If we've learned anything from "Die Hard" and its diminishing sequels and countless imitators, this formula doesn't work without a Hans Gruber (played perfectly by the late Alan Rickman).
Looking ahead, it would seem that the actress is, for better or worse, shrewdly cashing in. We'll see her soon in another action film (something titled "SAS: Red Notice") that takes advantage of Ruby Rose, the budding b-movie action star. But to advance her career, she will have to take on more ambitious material in hopes of becoming the next Jason Statham.
***
A RottenTomatoes.com Tomatometer-approved critic, Jonathan W. Hickman is also an entertainment lawyer, college professor, novelist, and filmmaker. He's a member of the Atlanta Film Critics Circle, The Southeastern Film Critics Association, and the Georgia Film Critics Association. For more information about Jonathan visit: FilmProductionLaw.com or DailyFIlmFix.com