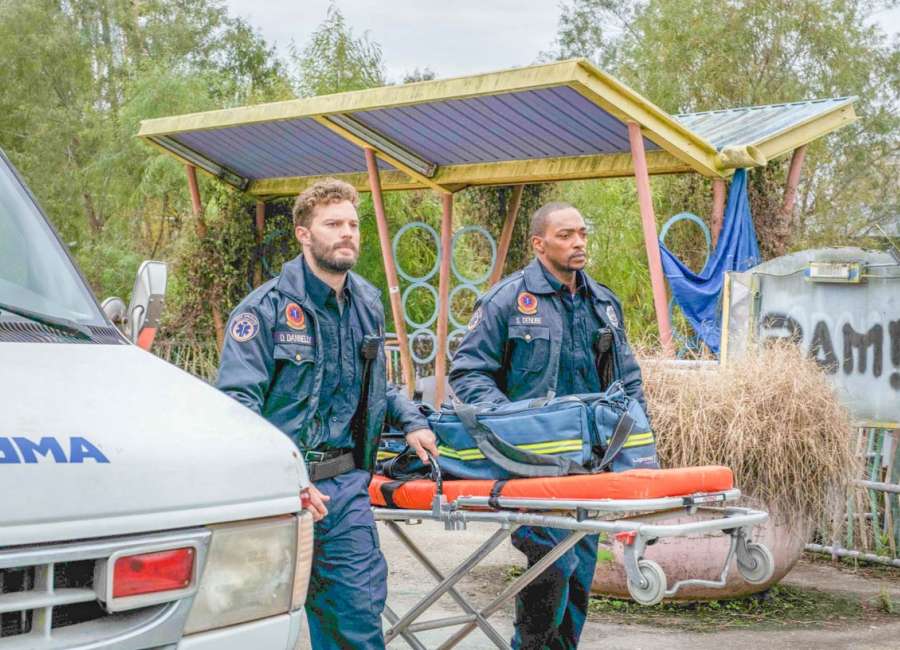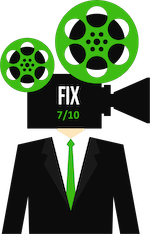 Review by Jonathan W. Hickman
What if you could unlock time by taking a drug? Co-directors Justin Benson and Aaron Moorhead's "Synchronic" relies on that concept to construct an intriguing sci-fi thriller.
Best friends Steve (Anthony Mackie) and Dennis (Jamie Dornan) spend their nights on call as New Orleans paramedics. Reviving junkies and patching up knife wounds is par for the course. But they are stumped when they stumble upon a series of weird accidents linked to a new synthetic party drug.
A young woman with an unusual snake bite, a man stabbed entirely through his body, another dead from what looks like spontaneous combustion, and freaked out druggies have the city in chaos. After repeatedly finding evidence of a drug called Synchronic at the scenes, Steve decides to investigate.
Meanwhile, Dennis is coping with the birth of his second child many years after his first. This unexpected baby puts a strain on his marriage. And Steve, who's never been married, doesn't know how to advise or comfort his friend. But when Dennis' teen daughter disappears, things begin to spiral farther downward.
Steve's got problems of his own. An unusual brain tumor threatens his life. But time marches forward. If only there were a way to turn back the clock.
Like their last time trippy indie hit 2017's "The Endless," the filmmaking team works here from Benson's screenplay. "Synchronic" is a bigger and better film than their previous effort, but it still retains the smaller budget feel. Moorhead serves as the cinematographer and produces hazy images placed on a Louisiana expressionist canvas. This gloomy style provides location flexibility hiding backgrounds and certainly saving money.
And Moorhead and Benson get a big boost with Mackie and Dornan leading the cast. Given the star power afforded them, the screenplay mustn't be an exploitative science fiction action film. Rather, Benson's intellectual approach has Mackie's Steve talking about scientific ideas and classical thinking.
Both men are smart, fully-realized characters, who, despite the havoc associated with a fantastic synthetic drug, emotionally deal with authentic dramatic situations. And the film slows down enough to give these guys time to show their bond. We like them, and their bromance isn't superficial.
Mackie and Dornan make great surrogates for long-time best friends in real life Moorhead and Benson, who played dysfunctional but devoted brothers in "The Endless." The friendship of Steve and Dennis feels familial, and it draws the viewer in as they search for Dennis' daughter.
Science fiction fans note: "Synchronic" approaches its narrative by convincing us that there's science involved. Like Christopher Nolan's "Tenet," time is the antagonist in this film, and it can be manipulated by merely changing one's perception of how time works. These heady ideas are well outside my wheelhouse, but I bought into it, as characters ingest a particular drug and see the time in a completely different way. But unlike "Tenet," Moorhead/Benson's movie manages not to make your head hurt before and after viewing it. Still, to unravel the more delicate story threads, a repeat watch could be in order.
Compelling and entertaining, "Synchronic" is a worthy expansion of the emerging Moorhead/Benson filmmaking brand.
***
A RottenTomatoes.com Tomatometer-approved critic, Jonathan W. Hickman is also an entertainment lawyer, college professor, novelist, and filmmaker. He's a member of the Atlanta Film Critics Circle, The Southeastern Film Critics Association, and the Georgia Film Critics Association. For more information about Jonathan visit: FilmProductionLaw.com or DailyFIlmFix.com