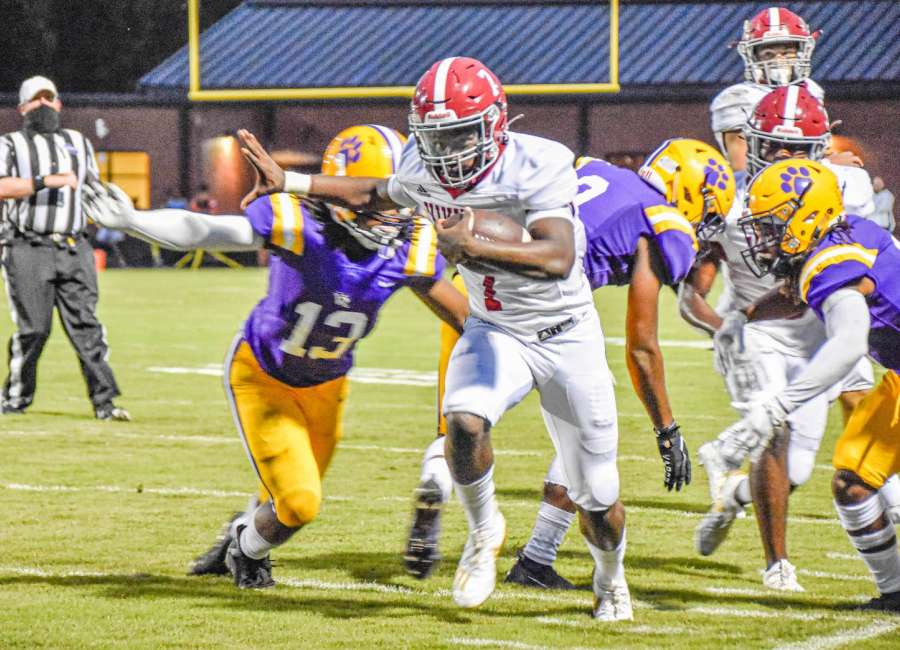 By Arvon Bacon
First-year Northgate starting quarterback James Paige has turned the heads of those that believed the Vikings may have squandered yet another season with a young quarterback at the reins.
Instead, Paige and the Vikings have jumped out to a 2-2 start, with their offense averaging 26.5 points per game. Only four games into the season and the sophomore quarterback has added seven rushing and one passing touchdown to his career stat line as a Viking.
Paige added his longest touchdown run of 95 yards against the Villa Rica Wildcats.
When watching the Vikings offense, it's easy to locate the sophomore standout as he rolls out of the pocket slinging the ball to his favorite target, tight end Holden Smith, or making defenders look silly, cutting and juking before bursting down the sideline for a big gain.
However, if it wasn't for his mother forcing him to play, we may not have the jaw-dropping moments on Friday nights. As Paige puts it, "My mom kind of forced me into it when I was six, and after that, I just fell in love with it."
During his time in middle school, Paige and his fellow running back, DJ Reid, agreed once they got their opportunity to start for the Vikings, they would bring esteem back to the Northgate football program.
Prior to the start of summer practices, Paige diligently worked in quarantine, conditioning his body to be in the best shape, feeling the proverbial target on his back of being the youngest quarterback in the county.
"I had to put in the extra work because I know that somebody else is trying to outwork me, and I can't let that happen," Paige said.
While young, he's shown great poise, which will be vital to sustaining as he aims to fulfill his season goal of at least making it to the second round. But he's also determined to propel the Vikings to play big playoff football at the Mercedes Benz Dome.
Outside of playing football, Paige has also been a member of Coach Pierce Colton's Newnan
Elite basketball program.
"When I played, the team looked to me as a leader on the defense, and I remember a game when I intercepted a pass to make a lay-up that sealed the game. I wasn't one of the biggest kids but I could jump with the best of them," he said. "Coach Pierce would always tell me don't play scared. He has pushed me to be the young man I am today."
Paige and the Vikings are off this week but will be back in action next Friday against their first conference opponent of the season, the Starr's Mill Panthers (3-1). For the rest of the season, the Vikings will be in control of their own fate as they will play conference games the rest of the way.